New Omahan May Be Oldest Refugee at 96

By Christopher Burbach, World-Herald
September 9, 2007

Having survived two genocides in central Africa and years in refugee camps, Lazaro Busuku, a native of Burundi, is now resettled in Omaha, which probably will be the 96-year-old man's last home.
In 1972, Lazaro Busuku, at 61, already was becoming an old man, by central African standards, when he fled from a genocidal civil war in his native country of Burundi.

He was in his 80s in 1994, when another genocide, this one even worse, struck in Rwanda, the country where he had taken refuge. He was forced to flee for his life again.

He then survived 13 years of refugee camp life in Tanzania. By this time, he had lived into his 90s in a place where people rarely see 60.

Then Busuku had to move again.

Burundi had been declared safer, and Tanzania and other host countries were about to send hundreds of thousands of Burundian refugees like him home.

The United Nations and United States, though, agreed that there could be no safe home in Burundi for Busuku and about 9,000 others who had lived as refugees since 1972. The U.S. State Department offered to resettle most of them in the United States, wherever local agencies were willing and able to place them.

An Omaha agency that has brought many other African refugees to the city leaped at the chance to bring Busuku here, along with the Burundian refugee family who had taken him in as one of their own at the camps.

So it was that a flight dropped out of the night sky into Omaha's Eppley Airfield, delivering one of the oldest refugees America has ever accepted to his latest, and probably his last, home.

Busuku was 96 when he arrived in Omaha on July 31. A U.N. medical escort rolled him into the Eppley terminal in a wheelchair. He smiled and cracked jokes to the delegation that rushed to meet him and his adoptive family.

Over the following six weeks, Busuku has had some digestive trouble with American food. But physically he's relatively healthy, and he's mentally sharp, say local resettlement agency workers.

The Burundians, members of the Hutu ethnic group, said they lived in difficult conditions in the Ngara refugee camp in Tanzania, often eating just one meal a day. Few had jobs or schooling. They weren't allowed to go more than about two miles from the camp.

"If you live to be 65 in those conditions, you are considered very lucky, very blessed," said former Sudanese refugee Tor Kuet, director of Omaha's Southern Sudan Community Association, which resettled Busuku. "Someone this old - I have never seen that before."

Neither had several other refugee resettlement workers in Omaha and nationally heard of such an ancient wanderer coming to American shores.

"Ninety-six?! You might have broken the record for the oldest refugee," said Joel R. Charny of Refugees International, an advocacy group based in Washington, D.C.

In Iowa, only six people resettled so far this year were older than 65, said Jill Stuecker, who manages the Des Moines office of Refugee Cooperative Services with Lutheran Services in Iowa.

The reasons it is so rare to see such an elderly refugee resettled in the United States are twofold: First, people generally don't live that long in the war-torn areas from which refugees flee, or in camps where they take refuge. Just 3 percent of the so-called 1972 Burundian refugees are over 60. Second, elderly people often don't want to be moved to another continent.

Busuku was among the first wave of 1972 Burundians to be resettled in Omaha. More than 25 have come so far. Their cases are being handled by two local agencies, the Southern Sudan Community Association and Lutheran Family Services.

Language barriers and other issues have made it difficult to hear Busuku's story from him. He apparently speaks only his native language of Kirundi, not a common tongue in Omaha. Since shortly after his arrival, Busuku has been staying in Bellevue with a former refugee family from Sudan. Attempts to arrange an in-depth interview through the family have been unsuccessful.

Kuet said that family took Busuku in because his caretaker family from Africa - a woman in her 50s with two teenage daughters - initially was placed in a third-floor apartment, whereas the Bellevue family has a house. Busuku cannot negotiate stairs.

The Bellevue family also is affiliated with a church, which provides a broader support network, Kuet said.

But the mother and the teen daughters said last week in their midtown Omaha apartment that they and Busuku were upset at being separated. In reply, Kuet said he'd make it a priority to arrange other housing - a first-floor apartment or a house - so that they can be reunited.
"I will put them back together," he said.

The women should be able to care for Busuku, but they will need help, Kuet said. He appealed to churches or other community groups to help with things such as rides to medical appointments and English classes.

When they are back together, that will be the second family reunion for the Burundians since coming to Omaha .

The first happened at Eppley, on the night Busuku arrived with the three women in his African caretaker family. They are Drocell Ndekatugane, 19; Francine Mbarimwombazi, 17; and their mother, DaFrose Ndarusangujeabandi, 56.

Her sons - Froduard Ndenzako, 21, and Sylivestere Kabikaba, 35 - had been moved earlier from the refugee camp to Omaha . The women and Busuku knew only that the two sons had been flown to somewhere in America . And when they boarded their own flight in Kenya , they knew only that they were going to somewhere in America .

Just before landing, they learned the name of their new home city: Omaha . Only after landing did they learn that Ndenzako and Kabikaba were in the same city.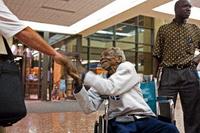 Upon arriving at Eppley Airfield on July 31 Lazaro Busuku was happy to find that the sons of his adoptive family in Africa had been resettled in Omaha, too. Interpreter Isaach Luk, standing behind him, struggled with the 96-year-old man's unusual native tongue.

Kuet had brought the two men to the airport. Ndenzako, the 21-year-old, paced nervously, occasionally chattering about how excited he was to see his mother again. He ventured some English: "My mom coming."

But when Busuku and the women arrived, it was the old man whom the young men rushed to greet first. They crowded around him, gripping his hands, smoothing his hair, stroking his back. They laughed at everything he said. He laughed with them.

While the resettlement workers worked out the logistics of wheelchair, luggage and rides, Ndenzako exhaled, dropped to a crouch in front of Busuku's wheelchair and gazed at him, smiling at the moment.

Busuku said he was thankful to be in the United States, was thankful for the medical escort . . . and was thirsty.

"God has blessed us," he said.

Busuku has since seen doctors and nurses. State and federal funds will be tapped to help provide in-home care and, if he should need it later, nursing-home care.

Refugee resettlement programs aim to get people into the workforce, but part of the humanitarian mission also is to care for older people who can't work, said Christine Petrie, of the International Rescue Committee, an aid group based in New York.

"The United States has always held up its humanitarian obligation to the world's refugees, regardless of the age they are or what country they're from," Petrie said. "He (Busuku) could live the rest of his life in freedom and maybe regain some of the dignity he lost as a refugee for so many years."

---
More Information on Armed Conflict in the Americas
More Information on Armed Conflict in Other Areas