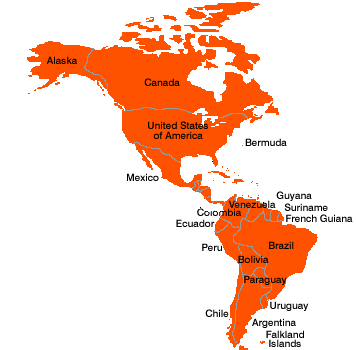 Amnesty International Report 2005: Americas
During 2004, the human rights of ordinary men, women, children and older persons were disregarded or grossly abused in every corner of the globe. Economic interests, political hypocrisy and socially orchestrated discrimination continued to fan the flames of conflict around the world. The "war on terror" appeared more effective in eroding international human rights principles than in countering international "terrorism". The millions of women who suffered gender-based violence in the home, in the community or in war zones were largely ignored. The economic, social and cultural rights of marginalized communities were almost entirely neglected.
This Amnesty International Report, which covers 149 countries, highlights the failure of national governments and international organizations to deal with human rights violations, and calls for greater international accountability.
The report also acknowledges the opportunities for positive change that emerged in 2004, often spearheaded by human rights activists and civil society groups. Calls to reform the UN human rights machinery grew in strength, and there were vibrant campaigns to make corporations more accountable, strengthen international justice, control the arms trade and stop violence against women.
Whether in a high profile conflict or a forgotten crisis, Amnesty International campaigns for justice and freedom for all and seeks to galvanize public support to build a better world.



Colombia: Older People Invisible in Strategies for the Displaced (February 19, 2009)
Over the past ten years, up to 3.5 million people have been forced from their homes by the civil war in Colombia. Older people find it difficult to adapt to new surroundings and often have greater need for psycho-social support after surviving violence. Yet none of the data collected on displaced people is disaggregated by age. Older persons are almost completely absent in making government policies and programs in Columbia.

Colombia: Displaced and Invisible (May 2007)
(PDF format, 1 p)
Colombia's decade-long civil war drove an estimated 200,000 people over 60 years of age out of their homes. Older people represent 12 percent of the total displaced population but they remain largely invisible in the eyes of the authorities. Although the Colombian government offers a small social pension and other benefits, many older displaced people are unable to claim these, either because the procedures are cumbersome and require too much legwork, or because the elderly, many of whom are illiterate, are not aware of their rights.

Colombia: Caritas Colombia Panel Roundtable Discussion (October 24, 2006)
Continuing political violence in Columbia has displaced an estimated 3.6 million people between 1985 and September 2005. To deal with one of the world's largest and most forgotten humanitarian crisis, two representatives of Caritas Colombia, Archbishop Ruben Salazar, President of Caritas Colombia, and Monsignor Hector Fabio Henao, executive director of this organization, came to the Church Center for the UN on October 24, 2006. After 12 years of collecting a database, they reported on the situation giving the international community background information and precise recommendations. Their work focuses on specific groups among the internally displaced people such as women, children and the Afro-Colombian community. The speakers also recognized the particular vulnerability of older people caught in the crisis. According to their observations, when there are food shortages, children and older persons are the first to be denied food. Priority is given to those who are able to work, reports GAA intern Valentine Honoré, who monitored the meeting.

Colombia: Thousands Caught Up in Nariño and Choco Fighting (July 18, 2006)
Last week fighting and violence between the Colombian army and an irregular armed group forced thousands of civilians to leave their homes. Several indigenous communities were trapped in their territories and were unable to escape safely from their villages. A group of pregnant women and elderly people were cut off from the rest of the community at the local school in Cumbas. The United Nations Refugee Agency is concerned about disturbing reports that several civilians were killed last week.

Colombia: Colombia's Displaced Trickle Home (June 19, 2006)
No other country except Sudan has a higher number of Internally Displaced Persons (IDPs) than Colombia. They number around 3 million. Last year an average of 850 people per day fled their communities. Their stories are all dreadful; most escaped death and lost relatives. They usually come from the countryside and flee to the city where they crowd into the slums. Mr. Condes, 70, tells the Christian Science Monitor he fled his fields with nothing. "I was shamed because the fields my father passed on to me were abandoned," says Condes.

Colombia: Fears Increase for Colombia's Indigenous Communities Fleeing Violence in Their Home Territories (April 7, 2006)
After armed groups murdered teachers in their community, the Wounaan indigenous people fled their homeland in Chocó, Colombia. Among the 1,748 making the trip as one group are pregnant women, sick children, and elderly people. Philippe Lavanchy, Director of UNHCR's bureau for the Americas, asked local authorities to ensure that the displaced persons are adequately treated. Since the whole community is threatened, the cultural identity of the Wounaan is also at risk. The elderly are illiterate and the Wounaan culture may not survive in this conflict.

Colombia: The War of "Martin Llanos" fills with Pain the Lives of the Women and Elderly of Monterrey (October 10, 2004)
(Article in Spanish)
The women and elderly of the town of Monterrey have had to bear the consequences of the armed conflict in Colombia. Meanwhile, the fathers, brothers, sons and husbands have had to comply, willingly or not, with the 'obligation' of serving the paramilitaries, But the women and elderly that are not recruited to fight must endure the tragedy of the conflict such as identifying bodies and the intimidation to stay quiet before state authorities. The paramilitary and guerrilla have no qualms about murdering the elderly if they feel they might threaten their organizations in any way.

Colombia: Indigenous March for Peace - Just 100 Kms of a Long Road (September 20, 2004)
The Nasa Indians that make up 2% of the Columbian population organized a march that originally set out from the city of Santander de Quilichao, reaching Cali, the capital of the southwestern department (province) of Valle del Cauca on Saturday, September 18. The marchers demanded that their autonomy and neutrality in the war be respected, and that the armed groups stay out of their reserves. The elderly stayed behind in the reserves, because the rebels had threatened to seize the indigenous territories if the people left to take part in the march.

Colombia: Colombia's 3 Million Refugees, Hidden in Plain Sight ( September 12, 2004)
3 million Colombians (double the number reported by the government in Bogotá) live as "internally displaced persons," a term used to describe refugees who stay in their own country. Marxist guerrillas or right-wing paramilitaries have chased them off their native land. The fact that a law establishes their rights and outlines some measures to protect them does not make any difference. The elder community leaders such as Roberto Camacho are also unable to help their people as displacement from their lands undermined deeply rooted traditions of life style and the way of living

Colombia: UN Refugee Agency Deeply Concerned For Indigenous Community in Colombia (July 20, 2004)
1,200 indigenous people called Emberas from northwest Columbia are still in serious danger after returning to their places of residence. The presence of irregular armed groups puts the lives of these people at risk. Moreover, the elderly Emberas worry that indigenous youth will be recruited into the country's irregular armed groups. The indigenous live in areas that many believe contains oil reserves. Competing-but invisible-forces for control of the oil bring misery and death to the people who in these areas.

Colombia: Colombia's Ghost Towns (July 8, 2004)
The guerilla attack compelled the inhabitants of a small rural town in Colombia to flee. The three-year-old Stefania and her grandmother, aged 80 and great grandmother, aged 102, have nowhere to go

Colombia: UNHCR says 556 Embera Indians Fled Violence in Colombia (March 30, 2004)
Several hundred persons, including elderly, have become internally displaced due to the outburst of violence between insurgents and the militia in Colombia. According to UN sources, these indigenous persons from the Embera tribe need drinking water, waste disposal and health care.

Colombia: Colombia's Elderly Targeted Increasingly in Kidnappings (June 22, 2003)
In Colombia's deadly guerilla war, kidnappings are a common weapon of warfare. Recently, though, armed militia increasingly target the elderly: those least able to cope with the harsh life of captivity. The oldest known abductee is an 84-year-old man.

Colombia: Death Reigns in Meta (April 15, 2003)
The Colombia Support Network collected testimony from several civil society groups in the Colombian state of Meta describing human rights violations from June 2002 to March 2003. Elderly villagers were frequently among the murdered, tortured, and abducted.

Colombia: Kidnapped: Pinned by the Sword and the Wall (2000)
Groups of guerrillas, paramilitaries, and criminals in Colombia increasingly kidnap the most vulnerable members of society, including children and the elderly. Eighty-three-year-old Rigoberto Lopez survived four days of detention in 1999 by the National Liberation Army (ELN), and was released only after his son took his place. In 2000, Lopez was abducted again by right-wing paramilitaries.


USA

Chesley Sullenberger, pilot of Airbus 320 Over the Hudson is 57… (January 16, 2009)
(Article in French)
No passenger was hurt in the surprising crash of the plane A320 in the Hudson on January 15. The pilot, Chesley Sullenberger, 57 and a US Air Force veteran, avoided a plane crash in the city and made sure that everybody had evacuated his plane. A Californian study confirms that experienced air pilots are safer: the accumulated knowledge, also known as "crystallized intelligence," allows such older pilots to remain highly skilled for years.

Elderly Evacuees Face Challenges at Fire Shelter (October 24, 2007)
On National Public Radio, Carrie Kahn addressed the wildfire situation affecting southern California and its older residents this past week. According to the brief summary, "among the thousands of wildfire evacuees at San Diego's Qualcomm Stadium are about 100 elderly nursing home residents." She reported on their stories of evacuation and care as they waited to return to their nursing homes. Please listen to her report.

Scale of the Fires' Disruption on Display at San Diego Stadium (October 24, 2007)
Elder people were the first victims of the California fires, evacuated from the nearby blazes, with no special place reserved for them to stay and receive essential care. The massive fire evacuation effort involved more than 350,000 retirement households across six Southern California counties. Responding to the evacuation orders, older persons had to scramble to find their medications and other essential items. The situation highlights the importance of understanding the vulnerability of the elderly, and that in such emergency situations they require more protection.

New Omahan May Be Oldest Refugee at 96 (September 9, 2007)
At 96, Lazaro Busuku starts all over again in a new, foreign country, which may be his last "home." Although this article fails to address the difficulties and hardships that older refugees experience in their host countries, it offers a glimpse of the incredible journey of someone who has spent the majority of his life as a refugee.

Still Left Behind (August 31, 2007)
While many rich people see the opportunity to rebuild New Orleans in a "better way," many poor people still dream of moving back to their homes. Says 79-year-old Carrie Lewis, who for the past two years has lived in a small trailer 100 miles northwest of New Orleans , "I want to go home, [but] they don't have places for old people in New Orleans yet. What am I supposed to do? I don't want to die in a little trailer in the middle of a field somewhere."

Evacuating Disabled, Elderly Remains High Storm Priority (June 6, 2007)
According to emergency management coordinator Billy Ted Smith in Jasper, TX, the emergency services seek to accommodate special needs individuals—the elderly and the disabled—in case of coming storms. The community will provide ambulances or air evacuation for the "medically fragile," school and charter buses, and in areas like Houston/Galveston and Beaumont/Port Arthur, use railroad evacuation.

Report: Caring for Vulnerable Elders During a Disaster: National Findings of the 2007 Nursing Home Hurricane Summit (May 2007)
Sixty-five national and state leaders from long term care, emergency management, transportation, energy, medicine and state and federal regulatory agencies convened for the second Nursing Home Hurricane Summit with the intent to "keep vulnerable elders and other persons with disabilities residing in long term care facilities safe during times of disaster." While emergency planning has improved over the years, older persons in nursing homes remain vulnerable and invisible and the "feds, state and community have got to work harder together to protect nursing home residents during hurricanes." The report offers 10 key recommendations.

Vulnerable Population Lack the Ability or the Means to Respond to Emergencies (May 15, 2007)
Giving the example of the population in Southern California Ventura County, this article draws attention to the effects a disaster might have on vulnerable people. "They might be poor and unable to afford stockpiles of food and water, or they might rely on medication or medical equipment such as oxygen tanks. They might speak only Spanish or an indigenous language, making emergency information difficult to read or understand." It highlights the specific challenges vulnerable populations such as the elderly could meet in the event of a disaster like a wildfire, earthquake or pandemic flu outbreak. When dealing with emergency situations, one of the key pieces should be identifying vulnerable people and ways to assist them. Sandra Young, president of the Mixteco/Indigena Community Organizing Project, elaborated about the particular vulnerabilities of Mixteco Indians: "we have this huge population, many of whom don't speak Spanish or English and don't read or write in any language. Many of them don't have a car."

Disaster Plan is Set for Elderly, Disabled (May 13, 2007)
Emergency officials and local volunteer agencies in Mobile County, Alabama, teamed up to create a special-needs registry – one of the first in the nation – to ensure the safety of elderly and disabled people in case of a hurricane. According to officials, when a storm is threatening to strike the area, they will contact everyone on the list and make sure they can get out, either by their own means or with assistance from the government or volunteer agencies. Hurricane season begins June 1.

Seniors Must Prep to Avoid Katrina Horrors- CDC (March 8, 2007)
Given a general lack of preparation by Americans to deal with disasters, the US Centers for Disease Control and Prevention warns senior citizens to be prepared to be on their own at least for a while in the event of another disaster. About 70% of the victims of Hurricane Katrina were older than 60, according to AARP. To prevent a repetition of this tragedy, the CDC recommends that seniors have on hand a basic emergency supply kit, a list of what they should bring with them if they have to flee--including medications, hearing aids, extra batteries and oxygen--and a list of doctor and pharmacy phone numbers in a waterproof bag.

Western US Hit by Cold and Ice (January 13, 2006)
During early January, the western United States struggled against freezing weather. For some people, this is an inconvenience; for others "a matter of life or death." Farmers, the homeless and the elderly are particularly vulnerable. The ice storm has already killed at least 15 people.

Elderly Left Homeless by FEMA Deadline (September 21, 2006)
Two years after hurricane Ivan hit the US Golf Coast, many victims still live in FEMA trailers. Lorraine and Leslie Archer, 72 and 66 years old, lost their residence in the hurricane and simply couldn't afford new housing with their government's disability income. But as FEMA's temporary housing program comes to an end this September, both fear that they will live out in the cold this winter.

Griffin: Disasters Take Major Toll on Elderly (September 7, 2006)
In this article, Richard Griffin, recipient of the "Media in Aging" Award of the University of Massachusetts, Boston, points to the continuing neglect of older persons in and after emergency situations. He condemns the absent or inadequate rescue efforts for older persons in emergency situations such as the Katrina disaster. Griffin also urges greater post-disaster care for elderly. For more than 1,300 elders in Louisiana, the uncertainty of their future can compromise their mental and overall health.

Tragic Toll of Age Bias (August 27, 2006)
The Louisiana Department of Health and Hospitals reports that out of the 1,400 or more people that died because of Hurricane Katrina, "78 percent of the identified dead were over 51" and "thirty-nine percent of the total were over 75." In addition, the Social Science Research Council states that "fifty percent of New Orleanians over 65 had disabilities." The author argues that politicians, the media, and even emergency workers excluded older persons in relief and rescue efforts because of "ageism, the bias against midlife and older people." In this article she urges the public to address ageism in disaster preparation and relief "just as we do race, class, and gender bias."

Hundreds of Seniors Evacuated after S. Side Power Outage (August 1, 2006)
On Monday July 31st, approximately 20,000 people on the Chicago south side including the residents of 19 mid-to high-rise buildings--of which 11 are senior citizen buildings--lost electricity. With the temperature approaching 100 degrees again the following Tuesday, the Chicago Fire Department ordered the evacuation of at least five senior high-rises. According to officials, 350 of the most fragile evacuees were taken to several hotels, and 600 were taken to the nearby McCormick Place Convention Center. Chicago hopes to avoid the repeat of a 1995 heat wave that killed approximately 700 people; of those many were isolated older adults.

Elderly, Isolated Are Heat's Quiet Victims (July 29, 2006)
California's 12-day heat wave killed 130 people last week, mostly elderly living alone and in isolated neighborhoods. The state emergency management authorities were utterly unprepared to deal with this weather. However, there is growing support for California to set up an emergency system dealing with excessive heat similar to those implemented by Chicago and other cities that previously experienced a significant number of heat-related deaths.

Helping Elderly Flood Victims (July 6, 2006)
Employees of the Columbia/Montour Area Agency on Aging are carrying out a door-to-door inspection of about 2000 seniors that suffered damage in last week's flooding. Care managers are attempting to find out victims' needs and connect them to the Red Cross, the Salvation Army and other organizations to make sure they are getting necessary assistance.

Emergency Preparedness for Older People (June 9, 2006)
(Full report available here) This year, the Annual Jarvie Colloquium was entitled "The Many Ways of Being Connected: Social Strength of Older People." It hosted different workshops that dealt with this topic. Nora O'Brien, Director of Aging Programs at The Brookdale Foundation, gave a presentation aimed at "learning more about connectedness from disasters." Here is a report that the speaker used as background for the workshop. It explains how older people are very often left behind in disasters and gives different recommendations to change this regrettable fact.

Dealing with Disaster (May 2006)
"It's taken so long. I still don't have a settlement and I don't know what to do," explains one of the Katrina survivors. In the past two years, the US has faced a very high number of disasters. Consequently, AARP is publishing a guide to "help those whose lives have been affected by a natural disaster cope with the aftermath and better prepare for future disasters." This compilation of experience-based stories aims at helping both civilians and relief workers better prepare. The tips given remind the elderly how to be ready physically and mentally.

In New Orleans, a Second Freedom Ride (April 4, 2006)
Driving through the devastated streets of New Orleans, Allie Deger describes what used to be a thriving city. Along with several hundreds of students from all over the US, she participated, during spring break, in a debris removal program that cleaned up debris and ruined housing in New Orleans. Their job consisted in helping people clearing the once intact houses from all the broken furniture and dry mud. An eighty-five year old couple owned one of these houses. The author acknowledges that they could not have done the job themselves. As in other houses in the neighborhood, experts detected a high level of toxicity in their home after the nearby Murphy Oil Refinery reported an oil spill in the area. The old couple will not be able to rebuild their "gutted" house.

Katrina's Mental Damage Just Beginning to Heal (March 9, 2006)
Victims started looking for emotional support on the very first day of Hurricane Katrina. Six months later, the story has not changed. Just like soldiers in time of war, victims of Hurricane Katrina have experienced horror and need support. Starting another life takes a huge amount of time and energy. Older persons often have more difficulty changing their previously settled lives. Single mothers and the elderly stay longer in a stage of grief than others. Among them, Cynthia Denley, a 76-year-old from east New Orleans, can't help but show her anger at officials. "We're doing just as we had been doing right after. New Orleans is still hopeless," she says.

To Combat Hunger, More in US Turn to Soup Kitchens (February 24, 2006)
As income in the US has shifted much wealth to the richest, so has the number of Americans going hungry increased. America's Second Harvest, a charitable food distribution network, is now providing help to more than 25 million people, an 8 percent increase over 2001, the last time the organization did a major survey of its more than 200 food banks in all 50 states. That increase in the number of people who are hungry is particularly striking since the elderly are the fastest growing part of this hungry population. Aging is also in the streets.

As Temps Drop, Concerns about Hypothermia Rise (February 23, 2006)
An average of 689 American freeze to death each year. The sudden February cold snap threatens hundreds of homeless and elderly people living on the streets or in inadequately heated structures. Not all victims of the cold are vagrants, however. At least 142 people died in their homes in 2003, often poor and elderly residents with inadequate heating. Seventy percent of the Americans who died of hypothermia in 2003 were men with a median age of 61 and about 82 percent of the victims were single, divorced or widowed. A disproportionate number were African Americans or of other racial or ethnic minorities.

Six Months after Katrina: Who Was Left Behind (February 21, 2006)
The elderly were left behind. This article reveals the truth of elder abandonment during the Katrina hurricane. The 280 local nursing homes remained mostly full. Only 21% evacuated and as a consequence 215 people died in nursing homes, at least six people died at a single nursing home while they waited four days for busses. The aged who lived at home also certainly found it more difficult than most to evacuate as they were more likely to live alone, less likely to own a car and nearly half were disabled. As a matter of fact, the people left behind in the rebuilding of New Orleans are the poor, the sick, the elderly, the disabled, children, prisoners, mostly African-American.

'It has disrupted my entire life' (February 2, 2006)
Five months later, Hurricane Katrina continues to leave many elderly residents in the Gulf Coast with aggravated health problems, emotional strain, and psychological stress. Beverly Smallwood, a psychologist at the Hope Center in Hattiesburg, Mississippi says that, "as people age and develop health problems and physical limitations, predictability in their environment becomes even more important to them. Staying safe and maintaining a sense of control at a time when life may feel out of control is crucial." In the following months, relief and other social service agencies need to focus on the specific needs of older persons who survived the Gulf hurricanes.

Pre-Katrina Emergency Plan for Elderly Faulted (January 31, 2006)
According to newly released documents, Louisiana officials did very little to evacuate vulnerable people, including older persons, before hurricane Katrina hit New Orleans. State Transportation and Development Secretary Johnny B. Bradberry was in charge of the task but told Senate investigators that his department had no buses to carry out the evaluation. He argues that he accepted the task "under the condition that (he) wanted to keep things moving." But in the end, hundreds of New Orleans school buses were left with no driver. Why? Their drivers had fled from the Hurricane. As a matter of fact, "No one assumed the responsibility to ensure that the pre-landfall evacuation of New Orleans would be complete," Lieberman said.

Elderly, Tips on Hurricanes (January 2006)
Elderly persons are especially susceptible to the effects of a hurricane. Those who live alone or are without the support of family or friends must take special precautions in the event of an emergency situation. This article gives a whole list of tips to the elderly facing hurricanes. Among them: making an emergency kit for yourself and your spouse or partner. Include copies of identification, list of medications you are on, any special health problems, insurance cards, and important papers such as insurance policies for your home, car and other property. As well, form a Hurricane Club" with other older persons who live alone as well and decide in who's home your "Safe Room" should be. These are easy to follow and they can save lives.

Report Says State Needs to Coordinate Evacuation Plan for Elderly (January 24, 2006)
A recent South Carolina Emergency Management Division report says the State needs to improve its assistance towards the elderly in case of an emergency. The report says the State should put more effort into keeping track of special needs residents such as the elderly or the disabled. If the State kept such records current, it would know where to look for vulnerable people in case of disaster.

Patients Needing Care Overwhelm New Orleans's Hospital System (January 23, 2006)
As people continue to return to New Orleans in the wake of Hurricane Katrina, the health care system struggles with a resource problem: not enough doctors, nurses, and even hospital beds. Patients fill hospitals beyond capacity. Staff constantly function in crisis mode. If that isn't enough, hospices, long-term care facilities, rehabilitation centers, and home health aides are almost non-existent. The state of the hospital systems in recovering cities will directly impact returning residents, including the elderly.

Hurricane Aftermath (November 28, 2005)
More than 30,000 elderly and disabled people from 400 nursing homes in Texas and Louisiana were forced to evacuate in the recent hurricane and flood disasters. Many of these frail evacuees were hit hard by the stress of the evacuations, and some died. The evacuations were fraught with complications and delays, highlighting the fact that authorities were not adequately prepared for the disasters. Many families were unable to locate elderly and disabled evacuees in the weeks after the disasters. Officials in Louisiana say that some nursing home residents have not been found, and many will never be able to return home.

What Really Happened at St. Rita's? (November 28, 2005)
New information has emerged about the tragedy at St. Rita's nursing home in New Orleans, where 35 elderly residents died after hurricane Katrina. Charges of negligent homicide were brought against the nursing home operators in September. The new details rebut reports that the patients were abandoned in their beds. In fact, the operators remained at the site with members of their own family, and worked alongside staff in efforts to save as many residents as possible after floodwaters poured into the facility, almost reaching the ceiling within 20 minutes. However, some relatives of the deceased residents say they were misled into believing that the residents would be evacuated. At least one family has said that if they had known the residents would remain in the facility throughout the storm, they would have evacuated their loved one themselves.

State Legislators Urge Reform for Care of Seniors During Emergencies (November 7 2005)
In the wake of Hurricane Wilma in Florida, many elderly citizens report that they did not receive adequate assistance. Several legislators say the state government needs to establish a disaster plan to ensure that urgent attention is given to elderly and frail people. Others want to create a new high-level government advocate to coordinate emergency assistance to the elderly. Advocates stress that "marginally independent" elderly persons must be included in emergency plans, not just those already receiving regular assistance. Top government officials say assistance has been orderly but agree that more could be done. The secretary of the state Department of Elder Affairs said that lack of communication between different authorities caused the problems. So what are they doing to make things better during the next disaster?

Wilma Leaves Florida Elderly Vulnerable (November 6, 2005)
Officials say that a "massive effort" is underway to care for frail and elderly storm victims in the wake of hurricane Wilma. State and local agencies, along with nongovernmental organizations and private companies are assisting the victims. Despite this effort, many elderly people report that they have had to rely on help from friends and family. Some 1.12 million people aged 60 or older and more than 125,000 people 85 or older live in the affected areas. Some of these people are now housed in shelters, after their homes were lost or severely damaged. A mental health counselor working with the evacuees said many are "anxious, panicky, depressed, hopeless or despairing" and are showing signs of post-traumatic stress syndrome.

City's Nursing Home Evacuation Plans a Disaster (November 1, 2005)
A state Health Department survey in New York City has revealed that less than half of the city's nursing homes have disaster plans to transport evacuated residents in the event of a disaster. The Health Department requires nursing homes to have evacuation plans, but there are no requirements for transportation plans once residents are evacuated. In the wake of the Katrina hurricane disaster, the Health Department and the city Office of Emergency Management are now concentrating on ensuring that nursing homes have adequate evacuation plans. Experts predict that a hurricane will strike New York sooner or later. With the lessons learned in the Katrina tragedy, it is clear that such plans are essential.

Days After Wilma, Florida's Weakest Face New Threats (October 30, 2005)
The electricity services of more than 3.2 million customers were knocked out in Hurricane Wilma. About 1.29 million customers are still waiting for electricity to be restored. The ill, the frail and the elderly are particularly affected by this situation. Some rely on oxygen tanks that need power to run. Battery powered wheelchairs and other devices cannot be charged. Elevators in high rises cannot run, and some frail people have been forced to walk down flights of stairs. Florida Power & Light estimates that the vast majority of customers will have their power restored within days. However, full service may not be restored until November 22. Rep. Robert Wexler, D-Fla., has written to the company asking them to add areas where many senior-citizens live to the list of priorities for faster power restoration.

Wilma Hits Elderly Residents Especially Hard (October 29, 2005)
Many elderly people in Florida are finding that they are unable to get enough water, gas and ice in the aftermath of Hurricane Wilma. Some do not drive cars, or are hesitant to drive on roads with no traffic signals, where many accidents have occurred already. Although ice and water distribution sites were set up, some elderly cannot physically wait in long queues. While the more frail elderly people stay indoors, others are out cleaning up debris or searching for supplies. A Fort Lauderdale spokesman said that the city is working to ensure that older and sick residents as well as hospitals and nursing homes have the supplies they need.

Old People Were the Majority of Katrina's Victims (October 24, 2005)
(Article in French)


Following the autopsies of human corpses found in Louisiana after the hurricane, officials confirmed that the majority of Katrina's victims were older people. Sixty percent of the 500 victims were at least 61 years old. Older persons were more likely to be in hospitals or retirement homes and had no access to transportation to escape, said the department spokesperson.

La. Investigates Allegations of Euthanasia at Hospital (October 15, 2005)
The Attorney General in Louisiana has requested autopsies and toxicology tests to be conducted on the bodies of 45 patients who died at Memorial Medical Center during the recent flood disaster. The order comes after rumors that staff euthanized some seriously ill elderly patients in the frantic days following the hurricane. The hospital has denied the allegations. Meanwhile the coroners conducting autopsies are facing challenges in their grim work, as 200 bodies still await autopsies. Many of the bodies were exposed to extreme heat or were submerged in water for weeks.

Officials Make Plans to Evacuate Most Vulnerable Citizens (October 8, 2005)
Officials in Natchez County , Mississippi , are discussing disaster preparedness following the recent flood and hurricane disasters. The officials would like to compile a list of all the elderly and disabled people in the area, who would be priority groups in the event of a disaster or evacuation. According to local groups, they can compile a list by pooling the information of all the local groups who work with elderly or disabled people.

Elderly Affected Most by Hurricanes, Senators Told (October 6, 2005)
The tragic fate of many elderly who died during the recent US hurricane and flood disasters has prompted officials to address the inadequacy of current evacuation and emergency plans. Witnesses told a Senate panel that rescuers must know the locations of seniors before disasters so that they can evacuate them earlier, and attend to their special needs, such as wheelchairs and medications. Emergency planners from various states presented their plans focusing on protection for seniors in emergency situations. A plan for Duval County, which includes Jacksonville, Florida, identifies the elderly and others with special needs by registration forms. A comprehensive database exists for these people, including information on medications, relatives and special needs. Some witnesses said that the federal government needs to stop focusing only on terrorist threats, and address other problems in its emergency plans.

Elderly Katrina Evacuees Feeling Powerless (October 3, 2005)
William and Martha Daniels lost their home and almost everything in the Hurricane Katrina. They evacuated to Houston and moved into an apartment. FEMA paid their electric bill; however, because Martha forgot to transfer the service into her name, power was shut off on September 30. But it was life-threatening-- William needs to keep his cancer medication in a refrigerator and also need air-conditioning. Luckily for the Daniels, 11 News, which broadcasted their situation, asked the power company to review their case. One hour later, the power came back. But there might be more elderly evacuees who have similar problems. Who will reach them?

Nearly 20 Elderly Care Facilities under Investigation (October 3, 2005)
Charles Foti, New Orleans State Attorney General, said 6 hospitals and 13 nursing homes in Louisiana are under investigation in the death of elderly patients following Hurricane Katrina. In the storm and its aftermath, at least 140 elderly patients in nursing homes and hospitals died. The cases focus on whether the facilities mishandled evacuation of patients, abandoned them during the storm, or euthanized patients to spare them pain when rescuers didn't arrive. But what is the federal and local governments' responsibility? If rescuers had arrived before or just after the storm and helped institutions to evacuate patients, more lives could have been saved.

Officials Admit Better Plans Needed for the Elderly, Frail (September 30, 2005)
After numerous elder deaths associated with the evacuation for Hurricane Rita in Texas, local officials have acknowledged the need to alter their evacuation plans to ensure the safety of frail and elderly persons. Current guidelines require nursing homes to have disaster and evacuation plans, but there is no provision for determining when it is safe to evacuate critically ill or extremely frail older persons. The recent evacuations proved that some vulnerable elderly persons cannot survive the stress of an evacuation. In the coming months, officials will discuss how decisions will be made in regard to evacuations and who should make them. They will also discuss whether priority should be given to those with special needs in the case of an evacuation order.

Elderly Evacuation Poorly Done (September 26, 2005)
Dr. Ayn Welleford, associate professor and interim chair of the Department of Gerontology at Virginia Commonwealth University has criticized the recent evacuations during Hurricane Katrina and Hurricane Rita. The confusion and unnecessary suffering that occurred could have been avoided with better planning. Elderly people are particularly at risk, as their needs are highly specialized, and many disaster relief staff lack elder care training. She emphasized that not all elderly people are frail, but many are in vulnerable situations, due to physical or mental illness or lack of mobility. Suggesting that evacuation plans must include provision for those with special needs (medications, oxygen or walking frame), she said that a central database of prescriptions would help ensure vulnerable people are cared for in disaster situations.

Survey of Hurricane Katrina Evacuees (September 2005)
The Washington Post, Kaiser Family Foundation and Harvard School of Public Health Survey Project conducted the Survey of Hurricane Katrina Evacuees from September 10-12 among 680 randomly selected adults age over 18 residing in Houston shelters. The survey asked various questions such as the reasons why they hadn't evacuated and their demographic backgrounds. According to the questions, only 6% of the survey participants were the elderly. However, the population of the elderly age 65 and over in New Orleans was about 16% among the adult age 18 and over, according to Census 2000. Because the survey didn't cover the evacuees who now live in houses of friends or family, hotels, or nursing homes, there might have not been so many senior citizens in the shelters. But even so, "6%" isn't a too small number if the elderly had successfully evacuated? Where did the other "10%" go? Nursing homes? Friend's house? Or left behind?

Are Elderly Ready for 'Big One'? (September 26, 2005)
Natural disasters, such as hurricane, tsunami, and earthquakes, suddenly attack human life. Also, it's even difficult to predict when human disasters such as power outages and other attacks occur. Unfortunately, older people are not likely get good treatment in emergency situations. Under federal law, all nursing homes and log-term care must have evacuation and disaster safely plans as well as backup generators. They also must have food and water for 5 days on hand. But no one knows how well those work in practice. The UN has already adopted measures that spell out how to help older persons caught in both natural disasters and armed conflict. When will governments live up to the pledges they've made to older persons?

Ill-fated Charter Bus Had Expired Registration (September 25, 2005)
The charter bus, full of evacuated nursing home residents from Houston, exploded just south of Dallas. According to a spokesman Mark Cross for the Texas Department of Transportation said, the bus, operated by Global Limo of Pharr, Texas, was not among 10 vehicles that the company has registered with the state. He said the vehicle's state registration had expired in July, meaning that it was illegal to be used to help evacuation of the nursing home residents. An attorney for the Global Limo, Mark Cooper, didn't say whether the company knew the bus's registration had expired as well as the driver's safety record. 14 passengers on the bus were rescued before the explosions, but 23 were killed. Yes, Global Limo should be punished; however, is the state really innocent? Why didn't the state know how many vehicles were available to help evacuation?

Body Hunt Turns up Children, the Elderly (September 22, 2005)
More bodies of elderly and children have been found-- as of September 22, the death toll in Louisiana was 799, nearly 80% of the 1,036 deaths attributed to Hurricane Katrina across the Gulf Coast. Searches for bodies have continued, and officials said the effort could last another four to six weeks. About 500 people are working to search door-to-door locked homes, which is the most intense phase of the recovery effort. "There still could be a quite a few, especially in the deepest flooded areas," U.S. Coast Guard Capt. Jeffrey Pettit said. The city had more than 484,000 residents before the hurricane, but according to the mayor, the city is looking at repopulating the city at about 250,000, a little more than half its full population. When will New Orleans completely recover from the tragedy?

La. Begins Probe into 14 Nursing Home Deaths (September 20, 2005)
The Louisiana attorney general, Charles Foti, has begun investigating the circumstances in which 14 residents perished at Lafon Nursing Facility of the Holy Family in New Orleans during the recent flood disaster. State investigators are following up on the deaths of patients and residents at 20 to 30 other care facilities. Foti's office is also "close" to launching investigations into two hospitals where many other deaths occurred. Once the investigations are completed, Foti is planning to write a report outlining recommendations for changes in evacuation policies for medical facilities.

154 Patients Died, Many in Intense Heat, as Rescues Lagged (September 19, 2005)
According to interviews with officials from hospitals and nursing homes in the New Orleans area, at least 91 hospital patients and 63 nursing home patients died in facilities where patients and staff awaited evacuation for days after the storm. Most of the patients were elderly. The tireless efforts of doctors and nurses saved many patients who also would have been doomed in the stifling heat and electrical outages, which cut off many machines that were keeping patients alive. While some facilities made fatal choices not to evacuate, many private hospitals and nursing homes hired buses, ambulances, and in one case a helicopter to evacuate patients. Public hospitals, many under-funded, awaited relief from government agencies. These hopes were diminished as critical patients continued to die, not able to survive the days of waiting for help to arrive. Reports of healthy people being evacuated ahead of the sick and elderly suggest that these vulnerable groups were relegated to the bottom of the list of priorities in the rescue operation.

Aging, Frail, and Refugees from the Hurricane (September 18, 2005)
Hurricane Katrina drowned many old people. However, even after a successful evacuation, people in wheelchairs, with dementia, and/or in need of medical attention are still at risk. They moved without their medical records when they were evacuated. They subsisted on bag lunches without insulin or blood-pressure medicine, risked infection from catheters that were necessary when no toilets were available. Some haveonly some clothes on their backs. "There is not good solution," said Catherine Hawes, a professor of health policy and gerontology at Texas A&M University. "But we need to know what went well and what didn't."

Amazed Rescuers Find 76-year-old Man, Trapped for 18 days (September 17, 2005)
Mr. Gerald Martin, a 76-year-old man who was trapped in his attic, greeted FEMA workers when they arrived to rescue him. When Hurricane Katrina attacked New Orleans, Mr. Martin had only time to grab some water and get to his attic, which he described as feeling like an oven during day-after-day of mid-90-degree heat that followed the storm. If a fallen tree had not provided shade, Mr. Martin would have dead. He sipped a dwindling supply of water. It ran out the day before he was found. Though he was weak and very tired, he was able to speak and even stand after 18 days without food. GAA hopes more survivors will be found.

With Age Comes Resilience, Storm's Aftermath Proves (September 14, 2005)
Hurricane Katrina demonstrated that physical vulnerability can accompany old age. However, it appears that elderly people are coping much better than their younger counterparts in bouncing back from the tragic disaster. Psychiatrists, psychologists and social workers who treated Hurricane victims noted that the elderly were less anxious than younger people when they were given basic necessities. Research has shown that healthy elderly people are able to recover from remarkably emotionally and psychologically stressful situations more quickly than younger people. As clinical psychologist Robert E. Reichlin states, "You don't live to 80 without being tough!"

Owners of Nursing Home in New Orleans Charged in Deaths of 34 (September 14, 2005)
The owners of St. Rita's Nursing Home, where 34 residents died in the floodwaters that inundated the New Orleans area, were charged with multiple counts of negligent homicide. Attorney General Charles C. Foti Jr. said the owners did not acted on several warnings to move the residents when Hurricane Katrina approached. In addition, though St. Rita's was licensed as a Medicaid facility which must have an evacuation plan in place, it did not use it, Mr. Foti accused. This is the first major trial to emerge in the hurricane's aftermath. A deputy at the East Baton Rouge jail said the owners of St. Rita's has posted a bond of $50,000 and were expected to be released.

11 Evacuees Have Died Here (September 14, 2005)
Eleven people have perished in or on route to Shreveport/Minden, Louisiana, after being evacuated from southeast Louisiana after Hurricane Katrina. Most of the deceased were patients from nursing homes or people with health conditions who needed medical attention and could not be treated in the Hurricane's chaotic aftermath. Some died in nursing homes once they arrived at their destinations, while others did not make it, and passed away on buses or evacuation aircraft.

Help 'Too Late' to Save Patients (September 13, 2005)
Forty-five bodies, most of them geriatric patients, were found in Memorial Medical Center in New Orleans. Despite the fact that hospital staff had started to evacuate patients before Katrina attacked the city, their job became dreadfully difficult once the waters rose. After Hurricane Katrina knocked out the hospital's power supply, hospital staff and family members tried to keep the patients cool and waited for help. But help from the authorities failed to arrive until it was too late. Many frail elderly were left inside the hospital while the temperature hit 107 degrees. But why didn't evacuation go smoothly? Why did the National Guard make so many mistakes? Many questions remain.

Elderly Hurricane Victims Receiving Assistance (September 13, 2005)
The US Administration on Aging (AoA) has given a $750,000 grant to the departments for aging in Alabama, Louisiana and Mississippi to use for immediate assistance to the frail elderly who were affected by Hurricane Katrina. This fund will be used to provide information and assistance, meals, case management and counseling assistance, in-home and chore services, personal hygiene supplies and relocation assistance. GAA hopes that these services reach the elderly quickly.

Treatment of Elderly in Disaster to Be Topic at Session (September 13, 2005)
Approximately 1200 delegates from around the nation will gather in Washington, D.C. this December for the White House Conference on Aging. The Conference has been held once every ten years since 1965. While disaster response was included in the agenda long before Hurricane Katrina hit, the horrifying consequences it had for elderly people have thrust the issue into the spotlight. Some are worried that some participants will try to push Social Security privatization to center-stage. However, Policy Committee Chairperson Dorcas Hardy hopes that the focus will remain on key issues such as a comprehensive national policy on long-term care, healthy living for seniors and housing options for the aging.

Identifying Hurricane Dead Poses Unusually Daunting Challenges (September 11, 2005)
Rescue workers say that the task of identifying the dead in areas hit by hurricane Katrina is proving difficult for several reasons. Some criticized what they call a slow retrieval effort. Heat and water have accelerated the decomposition of bodies, rendering them unrecognizable. Many dental records that would help identify the bodies are non-existent since the percentage of residents who visit the dentist in Louisiana and Mississippi is relatively low. Many records that did exist have been destroyed. DNA testing has also been hindered by the dispersal of family members who could give DNA samples. Rescuers have identified bodies that bore hospital or nursing home bracelets with names on them. One forensic scientist estimates that 20 percent of the bodies may never be identified.

Disasters Waiting to Happen (September 11, 2005)
In the wake of hurricane Katrina, attention has turned to disaster prevention measures. A long and expanding list of public infrastructure considered to be sub-par, including highways, dams, ports and bridges confronts the US public. The American Society of Civil Engineers has estimated that the proper maintenance and repair of public infrastructure will require $1.6 trillion over the next five years. Only $900 billion is currently allotted for this purpose. Since the 1950s government spending on public infrastructure has decreased and currently represents less than 2 percent of the gross domestic product. Without this maintenance, natural disasters will cause much damage that could have been prevented. After witnessing the devastating impact of hurricane Katrina, particularly on vulnerable segments of the population such as the poor and elderly, it seems clear that avoidance of such tragedies should be a national priority.

TIME Poll Results: Hurricane Katrina (September 10, 2005)
The latest TIME magazine poll has revealed that 61% of Americans surveyed believe the US should reduce spending in Iraq to fund the rebuilding of areas affected by Hurricane Katrina. More than half of those surveyed said that they are worried about the government's ability to provide relief to their community in the event of a disaster or terrorist attack. A majority said that the government response was too slow. More than half of those surveyed were dissatisfied with Bush's explanation of the government's tardy response. About three quarters (73%) of the African Americans surveyed believe that race and income were relevant factors in the government's response to the disaster, compared with only 29% of whites.

Reaching Out to Aid the Elderly, Frail (September 9, 2005)
The Department of Aging and Disability Services in Texas has reported that over 1,000 Hurricane Katrina victims have been admitted to nursing homes across the state. Many of the victims were evacuated from New Orleans ' nursing homes, while some arrived in Houston needing specialized care. Health care professionals have been working at shelters housing Katrina victims to identify elderly people who are need of special assistance or those with developmental disabilities. They are being moved out of large shelters, where lack of adequate medical care as well as sleep deprivation could further complicate their conditions.

Catastrophe Hits Elderly the Hardest (September 8, 2005)
When Katrina attacked, some elderly were left in despair at a rural Mississippi school, and others drowned in a Louisiana nursing home. Even those who were lucky to evacuate before the attack have had a tough time. Bruce Barnes tried to get his 78-year-old father, who's blind, and his 75-year-old mother, who's crippled by arthritis, onto a bus. But "I couldn't get them on (a bus) because the young people, the healthy people were pushing and fighting to get on the bus," he said. His elderly and disabled parents were left for a long time. Other elderly evacuees have experienced difficulties in shelters. Vulnerable old people can be easily become "the victim among the victims" under emergency situations. Remember that they need and deserve special attention and care.

Forced Evacuation of a Battered New Orleans Begins (September 8, 2005)
With the waters inside the city growing increasingly fetid and unsanitary, New Orleans police officers started to force residents to leave no matter whether their houses were damaged or undamaged. An estimated 5,000 to 10,000 people remained inside New Orleans . According to the city's police superintendent, the hazards posed by fires, waterborne diseases and natural-gas leaks are harming the city so that the residents should leave as soon as possible. But while they are evacuating, who will take care of their houses and possessions? Is there a guarantee that their houses will not be robbed or destroyed by someone? If a house was not damaged, it will be difficult for owners to decide to leave, especially the ones who live with limited incomes such as the elderly.

Elderly Expat Tells of Hurricane Horror (September 7, 2005)
A 75 year-old man was trapped for 5 days in his New Orleans home after Hurricane Katrina and massive flooding devastated the city. Keith Faulkner, suffering from prostate cancer, had convinced his wife, Grace Ann, to leave him the day before Katrina attacked the city. After 5 days surviving with some food and water, he was rescued by his neighbors who came back home to salvage some possessions. Fortunately, the water didn't rise so high as to drown Mr. Faulkner while he was alone.

In Nursing Home, a Fight Lost to Rising Waters (September 6, 2005)
Hurricane Katrina took a lot of lives, including the elderly people in nursing homes who could not leave by themselves. According to St. Bernard Parish officials, 32 of the home's roughly 60 residents died on Aug. 29 at St. Rita's nursing home. Ricky Melerine, a St. Bernard Parish councilmen, said that the water rose at least 3 feet from 10:00 to 10:15 that Monday morning, and it continued to rise after that. Some residents at St. Rita's were able to evacuate, but some were stuck in the building because they could not evacuate by themselves before the water rose to the roof. Steve Kuiper, vice president of operations for Acadian Ambulance, said that St. Rita's had an evacuation plan but he never heard the request of helicopter evacuation from St. Rita's. Misjudgment or poor equipment or confusion or inadequate planning caused thirty-two helpless elderly to die miserable drowning deaths.

Anger as Forgotten Elderly Left to Die (September 6, 2005)
A large Australian newspaper worries about the fate of older persons trapped in nursing homes who could not get out of New Orleans . GAA worries about similarly disabled elderly who could not leave their homes due to mobility difficulties. How many have perished? This scandal of poor government planning and rescue efforts spotlights the "privatization formula" that robs the public sector of its resources in order to line the wallets of the very richest citizens.




Others


Peru: Ayacucho Elders March to Lima (July 13, 2010)
(Article in Spanish)
At least 80 old people of Ayacucho, victims of political violence that swept through the area during the eighties and part of the nineties, will march to Lima, the capital, to demand compliance with their right to financial compensation.

Haiti: Six Months After the Earthquake, Older People in Haiti Still Need Help (July 9, 2010)
Approximately 200,000 older people continue to suffer the tragic consequences of the Haiti earthquake. Six months after the quake, many are homeless, vulnerable and lonely. Many lost close family members. Some NGOs are reaching out to them with meals and emotional comfort. If they get assistance, older people can help re-build Haiti because they know the country and its history very well.

Haiti: IOM Health Team Helps Haiti's Earthquake Survivors Return Home from Hospitals (March 19, 2010)
The IOM Migration Health Unit this week launched the Assisted Patient Discharge, Transfer and Return Programme to help patients who are medically ready to leave hospital for home and/or rehabilitation care, but are considered vulnerable and in need of assistance to re-integrate into their communities in the Port-au-Prince area. This IOM program helps older patients, some of Haiti's most vulnerable, including older patients.

Haiti: Don't Forget the Elderly (March 12, 2010)
(Article also available in French)
Older people need more attention in the response to January's earthquake in Haiti. Also, rescue workers must recognize how they can help the relief effort, say aid workers. Some 800,000 Haitians, or about 7 percent of the population, are over 60, says Help Age International, and more than 200,000 elderly have been affected by the earthquake.

Chile: "Why Weren't We Told That the Sea Was Going to Cover Us?" (February 28, 2010)
(Article in Spanish)
A 90-year old man from the quaint town of Pelluhue in southern Chile predicted the tsunami that pummeled the coast right after the earthquake. He knew that the movement of the waves was not a good sign; he said that bigger waves would come and cover the city. The younger people did not pay attention, thinking it was a superstition, but quickly the prophecy became real. Most residents of the coastal town were not prepared; the government had warned that the height of the waves would be a few centimeters when in reality they were several meters high.

Brazil: Brazil Heat Wave Kills 32 Elderly People (February 10, 2010)
(Article also available in French)
After more than a month of torrential rains, a heat wave has hit south Brazil. Rio de Janeiro is facing its hottest February in fifty years. In Santos, where the temperatures exceeded 100°F (40°C), 32 older persons, between 60 and 90 years old, died. This tragedy epitomizes how vulnerable older persons can find themselves in unusual weather situations. Surely local governments should do more to protect and assist older persons.

Haiti: In Haiti, Older Persons Feel They Have Been Forgotten (January 23, 2010)
(Article in French)
In emergency situations, rescuers tend to focus their assistance on children and pregnant women and to forget older persons. This article illustrates this tendency with the example of the residents of a nursing home destroyed by the recent earthquake that hit Haiti. Ten days after the quake, the 71 residents still don't have access to food, water or any kind of assistance. Some NGOs such as HelpAge International recently discovered those forgotten older persons and are now trying to help them.

Haiti: Woman, 84, Rescued Alive 10 Days After Haiti Quake (January 22, 2010)
(Article also available in Arabic)
An 84-year-old woman was pulled alive by rescuers from under a wrecked building in Port-au-Prince on Friday, 10 days after the earthquake that devastated much of the Haitian capital, the doctor who treated her said.

Haiti: Desperate Residents in Haitian Nursing Home Finally Start to Get Help, but not Enough (January 22, 2010)
Four days after The Associated Press first reported on more than 80 elderly Haitians begging for food and medicine in a downtown Port-au-Prince slum, aid finally began to trickle in on Thursday. A nun distributed small bowls of spaghetti to the old people. Two aid workers from HelpAge International, a London-based group, arrived with Haitian doctors to deliver the first antibiotics to residents since the quake. Their plight underlined an unfortunate principle in the aftermath of last week's 7.0-magnitude earthquake: As survivors scramble for food and water, it is the weakest who go without.

Haiti: In Haiti, Food and Care Struggle to Reach the Stricken (January 17, 2010)
(Article in French)
Many days after the earthquake hit Haiti, most people still don't have access to water, food and health care. The UN is providing only 40,000 persons with food and hopes to help one million within two weeks. With the appearance of looters, the distribution of food and water is often turning into a fight. Consequently, vulnerable groups, such as older persons, have little chance to survive because they cannot fight for supplies.

Peru: Peru Quake Hit Rural Areas Hard (August 24, 2007)
The majority of governmental, inter-governmental and non-governmental aid agencies have aimed relief efforts at cities such as Pisco and Ica while mainly ignoring rural areas. It now becomes evident that many rural dwellings, which tend to have the most marginalized populations, have been hit. Victor Ramirez, a village elder, explains the most immediate needs: ""The most important thing is that the children and the old people get something to eat, and that they have blankets at night."

Uruguay: UN Releases Emergency Grant for Floods in Uruguay (May 10, 2007)
With Uruguay going through the worst flooding the country has experienced in 50 years, the United Nations Office for the Coordination of Humanitarian Affairs has released an emergency cash grant to support relief activities in the country. The article points out that the poor and other vulnerable groups such as women, children and the elderly, make up the majority of the 110,000 affected people.

Canada: Canada 's New Government Funds WHO Project to Benefit Seniors in Emergencies (February 7, 2007)


The Canadian Minister of Health recently announced his support of the World Health Organization (WHO) for a project titled, "Seniors in Emergencies: Engaging in Humanitarian Action." The Canadian funding will help WHO carry out projects to meet the specific needs of older persons caught in emergencies. Since 2002 Global Action on Aging has worked on getting more support for older persons caught in emergency situations. It's good to see that Canada has stepped forward.

Bolivia: Bolivia seeks international aid after heavy rains (February 1, 2006)
Bolivia has asked for international assistance following torrential rains and flooding across the country. Storms affected some 17,500 of Bolivia's 9 million inhabitants. They will likely continue over the coming weeks. Local government agencies, working with the World Food Program, are evacuating vulnerable groups, including the elderly, in the hardest hit areas and rushing in emergency food supplies where needed.

Haiti: Escalating Violence in Port-au-Prince, Haiti Inflicts Heavy Civilian Toll (January 19, 2006)
With violent attacks intensifying and spreading to many parts of Haiti's capital, 50 percent of all MSF patients treated for violence-related injuries are women, children, or elderly. According to patients, elderly have been both deliberately and unintentionally shot by all of the armed groups in the city. That's why MSF, the international medical humanitarian organization Doctors Without Borders, calls on all armed groups in Haiti's capital to respect safety of civilians and allow their immediate access to emergency medical care.

Guatemala: Medecins Sans Frontieres After the Storm Stan(November 2, 2005)
(Article in French)
In the wake of Hurricane Stan that struck the Guatelamala shoreline in early October, MSF staff remain active in the area providing essential care that will continue for some time to come. In this short interview, MSF head of mission in Guatemala, Dr. Frank Doerner explains that flooding destroyed everything and polluted all the water sources putting at risk the vulnerable parts of the population, especially the elderly.