Interview of Paulette Metang


Executive President of the Cameroonian Association for the Welfare of Older Persons

Conducted by Anne-Lise Stiehr and Valentine Honoré

Civil Society Forum

February 6, 2007
<![if !vml]><![endif]>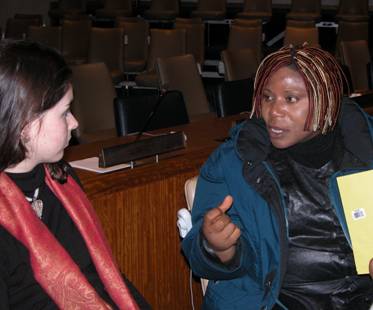 1/ Could you tell us a little bit more about the intergenerational link in Africa?
How do your organize your work of maintaining links between generations?

We see a two sided exchange between old and young people. Each is a master of their concerns. On one hand, older people are the tradition protectors of crafts and their production. By teaching their knowledge of manual work to the young, older people help the young start up their own work while keeping in mind traditional values. On the other hand, young persons can make the elderly aware of new technologies and help them adapt to the "new world".


2/ Is it still true that in Africa older persons are a respected group of people, that younger generations are still listening and respecting older people?

In the main, older persons are still respected in Africa. In fact, they are viewed as the keepers of the traditions. For example, older women teach young girls how to raise a family.


3/ How are older persons affected by HIV/AIDS?

We can deal this issue in two ways: first, older persons are directly threatened by HIV/AIDS, especially in the polygamist sphere. They are also confronted with HIV/AIDS in terms of care-giving. In fact, older persons have taken on many new responsibilities by caring for their grand children who are orphaned by the pandemic.


4/ Is aging a new challenge in Africa?

The aging challenge is quite recent on our continent. The government and its department of Social Affairs, tackles the issue. Beside the government, I see civil society in Cameroon playing a major role. That's why today I am here at the Commission on Social Development to represent Cameroon. I also want to promote a report I wrote on behalf of the Civil Society Organization. I've been required to publish it to show the MIPAA (Madrid International Plan of Action on Ageing) follow-up and its implementation in my country.


5/ By the way, is Cameroon very committed in the implementation of the Madrid International Plan of Action on Aging?

I actually emphasize certain points in my report: the need for laws to recognize and regulate the informal sector. Some hospitals provide free treatments to the elderly, or at least at a reduced rate. I am particularly committed to ending elderly abuse. I refer to the United Nations principles from 1991.


6/ To what extent has the Global Action on Aging website helped you to write this report? And generally in your work and commitment?

I appreciate the organization of the GAA website. I learn about elderly issues reading the weekly newsletter. It also informs me on elder rights and how to defend them. For example, I am personally involved against violence facing older people. In writing my report, I found out about MIPAA thanks to the "Aging Watch at the UN" section.

---
Copyright © Global Action on Aging
Terms of Use | Privacy Policy | Contact Us