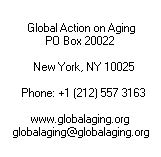 back
Want to support Global Action on Aging?
Click below:

Thanks!

Taiwan elderly calls for stipend
By Naiyu Guo
Central News Agency, June 10, 2003
Taiwan – As Taiwan legislature passed a bill to allow some government pensioners extra stipend without deducting it from their pensions, thousands of the elderly called the government to ask when they will be allowed to do so. Local governments are expected to implement this bill no later than late July. However, local officials said that it would take some time to implement this bill since many administrators are still not clear about the details of the bills. (The text is in Chinese.)
To read the following Chinese article, please install the Internet Explorer Chinese language pack or NJ star communicator.
台灣立院才通過敬老津貼 老人忙問何時可領
郭乃瑜
中央社,2003年6月10日
屏東縣,台灣 - 立法院三讀通過「敬老福利津貼暫行條例」部份條文修正草案,將擴大敬老津貼發放對象到勞工和軍公教老人,屏東市公所最近不斷接獲老人詢問何時可領三千元?

由於立法院通過自今年七月一日起,已經領取勞保老年給付、公教人員保險養老給付或軍人保險退伍給付的六十五以上老人,不需按月折抵,也能領取一月三千元的敬老津貼,連日來許多老人不是親自前往就是以電話詢問市公所。
市公所社會課表示,尚未接獲上級指示辦理公文,承辦人員對於此項業務還不清楚,民眾洽詢的電話讓社會課人員應接不暇,為避免民眾徒勞往返,請民眾安心等候,到時社會課會依據勞保局符合標準之名冊通知辦理。(chinesenewsnet.com)
市公所表示,若七月底之前尚未接到通知,再以電話向市公所社會課洽詢。
---
Copyright © 2002 Global Action on Aging
Terms of Use | Privacy Policy | Contact Us