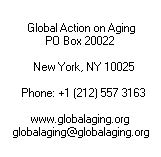 back
Want to support Global Action on Aging?
Click below:

Thanks!

Singapore: College graduates design special mechanics for elderly
By Cuiyan, Huang
Zaobao.com, May 30, 2003
To improve the life quality of the elderly, graduates of Singapore University of Technology and Science have designed 15 special mechanics for their daily use. These mechanics help the elderly with some simple housework as well as daily exercises so that they don't have to rely on family members or nursing homes for help. (The text is in Chinese.)
To read the following Chinese article, pleas install Internet Explorer Chinese language pack or NJ star communicator.
新加坡工院生設計自動器材 方便老人残疾人生活
黄翠燕, 聯合早報
2003年5月30日
  运用創意与工程学知識,加上一份愛心,新加坡理工学院的80名畢業生設計出15套器材及多媒体軟件,幫助老年人及残疾人士克服日常生活的不便,改善生活素質。
  行動不便的老年人或残疾人士不須旁人協助,也能在家中做些家務事或是冲泡咖啡;傷殘人士及老年人能在家中活動筋骨,不再需要家人帮忙或入住養老院。
  新加坡工院昨日把学生設計的作品移交給11家志愿福利團体。這些都是学生花了一年多完成的心血結晶,研制作品的過程由工院的復康科技中心監督。  
  復康科技中心于1993年成立,為了配合残疾人士和福利團体的需求,与工院不同科系合作,設計和改良供残疾人士使用的硬件及軟件用品。
  鄭淑儀(19,電子工程系畢業生)和另外两名同学設計了一个特別晾衣架,傷残疾人士只須按下按鈕,晾衣架就会上下或是左右移動,方便他們晾衣服。
  她講,很多老人或残疾人士没有力气把竹竿撑到架上,或坐在座椅上不很高,碰不到挂在高處的衣架。
  鄭淑儀講:"在我們决定設計晾衣架以前,我曾向一些志愿福利團体了解残疾人士的需求,及生活上所碰到的一些困難,并發現他們晾衣服時遇到一些麻煩,就决定給他們解决這个生活上的不便。"
  此外,她也看到報章上曾經報道有很多有些家庭主婦在晾衣時,因失足而掉下楼的事件,這也是促使他們决定設計這个特別的晾衣架的原因之一。
不用費力拉的抽屜
  另一名学生也設計了一个電動厨房壁橱。它能根据残疾者的需求作上下調整;要取出抽屜里的東西,只要按一个按鈕,抽屜會就滑出,不用費力拉。
  林梦霖(62)講:"前年6月中旬后,我的一側身体手脚无力,結果得坐上輪椅。我很喜歡這个電動厨房壁橱,因為這樣一来,我可以很容易地就从厨房壁橱里的抽出拿出東西,而不必依靠別人。"
  輪椅脚踏車研制小組的莫哈墨(19)講,他們所設計的輪椅脚踏車,装有三个輪子,外形就像三輪車。它即能讓老人安全地坐在輪椅上,同時也能讓他們利用脚踏板,進行脚部运動。 
  總理公署兼社会發展及体育部政務部長曾士生昨天也参觀了学生們的精心杰作。
  他致辭講,雖然一些人質疑復康商品的商業价價,但這種觀观念已逐漸改變。随着人口老化,人們對專業医療照顧的要求提高,復原工程学将成為重要的科目。
---
Copyright © 2002 Global Action on Aging
Terms of Use | Privacy Policy | Contact Us