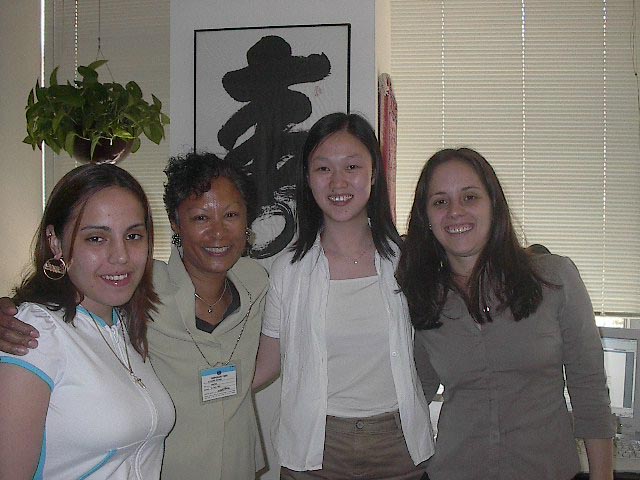 GAA interns meet Fatima Goldman, CEO of Federation of Protestant Welfare Agencies, one of the largest human services organizations in New York City. L-R: Samantha Hernandez, administrative associate, Fatima Goldman, Nailing Xia, Julia Caffero. July 2, 2003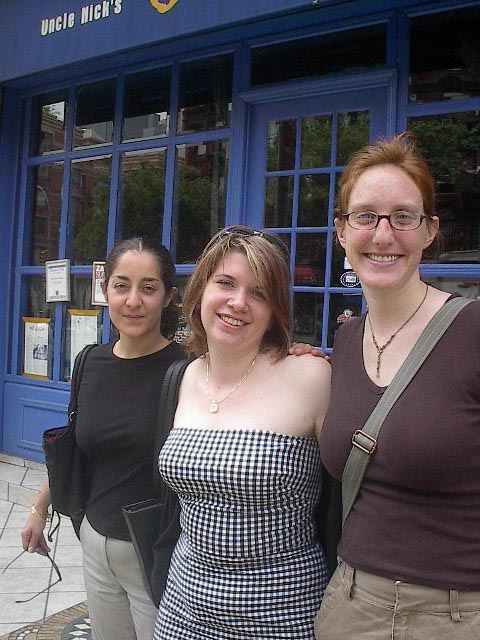 GAA intern
Gunel Sultanova
(m) with Open Society Institute sponsor staff,
Celine Keshishian
(l) and
Elsa Ransom
(r) at lunch. July 2, 2003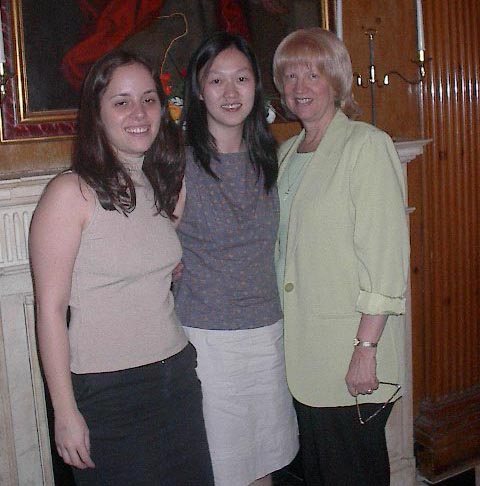 GAA interns
Julia Caffaro
(l) and
Nailing Xia
(m) with GAA volunteer
Carol Traynor
(r) at Junior League lunch. June 25, 2003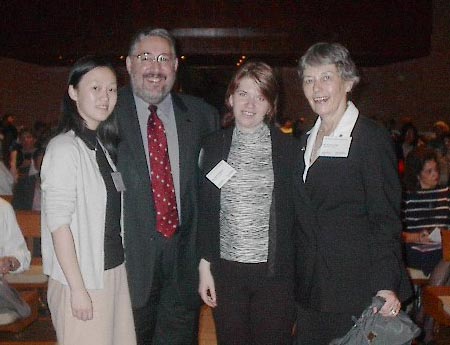 On June 13, 2003, GAA interns
Gunel Sultanova
(r-2) and
Nailing Xia
(l) meet
Edwin Mendez-Santiago
(l-2), Commissioner of NYC Department of the Aging. Susanne Paul (r), President of GAA. June 13, 2003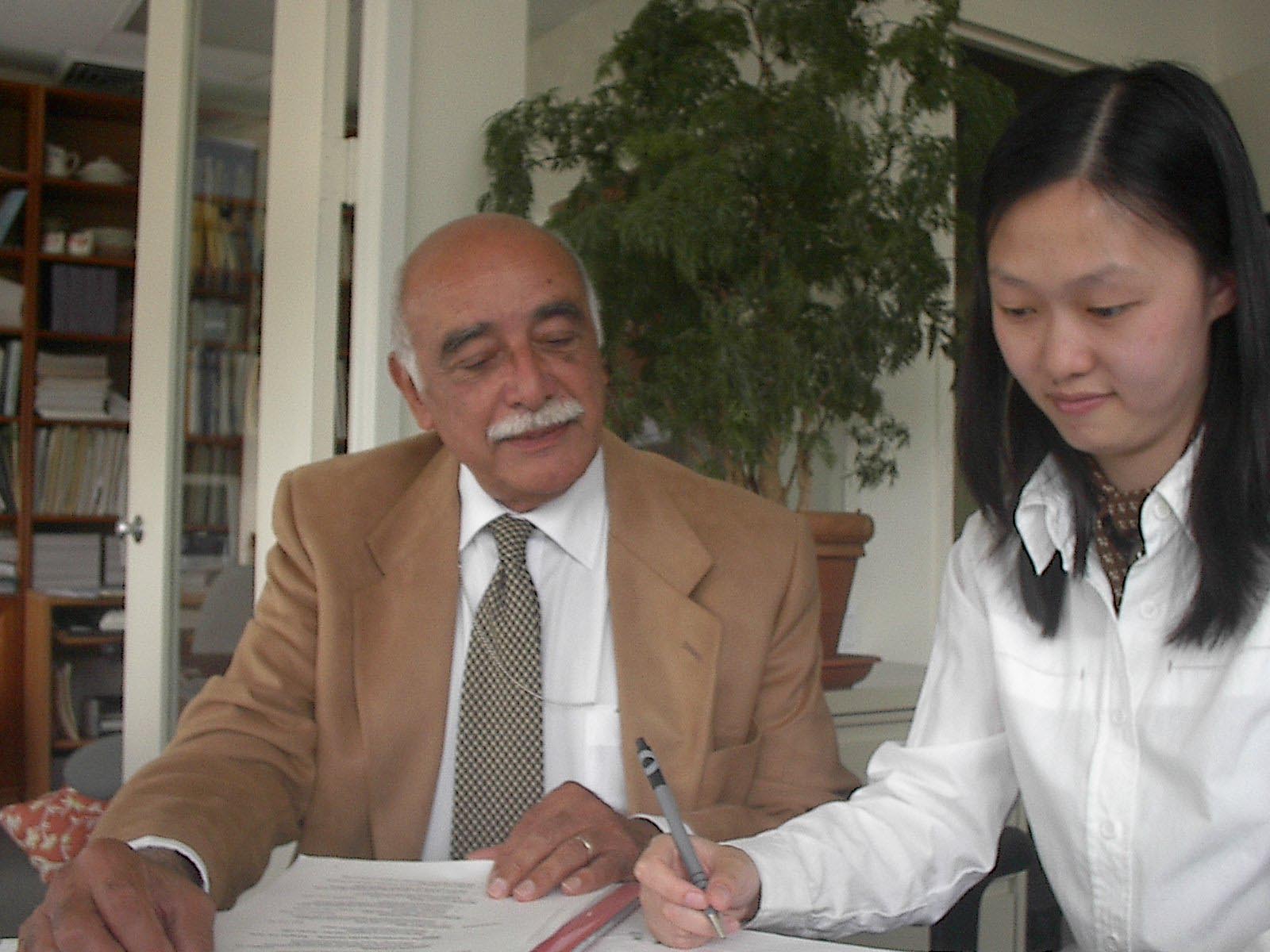 GAA intern Nailng Xia confers with Dr. Tarek Shuman on her M.A. thesis on aging in China. Dr. Shuman was Director General of 1982 World Assembly on Ageing. May 2003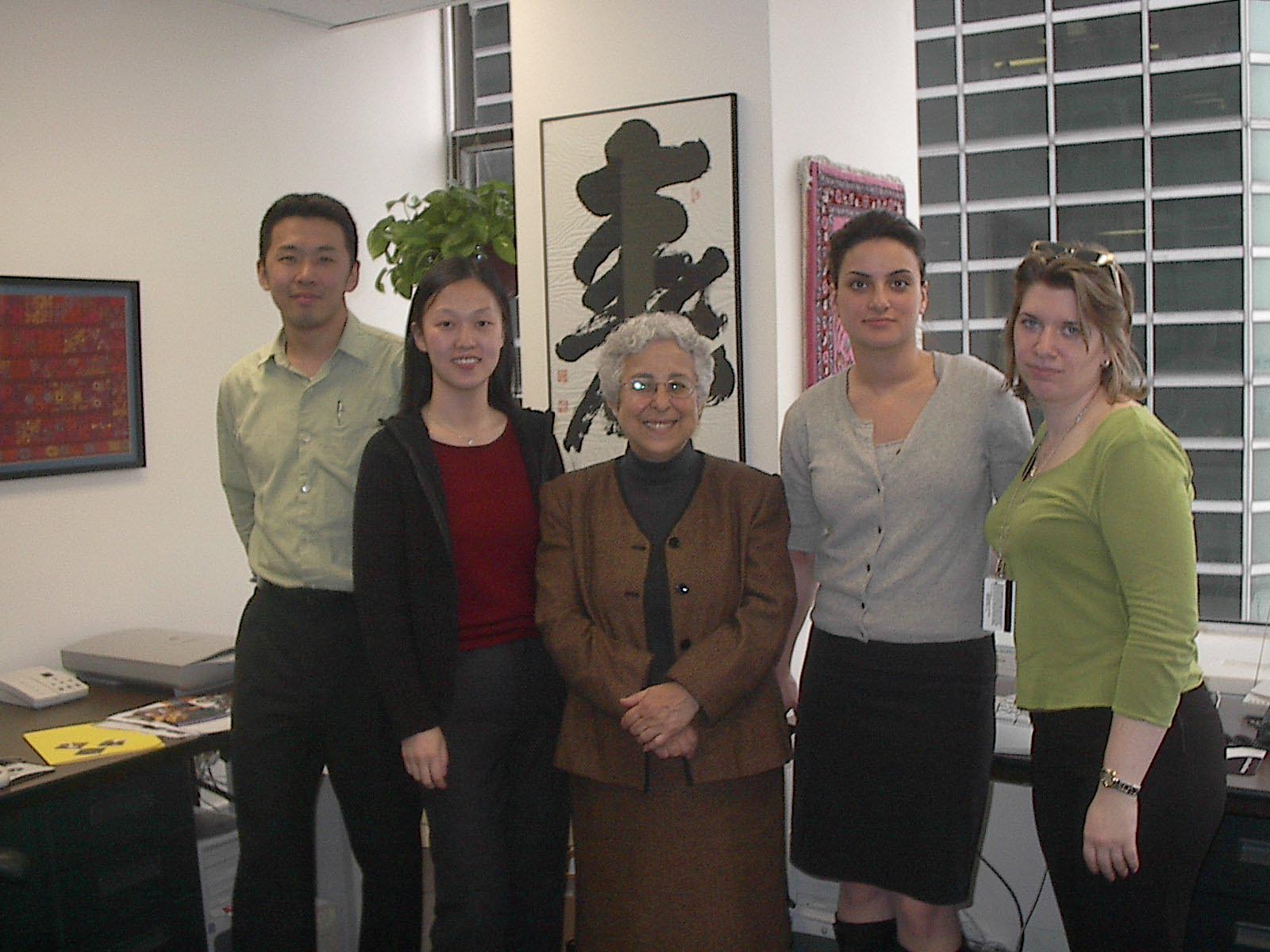 Creators of "Protecting Older Persons" section on GAA website.
L
-R:

Jame Wong (US) , Nailing Xia (China), Laura Reanda (US) , Nikoo Nikoomanesh (US), and Gunel Sultanova, (Azerbaijan)

.

May 2003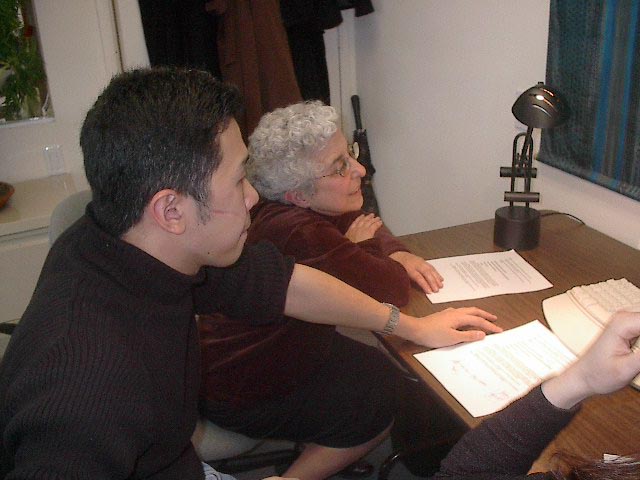 L-R

:

Laura Reanda and Jame Wong design the layout of the Global Action on Aging "Protecting Older Persons" section on www.globalaging.org.

May 2003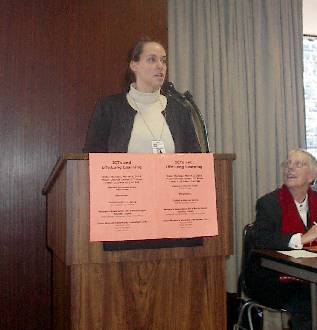 Benedicte Soilly
, France, addressing Workshop on "NGO's Effective
Use of Technology."

Ms. Soilly described her website research efforts
and posting articles to the Global Action on Aging website. March 2003... On the right is Marianne Seger she is EURAG Representative.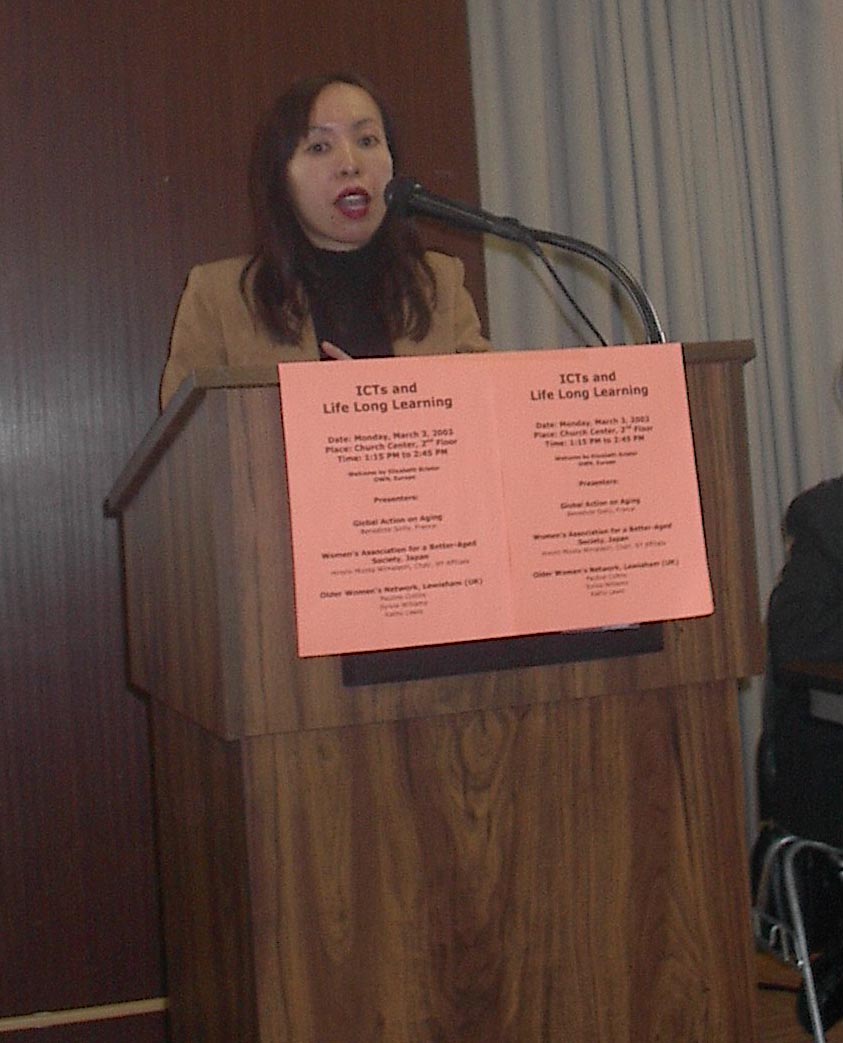 Hiromi Mizota Wimalasiri
, GAA intern 2002, addressed NGO
audience at the Commission on the Status of Women.

She described her organization, WABAS, the Japan-based Women Advancing a Better Aging Society,
and its use of the email technology to build a membership organization in the US. March 2003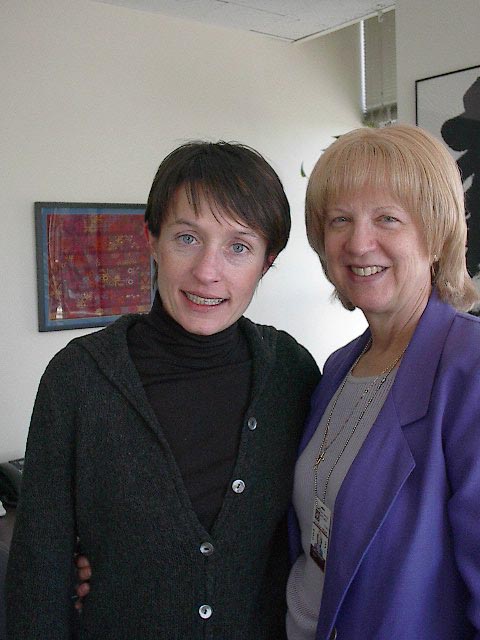 GAA intern Paola Tonelli (l), Milan, Italy and Volunteer Carol Traynor (r). Paola worked on age discrimination issues in Europe, especially Italy. 2003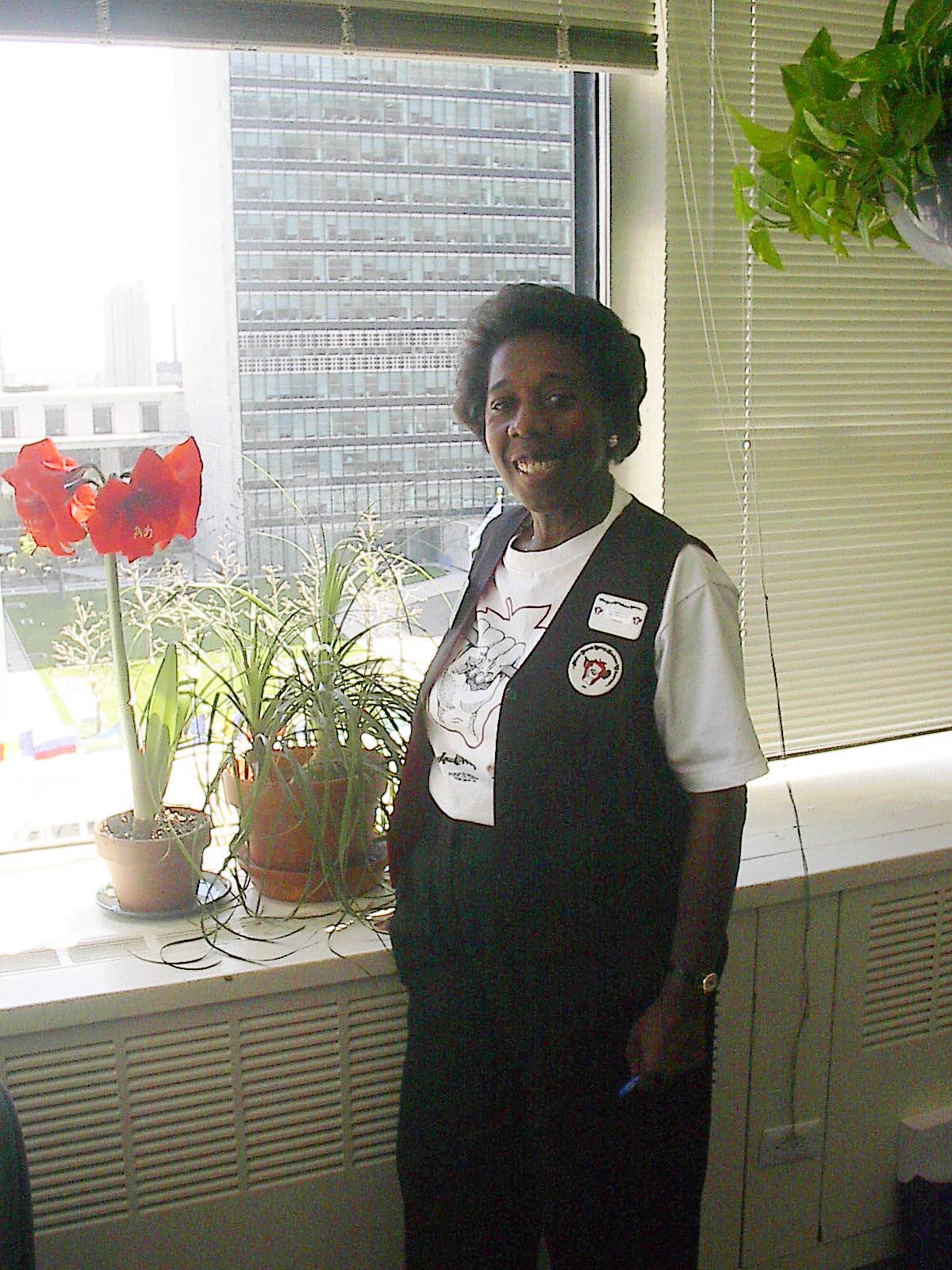 Barbara Bailey
, active trade unionist and Associate Director, CWA,
Local 1180 Retiree Division, visited Global Action on Aging to share
ideas on sustainable development. February 2003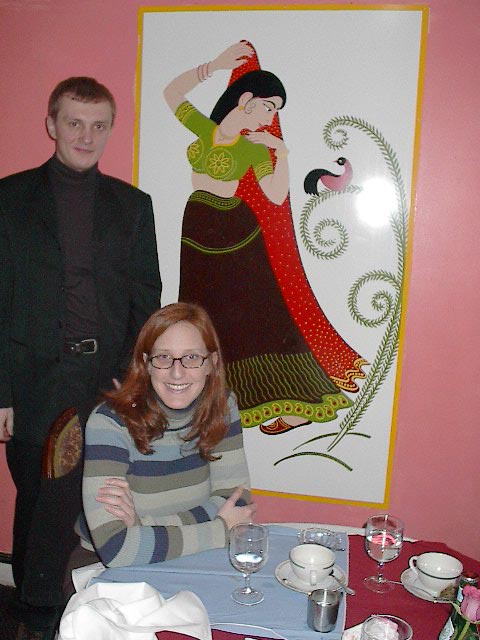 GAA intern Andrew Bega, Ukraine, at lunch with Elsa Ransom, Open Society Institute, Supervisor of Edmund Muskie Scholars

.

February 2003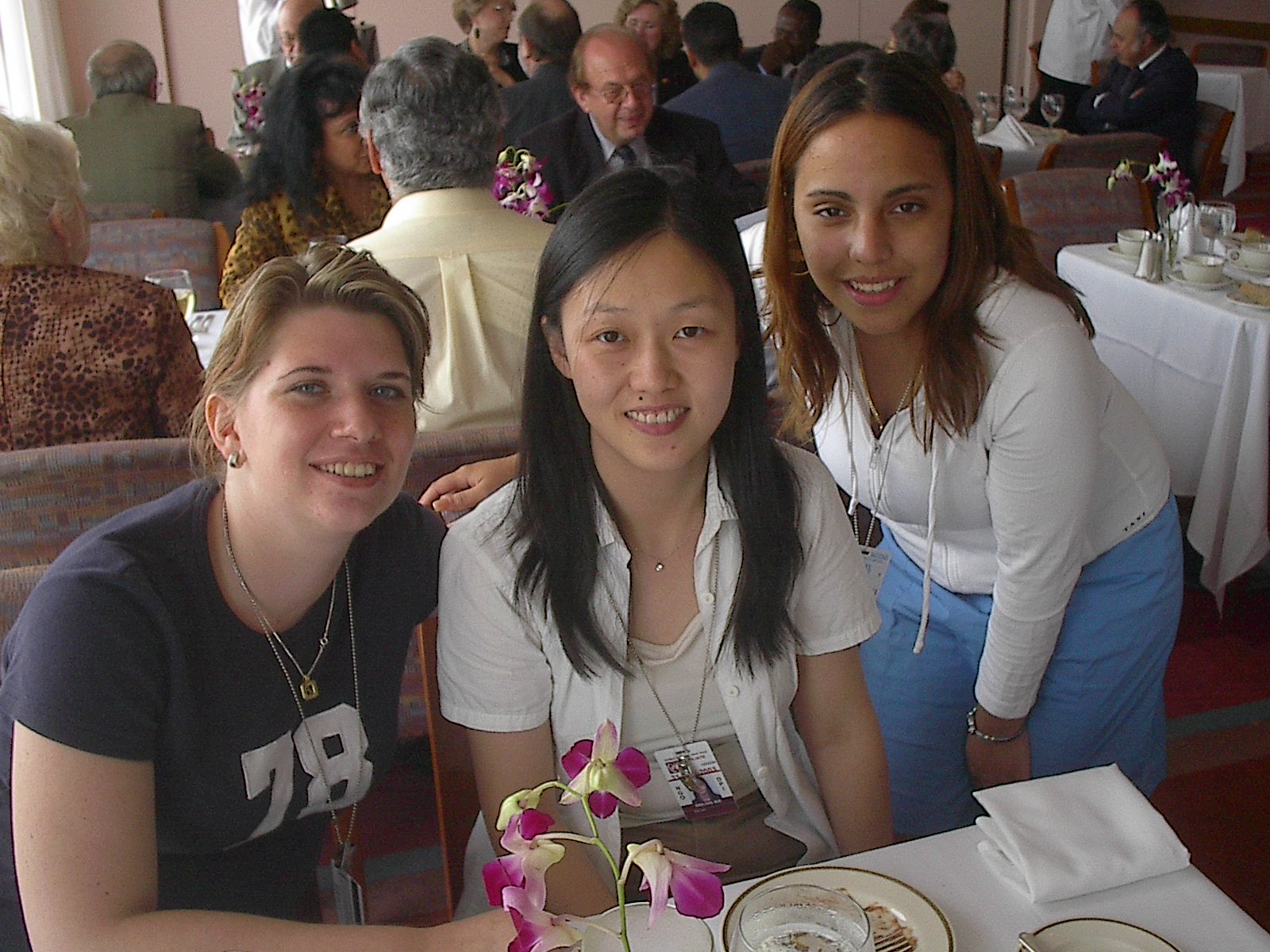 Farewell Lunch for Nailing Xia (middle).
Gunel Sultanova (left) and Samantha Hernandez (right)..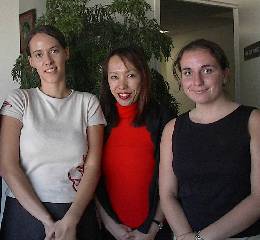 Bénédicte Soilly, Hiromi Mizota Wimalasiri, Margaret Schumacher