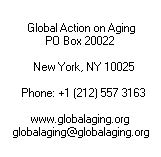 Health: United States
Archives 2006


HEALTHCARE COVERAGE

Medicare/Medicaid | Private Insurance/Other


Elder-Care Costs Deplete Savings of a Generation (December 30, 2006)
In the United States, this writer suggests it is best to be really poor or really rich. A poor elderly person is eligible for a government-supported Medicaid and a wealthy older person has enough money to afford a good retirement and medical care. However, middle class elderly have too much money to qualify for government support and do not have enough money to afford ridiculously expensive medical care. As the government fails to care for elder middle class people, turning to their children to care for them. The children are forced to empty their retirement savings, including the 401(k) retirement plans, to support their ailing parents and cover expensive medical care. This article shares some archetypal examples of how working children endure this dilemma.

Doctors' Medicare Pay Cuts Killed; Fund Likely to Shrink (December 20, 2006)
For the fifth time in four years, Congress has erased a pay cut for physicians, without providing money to cover the $1.8 billion cost. Again, Medicare officials will tap into an already dwindling reserve fund as it has done following each of the four previous pay-cut reversals. In another move, Congress provided funds for a bonus to doctors as an incentive to provide good care. However, critics argue that doctors do not deserve a bonus for what they were already paid once to do. "They're putting a Band-Aid on it again," states Dr. Colette Willians, a physician concerned about decreased Medicare reimbursements. "When you take a Band-Aid approach rather than solving the problem, you get closer and closer to the cliff."

Medicare Links Doctors' Pay to Practices (December 12, 2006)
After years of trying to balance the costs of Medicare, Congress has decided to offer a 1.5 percent bonus to doctors that report how often they provide quality care. For instance, doctors could be asked to report how often they prescribe a particular drug after a heart attack or how well they control blood pressure in patients with diabetes. With these statistics, Medicare officials say, they will be able to reward doctors who follow clinical guidelines and perhaps penalize those who ignore such standards without justification. Some doctors and lawmakers claim that government defined guidelines could be a step toward cookbook medicine and will reduce the professional autonomy of doctors.

Study Finds Senior's Health and Daily Function Improves(December 7, 2006)
Medicare could save more than $73 billion dollars over three years if chronic illness in seniors continues declining. The National Institute on Aging recorded that chronically disabled older persons make up only 19% of the American population, an 8% difference since 1982. At the same time, nursing homes have also been on the decline, from 8% to 4%, and the number of seniors considered "non-disabled" increased from 73% to 81%. Are American really living healthier lives in old age?

Renewed Worries on Medicare Drug Plans (December 5, 2006)
As the Medicare sign-on deadline approaches, pharmacists and advocates are worried that tens of thousands of low-income Medicare beneficiaries will have trouble getting medications next year. Approximately 600,000 poor people are losing the guarantee of extra assistance that covered nearly all their drug costs this year. Many prescription drug plans are changing benefits. New plans are entering the market. Some beneficiaries will find they can no longer use the drugstores they have been using or face increased drug costs. Mark J. Gregory, a vice president of Kerr Drugs states, "Beneficiaries should be prepared. If you have any doubt, take action now. Ask questions. Call your plan. Don't wait till Jan. 1." Is this an appropriate request to an aged person who depends on some drugs to live?

Medicaid Plan Prods Patients toward Health (December 1, 2006)
"We always talk about Medicaid members' rights, but rarely about their responsibilities," said Nancy Atkins, state commissioner of medical services. Disturbed with people who abuse Medicaid services by not taking care of their health, West Virginia is considering requiring recipients to sign a pledge "to have routine checkups and screenings, to keep appointments, to take medicine as prescribed and to go to emergency rooms only for real emergencies." This policy will reward "responsible" patients with significant extra benefits and punish those who do not take appropriate preventative care. However, some people, including doctors, are concerned about the ethics of this policy.

GAO Report: Long-Term Care Insurance, Federal Program Has a Unique Profit Structure and Faced a Significant Marketing Challenge (December 2006)
In 2004, about $193 billion was spent nationwide on long-term care services, including nursing home care and other assisted-living services. Government programs, primarily Medicaid, paid for this joint federal-state program that finances health insurance for certain low-income adults and children. Older people consume about two-thirds of all long-term care services. The increasing demand for long-term care services will likely challenge current federal and state resources. This report is the second of two reports required by the Long-Term Care Security Act to investigate the competitiveness of the federal program compared with group and individual plans generally available in the private insurance market.

Voices of Beneficiaries: Medicare Part D Insights and Observations One Year Later (December 2006)
The Kaiser Family Foundation report explores the experiences of 35 Medicare beneficiaries with Medicare Part D and the voluntary prescription drug benefit provided by private plans that contract with Medicare. This report focuses specifically on beneficiary knowledge and understanding about the drug benefit and their Part D plans. Specifically, researchers looked at how information and understanding (or lack thereof) played in people's plan choices in 2006 and how satisfied they are with their current plan. In addition, the report examines whether beneficiaries intend to switch plans for 2007.

Different Reasons Suggested for Medicare's Good News (November 29, 2006)
This year, the Medicare drug benefit cost nearly $13 billion less than expected. However, more analysis is needed to identify how these savings are being achieved. While President Bush credits competition among the private insurance companies, the Centers for Medicare and Medicaid Services report two other key factors: lower-than-expected enrollment and drug prices that went up less than expected before the benefit kicked in.

Insurer Scales Back, Widening Medicare Prescription Gap (November 29, 2006)
Last year, many seniors chose prescription drug plans that cost more but bridged the break in benefits, known as the "doughnut hole". However, officials from Humana PDP Complete, the leading national plan that covers brand and generic drugs in the gap, announced a halt to payments for brand-name prescriptions. Scaling back coverage raises more complications for possible reforms in the current program. Although more plans will offer coverage of generic drugs in the gap next year, the number covering brand-name medications will drop from 33 to 27. Less than one-third of Medicare prescription plans offer any sort of coverage in the gap, according to a recent study for the Kaiser Family Foundation.

Why Medicare Drugs May Be Sticking Point (November 24, 2006)
Democrats want to lower drug prices for senior citizens; however, they are likely to face obstacles to accomplishing this goal. A narrowly divided Senate and a Republican president with veto power are two of the obstacles. Another is that there is no easy solution. It does not mean it is an impossible task. Virginia has a drug plan that has proven to be cost effective and successful. Congress may use Virginia's drug plan, briefly outlined in this article, as a model when discussing how to improve Medicare.

Drug Industry Is on Defensive as Power Shifts (November 24, 2006)
With the Democrats winning control of both Houses, pharmaceutical companies are taking action to prevent Congress from negotiating lower drug prices for millions of older Americans who are Medicare recipients. They fear that Congress may overturn a 2003 law that prohibits the federal government from negotiating on drug prices or making a list of preferred drugs. They are hiring Democrat lobbyists who could speak and influence on their behalf. Some Democrats want to establish stricter regulation of drug safety and also allow imports of drugs from Canada, where they are often cheaper. Drug lobbyists are aware that it will be a difficult battle. Will money talk?

Panel Calls for Big Changes in Medicaid (November 23, 2006)
Baby Boomers are retiring and many of them have disabilities of some kind requiring nursing care which some say risks bankrupting Medicaid. A panel, the Medicaid Commission, is making suggestions that would resolve this issue. They include giving states more freedom to determine and manage the benefits and eligibility, and providing better coordinated care for the sickest recipients to name a few. However, there are debates on whether granting states more freedom would result in better care for Medicaid recipients; more freedom can also mean bigger budget cuts in services.

Medicare Enrollment for Drug Coverage Set to Get Murkier in '07 (November 19, 2006)
As Medicare drug coverage enrollment begins for next year, an estimated 1 million low income seniors may be randomly assigned to a new plan due to increased prices and plan cancellations. At the same time, Medicaid enrollees are also receiving letters that state that they are able to stay with their current plan. Yet, they may have to pay additional fees. Or some waivers may be available to them. Advocates fear that conflicting and confusing information will create the same problems that seniors dealt with this past year. Many seniors wound up in plans that did not cover their drugs, were enrolled in two plans or were overcharged.

Administration Opposes Democrats' Plan for Negotiating Medicare Drug Prices (November 13, 2006)
One of the Democrats' top priorities for the new Congress includes changing legislation so the government can negotiate with drug companies to secure lower drug prices for Medicare beneficiaries. However, proponents may face fierce opposition. Those in favor of maintaining current legislation argue that competing private plans have already brought down costs more than government price controls would have. However, Senator Richard J. Durbin of Illinois (D) introduced a bill that instructs the Secretary of Health and Human Services to offer and operate one or more government-run Medicare drug plans in addition to those already available, in order to negotiate prices.

As Drug Prices Climb, Democrats Find Fault with Medicare Plan (November 6, 2006)


National debates persist over the inability for Medicare to negotiate drug prices directly and the mounting profits made by drug companies. Some of the biggest windfalls are going to companies that make drugs widely used by Medicaid recipients. Prior to Medicare Part D, indigent citizens over 65 received drugs through Medicaid at discounted prices. Drug makers were legally required to give at least a 15% discount from their list prices. However, these discounts no longer apply since these recipients are now covered through the new Part D program. As a result, drug makers are being paid as much as 20 percent more for the same drugs.

Seniors Shop Early for Medicare Drug Plan (November 4, 2006)
Since open enrollment period begins November 15, Medicare officials are prompting beneficiaries to look over their options and enroll in a plan by December 8 if they want to be sure they have coverage under their new plan. "There are a lot of people who will have a change in drug needs," said Leslie V. Norwalk, the acting administrator for the Centers for Medicare and Medicaid Services. "With that change, they should be taking a look and making sure that their plan still makes the most sense for them." Approximately 22.5 million seniors and the disabled are currently enrolled in Medicare plans.

US-Based Medicare Part D Prescription Drug Plan Survey (October 26, 2006)
Global Action on Aging is conducting a survey about the US-based Medicare Part D Prescription Drug Plan that is in effect in the US .

We have posted a Medicare Part D Survey on our GAA website. The survey is in a Word document format. Please print the survey and then complete it as soon as possible. Return by November 20, 2006, to Global Action on Aging, 777 United Nations Plaza , 6J, New York , NY 10017 .

Many thanks for helping GAA learn more about how the Medicare Part D Prescription Drug Plan is working.



Confident Democrats Draft Broad Health Care Agenda (October 20, 2006)
Healthcare reform is a top priority for Democrats expecting to gain seats in Congress. First, they want federal officials to negotiate directly with pharmaceutical companies to obtain lower prices for Medicare beneficiaries and close the gap on coverage. Currently, the 2003 Medicare law passed by Pres. Bush explicitly prohibits such negotiations. Even though private insurers already negotiate drug discounts, Democrats believe the government could get a better deal. Democrats are also looking for ways to provide more funding for children's health insurance and expand embryonic stem cell research.

Medicare Cuts Could Eliminate Power Wheelchairs for Disabled (October 18, 2006)
Upcoming Medicare cuts in November could mean no more power wheelchairs for those recipients living with multiple sclerosis, spinal cord injuries and other conditions. Due to widespread fraud, wheelchair users are going to have to pay out of pocket by the end of this year. According to the Centers for Medicare and Medicaid Services, expenditures for power wheelchairs increased by 2,705 percent between 1995 and 2003 — from $43 million to $1.2 billion in just over just eight years.

Democrat Disputes Medicare Prescription Drug Plan Calculations (October 13, 2006)
Medicare open enrollment for 2007 starts this November 15th. Henry A. Waxman (D-California) asserts that the average premium cost per month for Medicare Part D will rise to $29. Mark B. McClellan, the head of the Centers for Medicare and Medicaid Services, stood by the Bush Administration's estimate that the average cost will remain at $24, the same as this year. Since 90 percent ofseniors enrolled in the drug benefit choose stand-alone plans, Waxman argues that his estimates are more realistic given that his calculations are based on such plans. McClellan plans to announce improvements to the CMS Drug Plan Finder, a tool available on the Medicare Web site to help beneficiaries choose a drug plan.

Home Health Care Provider Pleads Guilty for Medicare Fraud (October 11, 2006)
Home health care aims to enable people to remain at home rather than use residential, long-term or institutional-based nursing care. Medicare can cover the cost of home health care services provided to many elderly and persons with disabilities. Recently, the owner of the two largest home healthcare businesses in California was charged with defrauding Medicare out of $40 million for work that was never performed. Lourdes Perez, owner, may serve up to 59 years in prison.

Consumer Group: Medicare Drugs in Coverage Gap Can Cost More than Retail (October 11, 2006)
Millions of seniors are suffering from the "gap" in Medicare's new prescription drug plan. Consumers now must pay full price for prescription drugs and some may not emerge out of the $3,600 hole before the end of the year. A report by Consumers Union, the nonprofit group that publishes Consumer Reports, found that the regular retail price at the lowest-priced drugstore beat doughnut hole prices charged by Medicare drug plans, strengthening the argument that Medicare should be able to bargain directly with manufacturers to keep prices down for consumers. Why can the Department of Veterans Affairs negotiate with manufacturers so that veterans pay 54% less for drugs while Medicare-only beneficiaries are stuck paying more than the retail price?

Advice on Social Security, Medicare and IRA Bequests (October 2, 2006)


Prior to retirement, individuals must ask themselves how they will afford to live out the rest of their lives. They must navigate through the complex systems of Social Security; Medicare and retirement funds such as IRA's in order to have a more comprehensive understanding of their current situation and whether they will have enough to secure them through their retirement years. Karen Damato, news editor for the Wall Street Journal, provides educational information on these issues and answers questions from concerned readers.

Fewer Drug Options for Medicare Part D? (September 26, 2006)
Last year, seniors across the country scrambled to enroll in Part D, which offers
voluntary drug coverage with several insurance companies. However, there is some speculation that certain insurance companies may drop Medicare Part D coverage at the end of this year. Therefore, seniors may have to look for yet another drug plan. Deane Beebe, spokeswoman for the Manhattan-based advocacy group Medicare Rights Center , stated: "People need to know that your plan might leave, your plan might change your premium. So now is the time to pay close attention to what it is your plan is offering and realize that now is the time to switch."

Medicare Refund Mixup Part of Larger Tangle (September 25, 2006)
Since the implementation of the new Medicare drug program in January, hundreds of thousands of beneficiaries have reported problems in getting the government to start or stop withholding premiums. Over 200,000 persons who signed up for prescription drug coverage were mistakenly sent premium refunds and are being asked to send the money back. Federal officials from Social Security and Medicare have struggled to interconnect their computer systems so that Medicare premiums are appropriately withheld from Social Security checks, and low-income people get the assistance to which they are entitled. Problems are further compounded since this information is collected and used by many private Medicare drug plans, each with its own procedures and computer systems.

High-Income Medicare Recipients to Pay Surcharge (September 12, 2006)
The Bush administration announced yesterday that Medicare beneficiaries will have to pay a higher premium starting in 2007 for Part B of Medicare. The increase to $93.50 per month, includes a $5 monthly hike to cover doctors' services, diagnostic tests and outpatient hospital care. Part B now covers an estimated 40 million beneficiaries, a 50% increase from 2003 due to a rapid growth in spending for hospital outpatient services. And for the first time, higher-income beneficiaries will be required to pay a surcharge. Dr. McClellan, administrator of the federal Centers for Medicare and Medicaid Services, states that the surcharge would have "a very positive impact, making Medicare more sustainable in the long term." Those individuals with an income of $80,000 or more can expect to pay surcharges ranging from $12.50 to $68.60 per month.

National Surveys of Pharmacists and Physicians, Findings on Medicare Part D (September 7, 2006)
During the first year of Medicare's new drug benefit, 802 pharmacists and 834 doctors were surveyed to assess their views and experiences regarding Medicare Part D. In the national survey conducted by Kaiser Family Foundation, many stated that the new drug benefit can help beneficiaries save money on their medications. Yet, at the same time, the majority of pharmacists and doctors also believe that the prescription drug law can be too complex. They find that many Medicare beneficiaries experience difficulty in actually getting their medications.

U.S. Government Accountability Office Report: "Medicare Integrity Program: Agency Approach for Allocating Funds Should Be Revised" (September 2006)
The Medicare Integrity Program (MIP) provides funds to the Centers for Medicare & Medicaid Services (CMS)—the agency that administers Medicare—to safeguard over $300 billion in program payments made on behalf of its beneficiaries. A recent report by the U.S. Government Accounting Office (GAO) scrutinizes the Centers for Medicare & Medicaid Services for their methods on how funding is being used to prevent fraud, waste, abuse and mismanagement. Also in the report, GAO examines how major changes in the Medicare program may affect Medicare Integrity Program funding allocations.

Medicare Part D Digest (August 2006)


Since Medicare Part D's indroduction last year, certain changes have occurred
that can have a direct effect on beneficiaries. For instance, most of the top 20 drugs such as Celebrex and Aricept have increased in price by an average of 3.7% or more. However in a more positive development, Hurricane Katrina beneficiaries will be able to enroll in Part D without the burden of paying a late penalty through December 31, 2006. In order to keep abreast of some new developments regarding Medicare Part D, refer to this article for more up-to-date information.

Who Will Mind Mom? Check Her Contract (September 7, 2006)


According to a 2004 study by the National Alliance for Caregiving in Bethesda , Md. , "About 44.4 million adult caregivers--or 21% of the U.S. adult population provide unpaid care to seniors or adults with disabilities." Yet, as more people live longer and caregivers find it difficult to balance family duties and professional careers, formal arrangements may be an answer. A growing number of families are seeking legal personal-care agreements that financially compensate family caregivers transporting a loved one to doctors, the grocery store and taking care of other household chores. These arrangements, set up by lawyers, can reduce future battles between relatives, save time and money as well as help a family member qualify for Medicaid long-term care coverage.

Early Experiences of Medicare Beneficiaries in Prescription Drug Plans (August 2006)
The Kaiser Family Foundation recently released a report prepared by State Health Insurance Assistance Plan (SHIP) directors, entitled Early Experiences of Medicare Beneficiaries in Prescription Drug Plans. Since directors work closely with the Centers for Medicare and Medicaid Services, the report explores Medicare beneficiaries' perspectives on the new drug benefit. According to the report, some emerging concerns include data system errors that resulted in beneficiaries being enrolled into wrong plans; issues with Part D premium payments; limited knowledge of Medicare Advantage products and uneasiness related to the "doughnut hole."

Assembly Approves Universal Health Care (August 29, 2006)


Members of the California State Assembly recently approved a bill that would establish a statewide health insurance system and eliminate private medical insurance plans. The SB840 bill offered by Sen. Sheila Kuehl, D-Santa Monica addresses the state's growing health care problem regarding the estimated 7 million people without insurance. SB840 would provide comprehensive medical, dental, vision, hospitalization and prescription drug coverage to every California resident as well as guarantee individuals the ability to choose their own doctors and hospitals. The bill is expected to be approved by the state Senate before going to Gov. Schwarzenegger. "If he vetoes SB840, the governor will be reminded of his decision come election day in November," Kuehl said.

Seniors Flock to Private Medicare Plans (August 29, 2006)
As part of the law that created the new Medicare prescription-drug benefit, Congress raised the government's reimbursement rates to companies offering Medicare Advantage plans to about $10,000 per enrollee per year. Therefore, private insurance companies are enticing Medicare beneficiaries with lower premiums but often more benefits, such as vision or prescription drugs. At a time of great confusion over the changes in Medicare, a large number of seniors are signing up for these privately run Medicare Advantage plans in the hopes of better managed care. The plan, also know as private fee for service (PFFS), is a Medicare alternative in which the federal government pays insurance companies in order to reduce Medicare spending. Is this a better choice of federal monies?

Medicare Expects Drug Premiums to Hold Steady (August 16, 2006)


Medicare premiums are expected to stay at similar levels for next year. Currently, seniors pay about $24 in monthly premiums for prescription-drug coverage, which is an estimated 36% drop from payments made last year. Intense competition among insurance companies, seniors choosing cheaper health plans, and the delay in President Bush's new premium formula all contributed to price stability. The next enrollment period starts in November and insurance companies continue to modify coverage plans to remain competitive and attract more seniors.

A 'Hole' Lot of Frustration: Gap in Medicare Prescription Drug Plan Leaves some Seniors with a $2,850 surprise (August 15, 2006)
Surviving the "donut hole" has become a way of life for today's seniors. The Medicare gap requires most individuals with drug expenses over $2,250 to pay 100 percent out of pocket before coverage resumes at the $5,100 level. After that, the beneficiary is covered for all but 5 percent of drug costs. This year, PricewaterhouseCoopers reports that about 3.4 million beneficiaries, or 8% of those enrolled will be most directly affected. Next year, even more individuals are projected to fall into the $2,850 gap since many recipients were not required to enroll until May of this year.

Planned Medicaid Cuts Cause Rift with States (August 13, 2006)


More than 330 members of Congress, including 103 Republicans, are opposed to cutting Medicaid payments to public hospitals and nursing homes. The White House administration states that stricter limits on Medicaid payments are necessary to ensure the program's "fiscal integrity" as well as decrease disproportionate payments to health care providers. Under President Bush's proposed 2007 budget, the plan would redefine allowable costs and limit the states' ability to finance their share of Medicaid by imposing taxes on health care providers. A bipartisan group of 50 senators recently urged President Bush to omit these proposed rules due to the adverse affects on the continuity of care for Medicaid recipients on top of the huge financial burden the cuts place on states.



Administration Aims to Set Health Care Standards, (August 7, 2006)
In a few weeks President Bush will sign an executive order that requires all federally financed health care providers to implement quality-measurement tools and standardize requirements for information technology. Care standards of specific health problems and the development of uniform methods of measuring and reporting the outcomes of treatments would be put in place. According to Health and Human Services Secretary Mike Leavitt, "The goal of the initiative is to reduce health-care cost inflation while increasing the quality of medical services individuals receive." Doctors and hospitals serving the Medicare population and others in federally financed programs will be directly affected.

Congress Expected to Continue Dodging Mandated Cuts in Doctor Payments (July 26, 2006

)


Congress set up a 1997 program to limit federal Medicare spending on annual and cumulative spending for physician reimbursements. Nonetheless, lawmakers project that billions of dollars will be spent to override these cuts in Medicare payments to doctors. Lawmakers believe that this solution is essential to ensuring that patients receive necessary healthcare. They also fear that any reduction in payments could add to increases in Medicare premiums and drive doctors from the program. However, the Congressional Budget Office estimates that allowing doctor payments to rise in step with medical inflation would increase federal spending on payments by $218 billion by 2016.

A Windfall From Shifts to Medicare (July 18, 2006)
With drug companies reporting major US sales increases for popular Medicaid drugs, the Medicare Part D drug program is proving to be a windfall for the pharmaceutical industry. According to the program, Congress cannot negotiate drug prices, which the industry has raised. In the previous program, states negotiated for the lowest price, receiving rebates worth billions of dollars each year. The new higher prices will eventually reach taxpayers, passed on from insurance companies. Moreover, Washington has asked states to return $5.8 billion in federal Medicaid funds since the new program began. Some states will fight back, filing cases against the repayment formula, which they say is unconstitutional.

Bush Administration Plans Medicare Changes (July 17, 2006)
Changes in Medicare payments to hospitals proposed by the Bush administration will cut payments 20-30%. The plan will change payment allocations and hurt hospitals, including nonprofit academic medical centers. Private insurers, facing higher reimbursements to hospitals, take issue with the plan. And 3M, the sole government contractor, will profit substantially from the new system. Though these changes mean to improve accuracy, critics argue that the system will be less accurate, not accounting for the costs of new medical technology.

Medicare's Hollow Heart (July 13, 2006)
Criticized as a "costly and inefficient failure," the Medicare Part D prescription drug program caters to the pharmaceutical industry, not the citizens for whom the Bush administration created it. In the program, the government cannot negotiate drug prices for bulk orders, so to offset the prices citizens must pay for the coverage gap, or "doughnut hole." Though still paying monthly premiums, customers pay thousands of dollars in prescriptions, full price, before they receive the benefits again. This policy will undoubtedly cost more in the end, with decreased compliance for medication, increasing emergency and long-term care. And seniors die earlier without access to drugs: "the annual mortality rate for those with capped benefits is 22 percent higher than it is for those without such a cap."

Investigators Find Medicare Drug Plans Often Give Incomplete and Incorrect Data (July 11, 2006)
The Government Accountability Organization, a non-partisan investigative arm of Congress, has found that Medicare drug plans supply faulty information to people that call. Most insurance company representatives could not discern the least expensive plan and its annual price. Such misinformation and mistakes cost beneficiaries thousands of dollars each year. The Medicare agency reports that there are no performance requirements beyond answering the phone calls, but even Republican Senator Olympia J. Snowe asserts that such poor service is unacceptable.

White House to Ease Medicaid Rule on Proof of Citizenship (July 7, 2006)
In response to a lawsuit challenging the proof-of-citizenship requirement for Medicaid, the Bush administration announced plans to exempt millions of Medicaid recipients from the new law. Despite the exemption, critics argue that many other people will lose coverage, since self-attestation to citizenship is no longer valid and many people will be unable to prove their identity.

Medicaid Rule Called A Threat To Millions (June 30, 2006)
Under Bush's Deficit Reduction Act, people must now provide adequate proof of citizenship when applying for Medicaid benefits. Although a federal inspector general reported that non-citizens commit little fraud, the rule is designed to curb this possibility. Aside from high administrative costs, another concern is that of harm to millions of US citizens. For many on Medicaid, it will be extremely difficult to prove citizenship by the new standards, leaving the most vulnerable without health care.

How a Hospital Stumbled Across An Rx for Medicaid (June 22, 2006)
The rising costs of healthcare have created great financial strain for state governments, specifically in the coverage of poor people under Medicaid. Because reimbursements are so low, many doctors will not see Medicaid patients. As a result, patients seek care at the most costly venue, the emergency room, adding to the state financial burden. Chronic disease, although affecting a small population, often requires long, expensive hospitalizations. In a new program, New York's Mt. Sinai Hospital provides preventive care to reduce chronic disease symptoms and complications, reducing ER visits and thus high costs to the state, while the hospital receives higher Medicaid reimbursements.

States' Changes Reshape Medicaid (June 12, 2006)
Because Medicaid costs are rising faster than state revenues, the federal government plans to cut spending over the next ten years and has authorized more control for states. Like changes in the welfare system, the new principles of Medicaid focus on self-reliance, financial responsibility, and preventive care. They are modeled on private insurance, rather than social welfare with centralized governmental control. Although proposed changes vary by state, the general purpose is to reduce the burden on state budgets. Advocates explain that paying more now will prevent total loss of coverage in the future, but others fear that vulnerable patients and low-income people will lose much needed care.

In Texas Town, New Drug Plan Baffles Patient and Provider Alike (June 11,2006)
Despite Bush administration reports of the new Medicare prescription drug program running unhindered, many people are encountering problems. Difficulties for patients, pharmacists, and doctors compound the confusion, a result of the variety of plans. Texas has 47 health care plans with different coverage policies and limitations on drug coverage, making prescriptions difficult to pay for, assign and fill. Other frustrations include the gap in coverage, as well as mistakes on social security withholdings, prescription statement errors, and uncertainty about eligibility. Though Medicare does make access to drugs easier for some, "a CBS News/New York Times poll conducted in early May found that, of people 65 and older, 75 percent said the new program was difficult to understand."

Americans Want Universal Health Coverage, Group Says (June 8, 2006)
In 2003 the United States Congress established and approved funding for the Citizens' Health Care Working Group, a committee intended to learn directly from citizens what they want in terms of health care. Based on the principle of social responsibility, the committee's interim report recommends to the government that all US citizens should have guaranteed basic health benefits; the recommendation is based on information from 23,000 citizens. However, the report does not suggest strategy or funding for such a program. Contrary to the view of the Bush administration, which posits that the government bears less responsibility for health care funding, universal health coverage would require new laws and financial resources.

Health Benefits Ail as Pensions Heal (June 6, 2006)
Though large companies are making progress on funding their pension plans, "other post-employment benefits" (OPEB), including healthcare, are still extremely under-funded. Rising interest rates and other factors help to decrease the pension deficit, but do not affect companies' healthcare obligations. Moreover, the tax break incentive for pre-funding pension plans does not exist for OPEB. US companies complain that the government should contribute towards healthcare, a large burden as life expectancy increases and healthcare costs rise. "The light at the end of the OPEB tunnel is an oncoming train," Standard & Poor's index analyst, Mr. Silverblatt, says. "Someone is going to have to pay."

Medicaid Rules Toughened on Proof of Citizenship (June 5, 2006)
Stemming from political debate about illegal immigration, the Bush administration will implement strict standards for Medicaid eligibility. People must prove US citizenship with specific types of documentation, rated by the government for reliability. The desire to conserve federal money for citizens will inevitably cause hardship for many people, including children and older persons. Though politicians assure some flexibility, the federal government created strong incentives to ensure state participation.

States Suing Feds over Seniors' Rx Costs (May 20, 2006)
When the new Medicare D plan started, former senior Medicaid recipients were automatically transferred to Medicare as dual eligibles. Until this point, the line between Medicare and Medicaid--as to who pays for what--was clear. The federal government founded Medicare entirely and states operated Medicaid using both federal and state money. Now the federal government plans to make states responsible for the partial payment of Medicare for dual eligibles. States are concerned that in the future this may evolve to frequent forcible inclusion of state money for federally initiated policies.

New Medicare Drug Plan Is Called a Success (May 17, 2006)
Less than twenty four hours after the Medicare Part D deadline, the Bush administration declared success saying that 38 of the 42.5 million eligible beneficiaries (90%) have some kind of drug coverage. These preliminary numbers are facing criticism since many politicians and patient rights groups believe the figures are misleading and overly optimistic. While the administration has been quick to claim success, they are also swift to avoid questions about removing the late enrollment penalty. Abolishing the penalty, as many key legislators propose, would benefit the 4.5 million people on Medicare without drug coverage – of which 3 million would qualify for low-income subsidies.

The ABCs of Medicare Part D (May 15, 2006)
This article answers common questions about Medicare Part D, such as, "What is the doughnut hole?", "What will Medicare Part D cost taxpayers?", and "Are seniors satisfied with the program?" The hotly debated deadline to enroll in Part D was Monday, May 15th. Now that the deadline has passed, critics and supporters wait to see what will happen to beneficiaries and those without drug coverage.

Most Medicare Beneficiaries Now in Drug Program (May 10, 2006)
According to new figures, "37 million of 42 million beneficiaries have coverage under the new Medicare benefit or from other sources." The 37 million participants includes 8.9 million who signed up for Part D on their own, 5.8 million who have coverage through a program besides Part D, and the other 22.3 million who were either automatically transferred to Part D or have coverage from a former employer. Government officials see progress, while critics like Robert Hayes, president of Medicare Rights Center, see a numbers game that distorts the fact that "about half of Medicare beneficiaries, nearly 51%, who did not have drug coverage before still lack it."

Drug-Plan Penalty Is Dropped for Some (May 10, 2006)
On Tuesday, the Bush administration waived late enrollment penalty fees for low-income seniors and people with disabilities. Participants who qualify for this waiver can sign up for a drug benefit program until December 31, 2006. According to the Congressional Budget Office, if the Bush administration extends the May 15th deadline for all beneficiaries, the government will lose $100 million in income from late fees this year.

Lawmakers Urge Minority Seniors to Sign Up for Medicare Part D (May 5, 2006)
Lawmakers and clergy in Atlanta, Georgia, are using their respective pulpits to encourage Medicare Part D enrollment by the May 15th deadline. Members of the Georgia Legislative Black Caucus pointed out that "although black seniors are not signing up for Medicare Part D at a slower rate than other groups, blacks are at greater risk for many health problems and should enroll in greater numbers." Local churches are opening their doors for Part D information sessions and members of Concerned Black Clergy of Metropolitan Atlanta will encourage enrollment during Sunday worship services prior to the deadline.

Study Finds Medicare Operators Often Give Bad Information (May 4, 2006)
A recent report from the Government Accountability Office (GAO) found that operators at 1-800-MEDICARE give faulty information one-third of the time. The report also observed that Medicare's written promotional materials are too technical, call waiting times sometimes close to an hour, and some people think the website is too confusing. Criticism of Medicare's prescription drug program continues as some legislators attempt to push back the approaching deadline.

Medicare Surprise (May 1, 2006)
By nature of design, the Medicare Part D drug benefit overlooks middle ground health spenders. Budget constraints and political decisions led to what is called "the doughnut hole," a gap in coverage in which individuals must pay extremely high prices for their drugs. Many people who will be affected do not understand the situation; their surprise and anger will undoubtedly have resounding political repercussions. More importantly, the circumstances pose dangers to those who cannot afford medication and will thus skip doses.

Medicare Rule Guarantees Continuity of Drugs (April 27, 2006)
The Bush administration announced a new policy last week to protect Medicare beneficiaries from the sudden loss of drug coverage. The policy states that if an insurer removes a drug from their list of covered drugs beneficiaries are not liable for the changes for the rest of the plan year, unless the change is due to the drug's safety or a generic version becomes available. This policy will also protect recipients from new restrictions and co-payment increases during their plan year.

Late to Medicare Part D? You'll Pay More (April 27, 2006)
What's the penalty for enrolling in a drug benefit program after the May 15th deadline? If you're living in Minnesota you might have received the wrong information. Beneficiaries were told that the penalty will be 1% per month of delay based on this year's national average monthly premium, which would be a permanent penalty of $2.25 a month; however, the penalty will change each year depending on the average monthly premium and will rise accordingly.

Walden Introduces Rural Health Care Bill (April 27, 2006)
Rural communities are hard hit when providing easy access to quality health care. In order to meet the needs of rural health systems and isolated citizens, especially older persons, Reps. Greg Walden (R-OR) and Earl Pomeroy (D-ND) recently introduced the Medicare Rural Health Provider Payment Extension Act. The bill would "extend Medicare reimbursement methods for services provided in isolated or underserved areas to help ensure that such reimbursements are equitable and fair for costs incurred by rural health providers."

Deadline Near, Jams Are Seen for Drug Plan (April 24, 2006)
With the Medicare drug plan deadline approaching in less than three weeks, insurers are expecting a rush for enrollment. Busy phone lines are already creating long wait times of up to thirty minutes when federal standards state that "80% of calls must be answered in thirty seconds." Beneficiaries are frustrated when requests to have their premiums withheld from their Social Security checks are rejected, not processed, or set up incorrectly. Global Action on Aging has been closely monitoring Medicare Part D and will continue to do so past the May 15 deadline.

Medicaid Hurdle for Immigrants May Hurt Others (April 16, 2006)
In an attempt to restrict undocumented immigrants' access to health care benefits, Congress has passed a law that will require recipients of Medicaid and new applicants to show proof of US citizenship. Representative Charlie Norwood (R-GA) stated that this new prerequisite will stop "theft of Medicaid benefits by illegal aliens" and save the federal government $735 million over 10 years. The law has raised opposition and concern across the country. A significant number of older Americans, especially in the South, lack documents confirming their legal status. Activists fear that minorities, mostly African Americans and Native Americans, will lose their benefits because of the new requirement.

New Study Captures Variations Across Medicare Drug Plans, Highlighting the Need for Beneficiaries to Choose Carefully (April 11, 2006)
(Full report available here)
According to a new study by the Kaiser Family Foundation that analyzes drug costs from different Medicare prescription plans, "Medicare's new private stand-alone drug plans vary significantly." This article provides highlights from the report. For example, plans covered 64% - 97% of the 152 sample drugs in the study.

"D" For Disaster (April 7, 2006)
In this article Robert Hayes, president of the Medicare Rights Center, compares the Medicare prescription drug plan to the rebuilding in New Orleans and the war in Iraq – "a human tragedy, an administrative fiasco and a predictable consequence of politicians willing to squander the national treasury so long as it goes into the pockets of their mercenary supporters." Hayes also alludes to the recent release of Secretary's Progress Report III on the Medicare Prescription Drug Benefit by Mike Leavitt, Secretary of Health and Human Services, and criticizes the report for not explaining the reality behind the statistics.

Confusion on Medicare persists in Texas Valley Region (April 7, 2006)
(Article in Spanish)
Medicare still gives headaches to older persons in Valley region of Texas. The highly complicated Part D has generated frustration and confusion. Not able to fully comprehend the guidelines of program, many older persons have chosen not to enroll. The language barrier—most older persons speak only Spanish—and lack of outreach volunteers further limits older adults' access to vital information. Activists are concerned that many older persons in the area will miss the May 15 deadline and will have to pay late penalties.

For Some Who Solve Puzzle, Medicare Drug Plan Pays Off (March 26, 2006)
Personal experiences show that senior citizens have a lot to gain in choosing the right Medicare drug plan if they know how to do it.. One doctor noticed that "the people most likely to benefit have enough education and perseverance to navigate the system, which is extremely convoluted and complex. Or they have friends and relatives to help them." Satisfied beneficiaries have a couple attributes in common: they picked one plan and did not change; they got help from experts, family, and friends to use the plan finder on the Medicare website; they are not on Medicaid; and they live in states that will now receive financial support for drug costs. Sadly, not everyone has such access.

This Is Only a Test (March 16, 2006)
Last week, the Senate voted on three different pieces of legislation concerning Medicare Part D. Despite rejecting an amendment that would extend the May 15 Part D enrollment deadline, the Senate approved the Grassley Amendment which "would allow, but not require, the Bush Administration to extend the enrollment period, waive penalties and allow an additional plan change." Although President Bush does not plan on moving the deadline, many people think an extension is fair considering the confusion and obstacles of Part D since January 1. Finally, the Senate passed the Snowe-Wyden Amendment to permit Medicare to negotiate drug prices under Part D, even though insurance companies will mainly provide the drug benefit. Uncertainty lingers as legislators try to address glitches in Medicare's drug benefit program.

House Republicans Oppose Bush's Medicare Cuts (March 8, 2006)
President Bush plans to cut $36 billion in Medicare over the next five years and $105 billion over the next ten years. On top of this proposal, Congress recently cut $39 billion for health and other social programs. Tension between Bush and Congress rises as legislators from both parties voice concern over the proposed cuts to Medicare. Another obstacle for Bush's healthcare agenda includes a top Senate Republican placing the expansion of tax-exempt Health Savings Accounts (HSAs) on the back burner.

Debating Health Care, Finally (March 7, 2006)
Maryland's Fair Share Health Care Act is opening new doors for discussing state universal healthcare coverage. The act builds on "existing private-sector coverage, requires all employers and individuals to contribute a fair share, and sets up a quasi-public health insurer to cover every resident who is otherwise uninsured." Dozens of legislators are taking the lead from Maryland and enacting versions of Fair Share in their own states. Although Fair Share cannot fix our national healthcare problems or mandate all companies to provide health insurance, the solution to our crumbling system of employer-based health coverage needs to start somewhere.

Bill Would Ease Home Care for Elderly and Disabled (March 7, 2006)
The New Jersey Assembly will consider a bill called the "Independence, Dignity and Choice in Long-Term Care Act" that would allow senior citizens eligible for Medicaid to be receive long-term care at home rather than in nursing facilities. Fourteen states currently have a similar legislation. "For too many generations, ironclad government systems channeled the elderly and the disabled into nursing homes and other institutions," said state Sen. Loretta Weinberg, D-Teaneck, co-sponsor of the bill with Assemblyman Jim Whelan, D-Atlantic City. The measure "will empower seniors and the disabled to decide what long-term care plan works best for them," Whelan said in a statement.

Sample Letter to the Editor on Medicare (March 7, 2006)
The NY StateWide Senior Action Council is circulating Mike Burgess' letter to the editor about Medicare. In Mike's opinion, although Medicare is not a perfect program, the new drug benefit has made everything a mess. Mike says in his letter, "Instead of a universal, comprehensive, standardized national drug benefit designed for seniors and the disabled, the Medicare drug benefit was designed as an affirmative action program for insurance companies and a cash cow to increase the profits of the pharmaceutical companies." Mike's letter refers to the EPIC drug program in New York State that contains features that many wanted in a federal prescription drug plan. Reference is also made to the Kennedy-Stabenow bill in Congress that is pushing for a Medicare-run drug plan option.

Democrats Try to Mend Medicare Drug Program (March 1, 2006)
On February 28, Senate Democrats introduced their solution to strengthen Medicare Part D's drug plan, the Medicare-Guaranteed Prescription Drug Act. This bill plans to address the coverage gap, allow the federal government to negotiate prices with drug makers, streamline Medicare's administration and permit "beneficiaries to remain within traditional Medicare to obtain drug coverage and not be forced to buy insurance from private companies." One of the bill's authors, Sen. Edward Kennedy, D-Mass, said "No longer will [seniors] have to rely on a bewildering array of private plans to meet their need for drugs. In large cities and small rural areas, from Maine to California, to Alaska and Hawaii, Medicare will be there for every senior who wants it."

In Medicare Maze, Some Find They're Tangled in Two Drug Plans (March 1, 2006)
Medicare beneficiaries find they are enrolled in two drug plans and risk the chance to be charged two premiums or the incorrect co-payment amount. The Bush administration says know about this problem and is trying hard to work out the computer glitches. What happened was that enrollment and disenrollment information was not always sent correctly. This caused great complications for pharmacists and insurers bacause they do not have a list of those who are actively enrolled and who is qualified for low-income subsides.

The Excess Cost of the Medicare Drug Benefit (February 2006)
The Center for Economic and Policy Research and the Institute for America's Future has recently released a brief report detailing the unnecessary costs of the new Medicare drug benefit. This report outlines areas of waste and inefficiencies of the 2003 Medicare Modernization Act that are predicted to cost Americans and the federal government more than $800 billion over the next ten years. One area of waste includes excessive payments to drug companies accompanied by the inability to negotiate the price of drugs. This occurs despite the fact that almost every other industrialized nation negotiates prices to lower drug costs. Also, the confusing, free-market private plans are inefficient compared to Medicare's simple plan.

Veterans May Face Health Care Cuts in 2008 (February 27, 2006)
The cost of providing health care services to elderly veterans continues to rise despite projected cutbacks in veterans' medical care starting in 2008. The White House maintains that people should not jump to conclusions since projected budgets don't necessarily represent policies and decisions are made on a yearly basis. On the other hand, critics say that if the White House is proposing cuts, but does not plan to follow through with them, it "would undermine the administration's argument that they intend to reduce the deficit in half over the next several years." And will the veterans get the health care they need in old age?

Drug Plan Sales Tactics Probed (February 24, 2006)
In a time when many seniors are confused and frustrated by the new Medicare drug benefit program, the Office of the Inspector General at the U.S. Department of Health and Human Services is now investigating allegations of fraudulent Medicare marketing practices. This investigation is going to examine the sales tactics of agents who sell drug-only and HMO or Advantage plans. Although the inquiry will be industry-wide, certain insurers have been accused of giving sales agents higher commissions if they sell HMO plans over drug-only plans.

Medicare To Cover Obesity Surgeries (February 23, 2006)
(Article in Arabic)
Obese patients now qualify for bariatric surgery under the US Medicare health insurance plan. Some rules apply. For example, patients must have tried other weight loss regimens unsuccessfully.

Medicare May Now Limit Drug Plan Option (February 23, 2006)
The President is considering cutting the Medicare drug coverage for older persons and those with disabilities. Various employers and insurers are suggesting how to simplify the program for next year. One proposal would limit customers to only two drug plans per region instead of the three that is offered now. Some critics believe that this will not help because it does not narrow the choices. And, added to that, this procedure may make it difficult for insurers to negotiate a lower price for drugs.

Confusion With Medicare Drug Benefit Hurts Elderly Clients (February 23, 2006)
In response to the Medicare Part D that took effect on January 1st, older persons still feel confused and uneasy with the complexity of it. Many elderly are turning to pharmacists, doctors, social workers, and their children. The majority has refrained from asking help from their children because they either do not want to burden them, or fear that they will lose their independence if they reveal that they can't care for themselves. For the seniors that still have not enrolled in the plan, trying to find which option is right for them may be an overwhelming process. Although Medicare has made a website to make it easier for elderly to compare the different options, surveys show that only one out of five people that are 65 years or more have access to internet. As the program becomes more organized, we will be able to determine if the outcomes of Medicare Part D will outweigh the negatives.

Medicare Numbers At Odds With US Claims (February 23, 2006)
How many people have enrolled in the new Medicare drug plan? Well, that depends on what numbers you want to use. Critics and supporters of Part D are selectively using data to further their view of the new drug plan. Officials have also been blurring the line between enrollees and beneficiaries in what Ron Pollack of Families USA calls "misleading propaganda."

Market to Simplify Drug Plans (February 22, 2006)
Instead of narrowing the long list of Medicare drug plan choices, officials are now relying on financial competition to simplify the benefit program. Standardization will result when consumers choose certain drug plans over others and insurance companies and pharmacies promote specific benefit programs. Will consumer and market driven drug plan standardization be best for our health and pocketbooks? We'll have to wait and see.

Health Care Costs to Keep Rising (February 22, 2006)
By 2015 Medicare and Medicaid spending will likely more than double and our national health care spending will exceed $4 trillion. Analysts predict that "within a decade, an aging America will spend one of every five dollars on health care." Analysts also predict that as health care costs soar we will increasingly depend on the government for assistance. But will the government be there to help?

Enrollments in Medicare Drug Benefit Rise (February 22, 2006)
Health and Human Services Secretary Mike Leavitt maintains that the number of elderly enrolling in a Medicare drug benefit each week proves that beneficiaries are becoming fonder of the program. Still, critics retort saying an increase in numbers does not mean people are happy, nor does it take into account the number of automatic enrollees. In this article, Leavitt leaves the responsibility to insurers and the market to "make it easier for beneficiaries to understand the benefit and to reduce the dozens of plan choices available to them." Finally, Ron Pollack, executive director of Families USA, points out that the government originally had higher expectations for enrollment. This means that "if enrollment is exceeding expectations, it is only because expectations have been greatly diminished."

Millions Not Joining Medicare Drug Plan (February 21, 2006)
According to Deane Beede, from Medicare Rights Center, many seniors will miss out on a "very, very good benefit" if they fail to sign up for Medicare Part D. The confusion, skepticism, and frustration over Part D is mainly stemming from the intimidating application. However, other challenges for enrollment include language barriers, mental impairments, concern about losing benefits, not knowing their assets, and not wanting what they perceive as a government handout. Most of the confusion can be cleared up through explanation and assistance, the article claims.

Despite Medicare Drug Confusion, Many Elderly People Don't Seek Kids' Help (February 20, 2006)
Even though the best way to compare and select a prescription drug plan is to go to Medicare's website, surveys show that only one fifth of people over 65 actually have access to the Internet. Medicare officials thought that this gap would be bridged by engaging adult children and creating a family bonding experience. Many older persons say they don't need help, they don't want to be a burden to their family, they trust pharmacists and social workers advice over their children's guidance, or they are not close to their children.

Seniors' Views More Unfavorable than Favorable on the Medicare Drug Benefit (February 17, 2006)
According to a recent poll, senior citizens have become less enthusiastic about the new Medicare Drug Benefit over the past six months. In fact, seniors are almost two-times as likely to view the benefit program unfavorably (45%) versus favorably (23%). The poll notes the need for a multifaceted outreach effort that is not heavily Internet-based, especially since less than one-third of seniors have ever gone online for any purpose.

Rules of Medicare Drug Plans Slow Access to Benefits (February 14, 2006)
Although drugs may theoretically be covered by the new Medicare drug benefit program, restrictions and requirements from insurers are creating barriers to access medicine. In order to prevent drug abuse, many drugs require "prior authorization" from doctors and patients. Doctors may have over twenty-five prior authorization forms for different drugs in one drug plan, which is a headache for doctors, patients, and pharmacists alike. John Feather, executive director of the American Society of Consultant Pharmacists, says that older persons are disproportionately subject to prior authorization compared to participants in commercial insurance programs.

New York Health-Care Industry Says It Faces $1.2 Billion in Cutbacks Under Bush Plan (February 8, 2006)
President Bush's proposed cutbacks are provoking drastic reactions. The cutbacks will force hospitals, nursing homes and home care providers to reduce services substantially for older persons and the disabled residents of New York. The result? More crowded clinics and emergency rooms in poorer communities and expensive bills for private insurers and patients. Federal and state officials are putting more pressure on local health-care industries because they claim local groups have not used funds efficiently and that they have been too quick to turn to the government for help. However, even Republicans are skeptical about President Bush's ability to push through the proposed Medicare cuts.

Report: Center on Budget and Policy Priorities: Expansion In HSA Tax Breaks Is Larger- And More Problematic- Than Previously Understood" (February 7, 2006)
Please read the following report on the President's plan of action to expand Health Savings Account tax breaks. Jason Furman points out that approximately 46 million people do not have health insurance. Those with coverage are not receiving the quality care that they are entitled to. The government's priority should be to provide health care to those who do not have it. Instead, what the government is proposing will be even more costly.

Slowing the Growth of Medicare (February 7, 2006)
President Bush has proposed to slow the growth of Medicare and Medicaid over the next five years. Spending will be cut by reducing annual inflation updates in Medicare and further shifting Medicaid expenses to the states. The chief executive of AARP, William D. Novelli, "warned that the proposals could lead to a crisis in quality and access to health care for older Americans."

Lawmakers to Override Pataki Veto of Safety Net for Prescription Drugs (February 6, 2006)
New York lawmakers and Governor Pataki have different ideas about how to handle the problems with the Medicare benefit program. Pataki has vetoed a heavily supported bill that would grant a permanent extension in drug coverage for disabled and low-income seniors until the problems with the federal program are fixed. The governor feels that the legislation isn't worthwhile because the U.S. Health and Human Services Department has promised to reimburse the state of New York through March 8, after which Pataki pledges to reevaluate the situation.

Democratic Response to Bush's Address (February 1, 2006)
This is the text of the Democratic response to President Bush's State of the Union address Tuesday, given by Governor Tim Kaine of Virginia. Gov. Kaine emphasizes a "better way" to do politics through service and collaboration. He criticizes the Bush administration's "poor choices and bad management" in healthcare, education, fiscal responsibility, jobs, and the environment. Kaine offers alternatives to the current state of the union and foresees a brighter future for the U.S. if we all work together.

State of the Union: Affordable and Accessible Health Care (January 31, 2006)
This article outlines President Bush's agenda to make health care in America more "affordable, portable, transparent, and efficient." His agenda goes into detail about health savings accounts, making insurance more portable, improving information on price and quality, leveling the playing field for individuals and small business employees, passing medical liability reform, improving access to health information technology, and assisting vulnerable groups.

'We Strive to Be a Compassionate, Decent, Hopeful Society' (January 31, 2006)
In his State of the Union address, President Bush talks about the impact of baby boomers and the future of healthcare. He proposes the creation of a commission to look at the impact of baby boom retirees on Medicare, Medicaid, and Social Security. Bush also acknowledges the government's responsibility to provide health care for the poor and elderly. One of his solutions to ensure affordable health insurance coverage is to strengthen health savings accounts. Finally, Bush is pressing Congress to pass a medical liability reform this year.

Medicare Drug Bill Tied to Abramoff (January 25, 2006)
In a letter addressed to the Speaker of the House of Representatives, Democrat leaders called for an investigation into the process that produced the Medicare Prescription Drug Act. They ask about the role played by the Alexander Strategy Group, a lobbying firm linked to Tom DeLay and Jack Abramoff. They argue that an investigation is deemed necessary if public faith in the legislative process is to be restored. The authors of this letter argue that "high drug prices enrich the pharmaceutical industry at the expense of seniors and taxpayers."

The Great Republican Rip-Off (January 24, 2006)
Froma Harrop, a nationally syndicated columnist, writes this opinion piece on the Medicare drug benefit program. Calling Washington's performance an embarrassment, Harrop questions how the party of national security "would handle an unexpected terrorist attack when they can't even organize a drug plan with more than a year's lead time." Harrop also claims that there is profit in confusion and that the elderly are being ripped-off.

Clinton Criticizes Implementation of Bush's Drug Plan for the Elderly (January 24, 2006)
Senator Hillary Clinton attacked the new Medicare drug benefit program as she visited cities throughout New York. She said that the program favors insurance and drug companies over the elderly. Many Democrats believe that the problems with this new program may impact Congressional elections in November. In response to Clinton's criticism, the White House returned the attack by "contending that her husband's administration had not produced any significant legislation to help the elderly deal with the skyrocketing costs of prescription drugs."

New Medicare Program Creates Great Confusion (January 23, 2006)
(Article in Spanish)
The new Medicare Prescription Drug program has created great confusion among beneficiaries says AP-Ipsos, a Washington D.C poll agency. Fifty-two percent of those polled said that they were very confused with the new plan. The numerous private providers, different plans and the long list of medications covered make Medicare very complicated. The poll shows that not only the very old and those with little education find the new Medicare plan confusing, but also 60 year olds and university degree holders had difficulties understanding the program. Jean Finberg, from the National Senior Citizens Law Center, said that impoverished older persons will be negatively affected by the abstruse nature of the new Medicare enrollment process.

For GOP, Time for Soothing, Selling (January 19, 2006)
GOP lawmakers have been pouring effort into outreach towards senior citizens in hopes of calming the increasing irritation over the new Medicare prescription drug program. This campaign comes "during a congressional corruption scandal and a shake-up of the House GOP leadership," which worries many Republicans during a year of midterm elections. There are signs of resistance, but also signs of eagerness among some Medicare recipients.

Medicare Won't Repay States for Emergency Purchases (January 18, 2006)
The federal government will not reimburse states for the emergency drug purchases that they made in the past two weeks due to glitches in the new Medicare Part D program. Medicare administrator Mark McClellen says that states will have to deal with the drug companies to recover the monies. Many States, such as California, stepped in to help pay for drugs for the low-income customers who needed the medications. Now California government will have a $150 million bill that they must recoup from the litigious drug companies. A reward for taking care of elderly sick residents?

Bush Adviser Sees Spending Cuts, Health Proposals (January 18, 2006)
White House economic advisor Al Hubbard says that Medicare, Medicaid, and Social Security are growing at unsustainable rates and may become increasingly stressed as "baby boomers" begin to retire in 2008. Hubbard also forecasts that President Bush will address these issues in his State of the Union address on January 31 and in his 2007 budget proposal that is going to Congress in February. We may also hear more about health care cuts as Bush aims to lower costs.

Rolls Growing for Drug Plan as Problems Continue (January 18, 2006)
Over twenty states are stepping in to pay drug claims since the federal Medicare program started their new prescription drug benefit on January 1. This effort attempts to aid Medicare recipients who have been overcharged, turned away, and left without their medications. Dr. Michael J. Sexton describes the struggles of this new federal program as "like telling a person who's drowning, 'Hold on; we'll teach you how to swim.' " Glitches are common in the initial stages of a new program; however, future disputes loom over how much states will actually be reimbursed.

President Tells Insurers to Aid Ailing Medicare Drug Plan (January 16, 2006)
Now two weeks into the new Medicare program, tens of thousands of people still are not able to get their medication that Medicare is supposed to help cover. Several states have declared that the State would help to cover the costs of prescriptions for their elderly. Other States have filed for a public health emergency powers. President Bush has ordered insurers to provide a 30-day supply of whatever drug that the customers had been taking prior to the implementation of the new system. He said that the poor must not be charged more than $5 for their drugs. Hopefully, the new Medicare glitches will be resolved within this 30-day period.

US Orders Insurers to Supply Seniors' Drugs (January 16, 2006)
Responding to the chaotic functioning of the new Medicare Drug Plan (Medicare Part D) and well after several states announced they would declare a health emergency, the Bush administration ordered health insurers to provide a 30-day supply of prescription drugs to any beneficiary who previously received them. Acknowledging that many "dual eligibles" have been overcharged or simply denied medication, Mark McClellan, administrator of the federal Centers for Medicare and Medicaid Services confessed he found this behavior "unacceptable."

Medicare Meltdown (January 12, 2006)
As the new Medicare Part D program has taken effect, many are still suffering from the transition. The most vulnerable elderly and disabled patients face greatest risk. In one case, a man who just had his leg amputated could not get his prescription of antibiotics to fight off life-threatening infections because Medicare would not cover the cost of his medication. Another woman was not able to receive her first treatment of chemotherapy. Too many elderly and disabled are either not getting their medication or paying too much for it. All this, when the new system is supposed to cover drug costs by 50%. Some states are providing temporary supplies of medication to patients but are concerned because their emergency supplies are running low.

Drug Makers Scrutinized Over Grants (January 11, 2006)
A Congressional investigation of the money that drug companies give as "educational grants" has found that marketing executives push unapproved uses of drugs with doctors and patient groups. It's hard to understand why these grants are called "educational." The committee believes that the use of educational grants to further marketing aims is widespread in the industry. Some grants were used to train speakers to advertise and recommend specific products for "off label uses," during medical presentations. The heavy financing of such organizations can compromise their independence and result in practices that damage or harm unknowing patients.

States Intervene After Drug Plan Hits Early Snags (January 8, 2006)
Pharmacies turned away many elderly without giving them their medications in the first week of Medicare's new drug benefit. Why? Pharmacies could not verify that the customers had signed up. The situation is even more complicated for low-income beneficiaries who are being charged incorrect (high) co-payments. States are now reacting: the Vermont legislature for instance, passed a bill declaring, "There is a public health emergency due to the federal implementation of Medicare Part D, which has resulted in serious operational problems."

Medicare Drug-Coverage Message is Mixed (January 5, 2006)
The government's Medicare health insurance program for the elderly has been a prime topic of debate for years, especially focusing on cost and coverage of prescription drugs. The new Medicare Part D offers many choices to potential subscribers. Less than 10% of Medicare card holders have signed on. A political scientist from University of North Carolina, Jonathan Oberlander, says that Congress viewed seniors and those with disabilities like "computer-linked consumers" and gave them an overwhelming amount of choices. "It's insanity," said the professor. Too many choices make people turn away.

Glitches Mar Launch of Medicare Drug Plan (January 4, 2006)
On January 1 the new Medicare Drug program took effect for those who signed up by December 31. While over a million customers were able to obtain their prescriptions under the new plans, many others had great difficulty. Why? The pharmacy could not verify that they had signed up. As a result, some pharmacies gave out free 2-3 day's worth of medication until their Medicare plan could be verified. The timing for the new plan was bad, considering that New Years Day fell on a Sunday and the following Monday was also a holiday. Many doctor's offices were closed so that pharmacists who needed provider information or other verification could not get help. To add to the overload of customers, many elderly refill their prescriptions on the first of the month. With the slowdown of the Medicare verifying system and continuous busy signals due to a high volume of calls, it was a very frustrating time for seniors and pharmacists. Read on to get some advice on how to get your medication until you receive your new Medicare program card.

"Doctors for boomers": Shortage of geriatricians in the US (January 3, 2006)
The US faces a shortage of geriatricians to care for a tidal wave of older patients. The leading edge of more than 70 million baby boomers is turning 60, and eventually will need care designed to meet the needs of the elderly. Already, the US has less than half the elder-care specialists it needs. Unless there's a change, that will drop to one-third of the specialists by 2030.

US Health System Not Yet Ready for Disaster (December 12, 2006)
Trust for America 's Health (TFAH) recently released the fourth annual "Ready or Not? Protecting the Public's Health from Disease, Disasters, and Bioterrorism." Five years after the 9/11 and anthrax tragedies, the report says that emergency health preparedness is still inadequate in the US . The report contains state-by-state health preparedness scores based on 10 key indicators to assess emergency preparedness capabilities. All 50 U.S. states and the District of Columbia were evaluated and half scored poorly. California , Iowa , Maryland , and New Jersey scored amongst the lowest, while Oklahoma was the only state to meet all 10 measured indicators. Half of all US states would run out of hospital beds within the first two weeks of a moderate flu pandemic and 40 states continue to suffer from a shortage of registered nurses. Click here for the full report.

Major Visual Disorders in People Over 40 May Be Costing the US Economy Billions (December 11, 2006)
Millions of Americans have visual impairment, blindness or other eye diseases such as age-related macular degeneration, cataracts, and diabetic retinopathy. According to a report in the December issue of Archives of Ophthalmology, major visual disorders in Americans older than 40 years may cost the U.S. economy an estimated $35.4 billion a year. However, technological and medical advancements as well as public health efforts to screen for and treat currently undiagnosed diseases may improve visual outcomes. These measures may reduce long-term costs, productivity losses and nursing home placements associated with visual impairment and blindness.



The Last Word on the Last Breath (October 10, 2006)
Healthcare decisions regarding a patient's medical treatment is a crucial discussion among the patient and all parties involved. Since treatment can become very complicated, end of life measures and quality patient care have been widely debated in medicine and law. Who gets the final say over whether CPR should be administered on a gravely ill patient—the doctor, patient or the patient's representative? Medical integrity and patients' rights play a fundamental role in shaping state legislation. However, hospitals and state legislature constantly wrestle with balancing these competing values. Thus, broadening the focus beyond the decisions regarding the last 15 minutes of a patient's life and having more open dialogue around issues of pain management, comfort and closure may assist in finding this balance.

Panel Urges Basic Coverage on Health Care (September 26, 2006)
According to the Census Bureau, since 2001, when President Bush took office, the number of uninsured has increased by more than 5 million, to 46.6 million in
2005. To combat this growing number, a federal advisory panel urged Congress to take steps toward guaranteeing all Americans access to affordable healthcare by 2012. After soliciting opinions of over 7,000 average Americans and health experts at 98 community meetings in 37 different states, the Citizens' Health Care Working Group panel advised Congress to create an independent "public-private entity" to define a basic set of health care benefits and services for all Americans.

Double Bypass Health-Care Consultants Reap Fees from Those They Evaluate (September 18, 2006)
Given the competitive market of private health insurance companies, employers can hire employee-benefits consultants to assist in choosing the best contract for their employees in terms of health insurance and prescription-drug coverage. However, brokers do not often act "in the best interest" of the employer and often receive hefty financial bonuses from the health vendors they are supposed to be scrutinizing. For example, in 2001, employee-benefit consultant Kevin Grady received $517,138 from UnitedHealth for helping secure the Columbus Public School District 's business. Once the district found out about the bonus, Mr. Grady's license was suspended, district officials canceled his contract, and he was order to pay $137,000 in restitution and a $25,000 civil penalty. The incident highlights a prevalent and mostly invisible practice that increases the cost of health care.

One-year Anniversary of Hurricane Katrina-Survivor Experiences (August 2006)
On the eve of the first year anniversary of the Hurricane Katrina tragedy, many survivors are still dealing with the aftermath of events that have led to their displacement. The elderly are amongst the most vulnerable to the adverse affects of natural disasters since they are least able to advocate for themselves and seek care. The Kaiser Family Foundation's report, Voices of the Storm: Health Experiences of Low-Income Katrina Survivors, provides vital findings from interviews with low-income survivors about their health care experiences after the storm. It also addresses ways to improve the response to this and future disasters. Among these interviews, the elderly and caregiver survivors share heartrending stories of their evacuation from New Orleans in 2005.

U.S. Nursing Home Care Found Wanting; Too Many Facilities are Falling Short of Their Obligations, Survey says (August 7, 2006)
In 1987, Congress passed a pivotal law to improve nursing home care for the elderly. But a recent report, titled Nursing Home Quality Monitor, has made some disturbing conclusions. The report published in the September issue of Consumer Reports reveals that poor care is still all too common and many nursing homes have failed to comply with set standards. The report's investigators assessed 16,000 recent nursing home inspection reports and found that many homes were recurring offenders of poor care. A number of nursing homes repeatedly failed to follow doctors' orders, monitor pressure sores or suitably sanitize cutlery. The number may be even greater since the study also found that many states have become lax in penalizing bad homes. Many state inspectors are writing fewer deficiencies for severe violations.

States Stumble Privatizing Social Services (August 4, 2006)
In the quest to privatize social services, Texas and Indiana were determined to launch pilot programs in which independent contractors would replace state employees. The objective was to replace state eligibility systems with high-tech consulting firms in order to more efficiently screen thousands of applications, and save taxpayers millions. But early inconclusive results of a privately run social services project in Texas and troubles with the bidding process in Indiana have caused both states to put their plans on hold. Critics of privatization argue that the problems are actually due to under-funding and understaffing.

Employers Expand Elder-Care Benefits to Reduce Absenteeism; More Companies Offer Time Off, Insurance, Home Aides to Caregivers (July 27, 2006)
An increasing number of US employees are becoming caregivers to elderly family members and relatives. As a result, absenteeism in the work place is on the rise. According to a recent survey by the National Alliance for Caregiving, working caregivers cost businesses as much as $34 billion a year due to absenteeism, hiring replacement workers and other lost productivity. In order to reduce costs, companies such as KPMG LLP and Prudential Financial Inc., have begun to provide employees with benefits that can include extended leaves of absences, subsidized in–home care and insurance coverage to elderly relatives.

Push For Universal Care (July 18, 2006)
With American companies spending more on health care than any other expense, some people believe that only the ideology of private sector superiority prevents corporate action towards a national health care system. The Service Employees International Union, the most outspoken group advocating universal healthcare, leads the way in action, but success demands greater support from all unions. Workers and retirees have much to gain from such a transition, so advocates for universal care call for increased pressure on corporate executives.

GM Chief Urges Congress To Address Health Expenses (July 13, 2006)
An outspoken proponent of health-care reforms, General Motors Corp. Chairman and Chief Executive Rick Wagoner urged Congress to address rising health care costs for companies. The high costs create difficulties for US companies in the competitive global market. Wagoner explained, "We need to get greater value for our health-care dollar." Though unions seek a national health-care system, GM promotes other cost reducing programs, like disease prevention, waste reduction, and information technology.

After 4 Years, Health Group for the Poor Gets Started (July 5, 2006)
In the conversion of insurance company Empire Blue Cross Blue Shield to a profit-making company from a nonprofit, New York State claimed ownership of some stock after years of granting tax-exemption. With plans to use these funds for a foundation for New York healthcare, the value increased from $50 million to $250 million over the four-year delay in action and the improving economy. Limited to health care in the state, the foundation can have a great impact, planning to address the obesity and diabetes epidemics, as well as to support grassroots, local level projects.

Health-Care Costs To Hit Workers, Retirees Harder (July 5, 2006)
The continuing trend of rising health care costs will certainly impact company policies. Both employees and retirees will have to pay more for their medical services as companies begin to limit benefits. One study examines out-of-pocket expenses, noting that these will increase; retirees in particular will have to spend more or reduce their insured health coverage.

S.F. Unveils Universal Health Care Plan (June 20, 2006)
The city of San Francisco hopes to enact a universal healthcare plan available to all adult city residents, independent of citizenship or employment status; children already have universal coverage. Like many Americans, thousands of city residents without insurance earn more than the qualifying cut-off for Medicaid. The mayor, Gavin Newsom, emphasizes that the preventive and emergency health care will deter emergency room visits, but will not take the place of private health insurance. Taxpayers, businesses, and participants will all help shoulder the $200 million cost.

Crisis Seen in Nation's ER Care (June 15, 2006)
According to three reports presented by the Institute of Medicine, the US system of emergency medical care is crumbling. Suffering from overcrowding, a shortage of specialists and instability, emergency rooms can no longer respond to crises effectively. The system requires reform measures. Some experts suggested strategies to create regionally planned networks with a central dispatcher, as well as standardized paramedic training. To organize reforms, in the next two years Congress will establish a new organization to undertake the transition.

Try Standardized Health Coverage (May 14, 2006)
This article defends Medicare, promotes a standardized government-run drug benefit program, and argues that the Stabenow-Kennedy bill, also know as the Medicare-Guaranteed Prescription Drug Act of 2006, is a good option to address the problems of Part D. If passed, this bill would create a drug plan run by Medicare, establish uniform monthly premiums, and allow price negotiations on drugs.

Ill. Attorney General, 38 Others, Oppose Health Plan in U.S. Senate (April 27, 2006)
Thirty-nine Attorneys General oppose the Health Insurance Marketplace and Affordability Act of 2006 (HIMMA). Originally designed to help small businesses provide health insurance, the bill would actually allow insurance plans to offer "bare-bones" policies that are not required to provide state-mandated services, such as mammograms, supplies for diabetes management, mental health treatment, and other protections. Furthermore, HIMMA takes away state rights by "permitting insurers to sue states that do not adopt the new federal standards." If passed, HIMMA will place patient health and guaranteed state-benefits in jeopardy.

Massachusetts Health Care Reform Plan (April 2006)
The Kaiser Family Foundation created this helpful fact sheet to guide readers through the newly implemented Massachusetts health care reform plan.

Unfriendly to Health (April 22, 2006)
For some people, consumer driven health care revolves around the patient's needs and prevention programs. For others, such care is based on the patient's wealth and health savings accounts. With three million Americans currently signed up for health savings accounts, promoted heavily by the current administration, maybe we are missing the larger problem with our definition of consumer driven health care – the poor and already uninsured who cannot afford this solution to the US health care crisis.

Wal-Mart to Offer More Health Coverage (April 17, 2006)
Wal-Mart Stores Inc. is expanding healthcare coverage to part-time workers by reducing the two year work requirement to one year. Despite this extension, unions continue to strongly criticize Wal-Mart's inadequate health benefits and low wages. According to Chris Kofinis, spokesman for WakeUpWalMart.com, Wal-Mart's health care coverage expansion should be taken with a grain of salt considering "they're basically expanding health care coverage to workers who can't afford it because their pay [at Wal-Mart] is so poor and the health care deductibles and premiums are so high."

A Quiet Push for State Health Plan (April 11, 2006)
As Massachusetts paves the way for expanding health care coverage, other states like Wisconsin are working on their own plans for health care reform. The Wisconsin Health Plan is more extensive than Massachusetts's Health Care for All legislation. This plan requires all employers to pay a payroll tax and further penalizes small businesses who do not spend the proposed payroll tax amount. The Wisconsin plan would put a tax on payrolls of corporations and potentially reduce slightly the profits of the company. While some see this act as redistributing wealth from the rich to the poor, Rep. Curt Gielow (R-Mequon), one of the bill's supporters, says that the Wisconsin Health Plan "will only work when the will of the people is for the greater good of the people."

Massachusetts' Mistake (April 7, 2006)
The new "Health Care For All" bill in Massachusetts has many people claiming victory for universal health care coverage – but not everyone is convinced. The authors of this article highlight three arguments: politicians underestimate the number of uninsured, "there is a false assumption that uninsured people will be able to find affordable health plans," and the bill does not provide measures to contain escalating state health care costs. Despite criticism, Governor Romney plans to sign the legislation into law on Wednesday, April 12.

Health Coverage Reform Follows State-By-State Path (April 5, 2006)
States are individually acting on health care reform because the federal government is not. While some states want to expand current government programs and create new ones, other states prefer individual initiative through a market-based approach. Reform is necessary because our current health system "provides health coverage to people based on whether they are lucky enough to have a job with benefits, old enough to qualify for Medicare or poor enough to qualify for state aid," according to former Oregon governor John Kitzhaber. Current coverage, or lack of coverage, leaves at least 46 million people in the US vulnerable to poor health and poverty.

Massachusetts Sets Health Plan for Nearly All (April 5, 2006)
Massachusetts is on the verge of becoming the first state "to provide a mechanism for all its citizens to obtain health insurance." By creating a sliding scale of affordability, the bill will distribute the cost between businesses, individuals, and the government. Businesses with more than 10 workers who do not provide insurance will pay $295 per employee per year. Individuals who can afford private insurance, but do not purchase it, will be penalized. Individuals who already have insurance will most likely pay cheaper premiums and government subsidies will make insurance plans more affordable for the working poor. If the bill is signed, Massachusetts will be the first state to require its citizens to have health insurance and also come closest to achieving a semblance of universal health care coverage in the US.

Coverage, In Pieces (April 3, 2006)
Until recently, a good job used to guarantee decent health insurance. However, according to the Kaiser Family Foundation, only 61.9% of workers currently receive coverage through employers, a drop from 71% back in 1987. Employees are paying more for health insurance and finding it unaffordable – leaving them uninsured. This article depicts the personal stories of seven Americans and the obstacles encountered, successes achieved, and creativity required when making their way through the US healthcare system.

Serving an Aging Nation (April 3, 2006)
UnitedHealth Group, the nation's largest health-care benefits company, has been making deals and acquiring health plans nationwide. Chief executive Dr. William McGuire has pushed UnitedHealth into Medicare Part D by linking up with Walgreen's and also plans to access the uninsured through discount health-care cards that people can purchase in local stores. This healthcare giant will soon be providing "at least one product to one out of every five Americans over the age of 65" as profits continue to rise. While a growing aging population will be good for profits, is this the solution to our healthcare crisis?

The Effect of Population Aging on Future Hospital Demand (March 28, 2006)
Will the growing US aging population affect demand for hospital inpatient services? According to this study, "aging's effect on inpatient demand varies by medical condition, with the highest rates of growth in services most used by elderly patients." Despite this growth, aging will be less influential than local population trends and advances in medical technology.

You Think 401(k)'s Are Hard to Manage? Try Health Accounts (February 18, 2006)
One thing we've learned about managing our own money is that it isn't easy. With the promotion of health savings accounts (HSAs) many people wonder if the consumer-driven accounts will be simple and also make our healthcare system easier to navigate. New computer software may help patients sort through bill paying, but the process isn't completely straightforward. Many people feel HSAs will pressure them to "choose the right treatment, doctor and hospital, and hope that their illness won't cause them financial ruin."

In Ohio, Bush Touts Health Savings Plan (February 16, 2006)
Bush is promoting a new tax incentive to help the uninsured get health care coverage through a program called the Health Savings Plan (HSA). He is promoting this plan as a way to allow a smoother transition away from the traditional insurance system. Bush states, "by saving money on health insurance, it enables them to put more money into your account, which has got to be a heck of a good benefit working for this company." This program has done very little so far for the few that are enrolled. Democrats and other critics argue that this plan will work only for those that are healthy and wealthy. Low-wage workers cannot afford to put money aside in a savings account. The Center on Budget and Policy Priorities says that the HSA will encourage employers to drop existing health insurance plans and push the newly uninsured toward the less-secure HSA programs or to remain uninsured.

Curing, Caring and Coping (January 30, 2006)
"How ought we, from an ethical standpoint, care for the elderly? What do we owe them in their time of need?" This is the question that Daniel Callahan, director of the international program at the Hastings Center on Bioethics, tries to answer in this article published in America, the US Catholic Weekly. Beyond important economic considerations about guaranteeing a balanced health system, the author raises some ethical issues posed by an aging society, especially the management of end of life and respect of a patient's prior wishes.

Health Savings Accounts Attract Wall St. (January 27, 2006)
US financial institutions are beginning to shape the national health care system through health savings accounts. Similar to the creation of private accounts to change Social Security, health savings accounts are being used to shift health care costs from employers to employees. Although these accounts are portable if you switch jobs, some "critics argue that the banking industry's involvement only bolsters their case: the accounts are more about wealth than health."

Prognosis Is Mixed for Health Savings (January 26, 2006)
President Bush has made a health savings plan a priority in his policy about medical cost with a "new wave of health care" that is now more portable. These savings plans are high deductible insurance policies that people can sign up through their work place or buy independently from an insurance company. The theory is that $1, 050 for individuals and $2,100 for families will be paid towards their medical bills and the remaining paid for by the insurance company. Bush's idea is that by lowering monthly premiums and being able to put pretax dollars into a savings account, more people can use this savings for next year's deductibles. But critics disagree with President Bush's thinking. Instead, they feel that people are just receiving more spending money and this makes them less likely to aim for preventive care for their future health. The outcome of this plan so far has only supported the critics' statement. Those that signed up for this new plan only did so because it was cheap or because it was their only insurance option. Half of those that have enrolled have not put money into their savings.

States' Cost to Be Repaid in Drug Plan (January 25, 2006)
The Bush administration announced yesterday that states that helped to pay claims for prescription drugs for low-income persons will be fully reimbursed for the prescriptions that the new Medicare should have covered. After weeks of stating that the federal government would not reimburse states, officials now say that the Bush administration is feeling the pressure considering that more than 24 states are spending millions each day to get those in need of their prescriptions. The federal government has not released the details but says they will reimburse states that have incurred costs through February 15, in hopes that all the glitches will be worked out by then. Many are doubtful that the problems will be worked out by the set date.

Hawaii's Sick Hospitals, Aging Populace Faces Crisis in Long-Term Care (January 17, 2006)
Soon Hawaii will face a crisis in its elder long-term care system, said State Human Services Director Lillian Koller. With the number of old adults rising steadily and with most of its resources relying on Medicaid, Hawaii will rapidly be in a very difficult situation. The island is aging 2.5 faster than the national average. The many retirees who have moved to Hawaii have pushed up the numbers. The biggest problems? The Hawaiian elder care system lacks facilities and resources and available labor to work in long-term care. According to Koller, rural areas will be most directly affected by this imminent crisis.

Massive Shortage of Aged Care Nurses in Queensland (January 16, 2006)
Australia's aged care is in crisis. According to nursing unions, a shortfall of up to 500 aged care nurses in Queensland is threatening the viability of nursing homes and standard of elderly care. The looming crisis is being largely blamed on the widening gap between what general and aged care nurses are paid.

Nursing Home Inspections Miss Violations, Report Says (January 16, 2006)
A recent congressional report shows that many State inspectors often overlook deficiencies in nursing homes. The apparent improvement of these facilities' conditions is not accurate and might conceal the negligence of these inspectors, who even fail to report serious life-threatening violations such as fire hazards. It is also alarming that when inspectors do report health and safety violations, the state can take months to investigate the cases, putting the lives of elderly at danger. Senator Charles E. Grassley, who requested the report along with Senator Herb Kohl, is very concerned with the findings and has said, "If state surveyors are missing serious deficiencies in the quality of care, then the federal government has not yet achieved the necessary level of improvement in oversight of the inspection process."

In the Treatment of Diabetes, Success Often Does Not Pay (January 11, 2006)
Treatment of diabetes has to face the law of profit. Because diabetes builds over time and its patients need more nutritionist classes or standard consultations for one of its related effects such as foot ailments, it is not considered "profitable" enough by some health professionals. This situation leads to an even greater lack of care for diabetic patients whose disease impacts their whole life style. "If a hospital charges, and can get reimbursed by insurance, $50,000 for a bariatric surgery that takes just 40 minutes," Dr. Diana K. Berger, who directs the diabetes prevention program for the City Department of Health and Mental Hygiene said, "or it can get reimbursed $20 for the same amount of time spent with a nutritionist, where do you think priorities will be?"


Reports

GAO Report: Improvements Needed in FDA's Oversight of Direct-to-Consumer Advertising (November 2006)
A Government Accountability Office (GAO) congressional report claims that the Federal Drug Administration (FDA) regulators are issuing fewer citations to drug companies for false and misleading advertising. The GAO claims that the FDA lacks an effective way to screen, review and track the more than 10,000 ads and websites brought to the agency's attention each year. The report also found that drug company spending on direct-to-consumer advertising has increased twice as fast as spending on promotion to physicians or on the research and development of new drugs. According to publicly reported data, from 1997 through 2005, spending advertising increased almost 20 percent each year while spending on drug promotion to physicians and spending on research and development each increased by about 9 percent. Refer to this report for more information.

Articles


Brain Training Can Have Lasting Benefits for Seniors (December 19, 2006)
By 2040 cognitive idleness will bring on mental decline to more than 84 million Americans. The latest National Institute on Aging study says that exercising your brain for 10 hours guarantees your brain sharpness for the next five. Persons over the age of 70 years maintained and improved their mental acuity as they participated in computer-based hour-long sessions that engaged them in cognitive exercise. If computer programs are not accessible, the simple and enjoyable acts of reading and doing crossword puzzles help maintain healthy brain function. If this is true, do professionals with higher educational degrees experience less mental decline in advanced old age?

Drug Files Show Maker Promoted Unapproved Use (December 18, 2006)
A lawyer representing mentally ill patients found that Eli Lilly has wrongfully promoted Zyprexa for conditions for which it had not been approved. Eli Lilly, the sixth largest American drug company, has made $4.2 billion from sales of Zyprexa which treats schizophrenia and bipolar disorder. However documents show that sales representatives have used marketing tactics to convince primary care doctors to prescribe this powerful drug to older patients with symptoms of dementia. However, Zyprexa has not been approved for the conditions of dementia. Nearly every company is under either civil or criminal investigation for alleged efforts to expand the use of its drugs beyond the specific illness or condition for which they are approved.



Geezer Dreamers, Dream on: Living to 100 not a Sure Thing
(December 13, 2006)
Recent population trends suggest that American life expectancy will continue to surge.. But this is just "ridiculous," says public health professor S. J. Olshansky of the University of Illinois-Chicago. Population data of the past 150 years hint otherwise, particularly as obesity seriously compromises the health of US citizens. There is little doubt that in a few decades life expectancy will reverse direction.

For prostate cancer, action may beat waiting (December 12, 2006)
As we suspected, seeking medical therapy and treatment after any cancer diagnosis improves your chances of living, reported a Chicago based study last week. Scientists reached this conclusion after examining 44,000 men 65 to 80 with prostate cancer, between 1991 and 1999, who had survived more than a year past diagnosis. The study finished at the end of 2002 and confirmed our suspicions. Moreover, the data implied that treatment is unbiased and benefits even the oldest of the group. Researchers recommend that doctors no longer suggest that their patients wait and monitor the growth of prostate tumors before seeking radioactive therapy or surgery. Localized prostate cancer patients live longer healthier lives if treated with radiation or surgery when first diagnosed.

Detecting Alzheimer's Early (December 12, 2006)
Scientists expect that by 2050 the number of Alzheimer's patients will surpass 14 million. Can they beat the aging clock? A recently funded NIH's National Institute on Aging fronted $60 million to test 800 older Americans who will undergo brain scans to track the earliest brain changes associated with Alzheimer's. But are brain scans enough? Are they the best way to obtain meaningful prognosis? How reliable will they be? Past scientific stipulations suggest that the insidious brain attack happens years, even decades, before the first dementia episode. If this is true, what's plan B? Researchers at New York's Weill Cornell Medical College believe proteins found in spinal fluid are better predictors of Alzheimer's onset.

Feds Charge Alzheimer's Researcher (December 4, 2006)
Dr. Trey Sunderland of the National Institutes of Health (NIH) was recently charged with criminal conflict of interest for performing lucrative private drug company work in a private deal that went on for five years. Prosecutors alleged that he received $285,000 in improper consulting fees and travel expenses from Pfizer, Inc., for work on early indicators of Alzheimer's. At the same time, he also oversaw similar NIH business with the drug maker. NIH has identified at least 44 government researchers who improperly made money moonlighting for biotechnology and drug companies. "We can only conclude that no one is being held accountable, the system is broken and the public trust has been violated," states Rep. Bart Stupak, D-Michigan.

End of Drug Trial Is a Big Loss for Pfizer (December 4, 2006)
Officials from Pfizer, the world's largest drug maker, pulled the plug on their most promising experimental drug called torcetrapib. Intended as a treatment for heart disease, the drug actually caused an increase in deaths and heart problems. Eighty-two people have died so far in a clinical trial, versus 51 people in the same trial who did not take it. The company lost nearly $1 billion on this investment. Pfizer, which makes about $50 billion in annual sales, is still highly profitable. However, over the next five years the company will lose patent protection on its best-selling drugs such as their cholesterol-lowering drug, Lipitor, and these drugs will become much cheaper. Despite a $7 billion annual research budget, its near-term pipeline of new drugs is nearly empty.

New Hope for Thinning Bones (Fall 2006)
NYU professor Racquel Z. LeGeros has invented a potentially excellent treatment that resolves a number of problems – an affordable supplement, sans side effects, that stops osteoporosis and may actually build bone mass! This supplement also would help correct mineral-deficient diets in developing-world countries. Read this article to find out more about this apparently safe treatment!

Wal-Mart Expands Generic Drug Program (November 17, 2006)
Since Wal-Mart first introduced its $4 generic drug plan in Florida this past September, management has expanded the program to 37 other states around the country. Today, over 3,000 affiliated pharmacies carry over 100 different kinds of generic drugs and 2.1 million more new prescriptions have been filled. Nevertheless, drugstore companies and analysts predict little threat from Wal-Mart's plan, noting that cash prescriptions account for only a small portion of their profits.

Med Schools Warn Doctors of Drug Sales Pitches (November 2, 2006)
Medical schools around the country are promoting programs that teach doctors and students to challenge the advertising and sales pitches of drug companies. Funding for some of these university programs comes from a $430 million legal settlement over promotion practices at pharmaceutical giant Pfizer Inc. Pfizer was accused of illegally paying doctors to prescribe its drug Neurontin for uses that had not been approved by the U.S. Food and Drug Administration.



Marijuana-like Compound May Fight Alzheimer's (October 19, 2006)
Medical evidence shows that brain inflammation contributes to many age-related degenerative brain disorders, including Alzheimer's disease. Since marijuana has strong anti-inflammatory effects, Dr. Gary L. Wenk from Ohio State University in Columbus asserts that a marijuana-like compound may fight this disease. More studies are underway to understand the mechanisms underlying this effect as well as ways to create a drug that does not have psychoactive properties.

When Pandering Backfires (October 4, 2006)


The ongoing controversial issue regarding Medicare Part D's donut hole has seniors and economists pointing to certain members of Congress and the big pharmaceutical drug companies that fund them. With the help of recent ad campaigns that praise incumbents who voted for the Part D drug plan, critics can pinpoint which Congress members supported legislation that gave a windfall to the industry, while leaving seniors with the potentially life threatening gap in coverage. In addition, the Bush-backed Medicare Part D does not require drug companies to offer low drug prices when seniors' spending reaches the "donut hole" level. Read and weep.

Wal-Mart Cuts Prices for Many Generic Drugs to $4 (September 22, 2006)
Through Wal-Mart's enormous purchasing and distribution ability, it can sell generic drugs at an even cheaper rate than many retail pharmacies. Their pricing policy currently covers 150 different generic drugs; Wal-Mart intends to add more popular drugs in the future. Currently, 65 stores in Tampa , Florida , offers these discounted rates. Wal-Mart intends to go nationwide with its pricing policies next year. These prices may help the nation's uninsured persons to buy prescription drugs. However, it will put pressure on retail pharmacies and generic drug makers to reduce their profit margins. In an ironic note, WakeUpWalMart, a group financed by the United Food and Commercial Workers union, said in a statement: "Wal-Mart cruelly ignores the fact that it fails to provide company health care to over half (775,000) of its employees."

Panel: FDA Needs Drug-Safety Reforms (September 22, 2006)
The Institute of Medicine recently criticized the FDA for a dysfunctional professional culture and urges Congress to grant them authority to regulate the safety of prescription drugs in the U.S. market. Among the recommendations, the panel of IOM experts wants Congress to give FDA the authority to order drug companies to alter labels to reflect safety concerns and fine firms that refuse to perform new safety studies of drugs currently being sold. Due to criticisms of FDA's inconsistent leadership, IOM experts also urge that the appointed commissioner have a longer term in order to span administrations and be better insulated from partisan politics.

Drugs for Elderly Curb Price Surge (September 20, 2006)


US seniors recently saw brand name drugs decrease in relative costs—they rose only 0.5 percent, below the overall inflation rate. Nevertheless, AARP is quick to point out that at the beginning of the year prices rose at an average of 4.3 percent, double overall inflation and costs are expected to increase again in early 2007. In addition, many seniors find themselves in the Medicare coverage gap, popularly know as the "doughnut hole," and must spend $2,850 in drug costs prior to receiving additional coverage. Even more daunting, David Sloane, an AARP staffer, says, "Nearly 7 million Americans aged 50-64 have no health insurance, are paying full freight and need relief." AARP continues to advocate for a legislation that would allow seniors to purchase medicine from foreign countries such as Canada and the European Union where drug costs are much lower.

Seniors at Greater Risk of Medicine Mix-Ups (September 13, 2006)
According to a study released by Medco Health Solutions Inc., one of the nation's largest prescription benefit managers, "mistakes with prescription drugs are a leading cause of death or injury in the United States" especially for older patients because they typically see more doctors and have more medicines. The study suggests that "patients over 65, who often have chronic conditions and see several doctors, had a drug error rate nearly seven times greater than those under 65." Dr.Glen Stettin, a Medco senior vice president, says that prescribers need to strengthen communication between themselves to reduce risks. He also suggests that patients with multiple health problems "need to have a physician who is the quarterback."

Drug Firms Use Financial Clout to Push Industry Agenda at FDA (September 1, 2006)


The US Congress funded the Food and Drug Administration (FDA) for most of its history. But in the early 1990s the pharmaceutical industry, frustrated with the pace of drug approvals, offered to pay the FDA millions of dollars in user-fees and annual costs to help speed its performance. Today the industry funds more than half of FDA's critical drug-review process. For the past five years the industry has renegotiated these fees and has gained considerable influence over the uses of the funding. According to Dr. Kessler, dean of the medical school at the University of California, San Francisco "There is no doubt that user fees give the industry leverage on setting the agency's priorities, because of the negotiating process." With the current bargaining talks going on now for additional fee increases, how will the industry's influence impact consumer safety, public health standards and the integrity of the FDA?

The Future of Drug Safety: Action Steps for Congress (September 2006)
Institute of Medicine (IOM) experts assessed the U.S. Drug Safety System and released a report to address the growing public concern regarding health risks posed by approved drugs. In its report, The Future of Drug Safety: Promoting and Protecting the Health of the Public, the committee focused on drug review, safety surveillance and related activities of the Center for Drug Evaluation and Research. The committee also reviewed the roles of the pharmaceutical industry, the academic research enterprise, Congress, the health care delivery system, patients and the public. Among their findings, IOM experts assert that the FDA and the pharmaceutical industry do not consistently demonstrate accountability and transparency to the public by communicating safety concerns in a timely and effective fashion. For a list of some of the recommendations, refer to the IOM's Report Brief.

Survey Says Scientists Feel Pressured, Which FDA Denies (July 21, 2006)
According to the survey conducted by the Union of Concerned Scientists and Public Employees for Environmental Responsibility, Food and Drug Administration (FDA) scientists feel that political and commercial interference compromise their public health duties. Disputing the findings, an FDA spokeswoman says that the survey itself is unreliable, not scientific in method, and that FDA conclusions are only based on facts. However, the criticism comes in a series of attacks concerning other issues of political influence. The former FDA assistant commissioner for women's health, Susan Wood, "said that the survey reflects longstanding concerns within the agency."

First Skin Patch for Alzheimer's Symptoms Unveiled (July 19, 2006)
An alternative to oral medication, Exelon, a treatment for Alzheimer's, will now come in the form of a patch, allowing the medication to seep through the skin. This method alleviates the problems of a pill; by avoiding the digestive tract it prevents nausea. A study funded by the drug maker Novartis found that the patch did in fact reduce nausea and vomiting compared to the pill form. Though Exelon only treats symptoms temporarily, two new experimental treatments aim to fight the plaque build-up that causes Alzheimer's, one an anti-hormone drug and the other using antibodies.

Prices Soar for Cancer Drugs (July 11, 2006)
While pharmaceutical companies maintain that sufficient profits are vital to research, the staggering increases in the prices of cancer drug prescriptions upset both patients and insurance companies. Of specific concern, some of the most costly drugs, "targeted therapies," produce fewer side affects but do not actually cure the cancer; this begs ethical questions of the treatment's worth. As of now, taxpayers foot many of the bills for Medicare costs, while individuals must pay more out of pocket as corporate health benefits decline.

Top Democrat Finds F.D.A.'s Efforts Have Plunged (June 27, 2006)
The investigation of the Food and Drug Administration (FDA), led by a key Democrat in the House of Representatives, condemns the organization's turn during Bush's first five years in office. Investigators noted a sharp decline in law enforcement and warnings, which they do not attribute to better industry compliance. Rather, officials at the FDA "increasingly overruled the investigators' enforcement recommendations." Also noted, the organization receives many fees from drug companies, raising questions about its integrity.

Four Diabetes Drugs Are Seen Raising Hope and Profit (June 22, 2006)
As diabetes grows as a global health issue, the development of four more drugs makes for a brighter outlook, potentially helping 90 percent of patients. Different from other available medications, these drugs take various forms, like inhalable insulin, and produce fewer side effects. One drug in particular, the injection Byetta, causes weight loss, which can improve and stabilize the general condition of diabetes patients, making the disease more manageable.

Drug Prices Up Sharply This Year (June 21, 2006)
Patient and consumer advocacy groups have reported findings of high inflation in prices for name-brand drugs during the first quarter of the year. In the new Medicare Part D program, which has just taken effect, Congress cannot negotiate drug prices with companies--a windfall for the drug makers but a potential hardship for consumers, limiting access to the best drugs for treatment. Moreover, if premiums rise in response to the drug price increases, the higher cost will discourage people from keeping their insurance or from joining the program.

Alzheimer Vaccines Shows Promise (June 12, 2006)
Alzheimer's disease, the most prevalent type of dementia, involves parts of the brain responsible for thought, memory, and language. It results from plaque build-up in the brain. In clinical trials a new experimental vaccine is reducing the plaque present in the brains of mice with no major side effects. Soon trials will move to monkeys and then to humans, if the vaccine proves successful. Testing on a previous vaccine was stopped because of resulting brain swelling, but researchers are also testing other types of treatments.

When Drug Firms Pay Off Competitors (June 8, 2006)
A recent case levied by the Federal Trade Commission (FTC) against the pharmaceutical company Schering-Plough presents a frightening reality in the industry. The FTC charges that Schering-Plough paid off a competitor with a generic product in order to maintain profits. In cases like this, "the only losers are the consumers who must continue to pay high drug prices." Though the appeals court ruled that the transaction did not violate antitrust law, the FTC will petition the Supreme Court to hear the case.

Drug Company Accused of Fraudulent Drug-Pricing Scheme (May 18, 2006)
Medicare and Medicaid reimburse the price of medications based on manufacture's price. By reporting the price of the intravenous antibiotic Vancomycin as much as 18 times the real cost, Abbott Laboratories made illegal profits when health providers prescribed the medication. From 1991 to 2001, their billing scheme cost the federal government health program more than $175 million.

Generic Drug Payoff Draws Government Interest (April 24, 2006)
Generic drugs can save money for consumers; however, critics accuse brand-name pharmaceutical companies of paying generic manufacturers to withhold cheaper drugs from the market in order to make profits. The longer generic drugs are kept from the market, the more the consumer will pay and drug companies will earn. The Federal Trade Commission plans to take action against "possible anticompetitive practices" among prescription drug companies and investigate any deals potentially harmful to consumers.

Arthritis Care Falls Short for the Elderly (April 4, 2006)
A recent University of California geriatric study shows that arthritis sufferers often don't get the care they need. When they do get care, their doctor sometimes fails to tell them about dangerous side effects. Only 57% of the patients received the recommended medication. Furthermore, 44% of the patients interviewed did not know the side effects (such as kidney damage, stomach trouble and the risk of heart failure) of their medication. The report emphasizes the dual responsibility of older patients and doctors to ask questions and get good answers.

Acetaminophen May Help Dementia (March 8, 2006)
(Article in Arabic)
A St. Louis University study suggests that the use of acetaminophen might help nursing home residents suffering from dementia. Researchers found that nursing home residents with moderate to severe dementia who were given acetaminophen became more socially active by spending less time alone in their rooms and more time interacting with others.

More Medicines from Abroad Seized (February 11, 2006)
Canadian pharmacies report that "the US government apparently is stepping up seizures of cheap drugs ordered by Americans - mainly seniors - from abroad." Although it is illegal to order drugs from abroad, US Customs and the FDA have usually permitted this activity and the US government has never taken action against an individual. While US officials warn citizens of the risk of receiving poor-quality or incorrect medicines, many seniors find medicine from abroad to be far more affordable.

Older Adults May Reduce Risk of Metabolic Syndrome by Eating More Whole Grains (February 6, 2006)
"Consuming whole-grain bread, whole-grain cereals or whole-grain pasta may improve your health by reducing the risk for cardiovascular disease," says a recent nutritional study on older persons' diets conducted by the University of Tufts. Once more such a report highlights the close relation linking nutrition and general health, especially for the old.

Drugmakers to Cut Off Some Free Prescriptions (January 27, 2006)
Various drug manufacturers, such as GlaxoSmithKline, are discontinuing free and discounted medications to low-income elderly and disabled patients because "providing free medicine to someone enrolled in a Medicare plan could be viewed as an effort to keep the patient on that particular product, rather than a generic or cheaper version sold by a competitor." This means that patients who counted on pharmaceutical giveaways last year may have to pay over $3,600 for the same medicine this year. The Bush administration maintains that there are ways to help poor or seriously ill patients and still obey anti-kickback laws. As the accusations persist, States continue to step up to cover the new Medicare drug benefit program's shortcomings.

Shielding Big Pharma (January 25, 2006)
At a news conference last week, the FDA announced a new pro-consumer rule requiring pharmaceutical companies to provide clearer labels and warnings about harmful side-effects on their products. Attached to the new rules was a multimillion dollar contribution to drug companies and also a not-so consumer friendly rule change. This change will give federal courts, instead of state courts, sole jurisdiction over individual and class-action suits. Author Stephen Pizzo describes these changes, saying, "Better labels on prescription drugs may or may not make consumers safer, but drug companies hope they will make them safer from lawsuits."

New Prescription Pricing Law Faces Repeal in Pataki Budget (January 20, 2006)
Five months ago Governor George E. Pataki signed a law that would require the State to create a website where people could compare prescription drug prices to help New Yorkers get the drugs they needed at the lowest cost. But this week, Pataki called for a repeal of the law after all the data has been collected and plans made to begin the website this spring. Pataki now says that the State of New York does not have the funds to set up this labor intensive research project. Assemblyman Richard N. Gottfried, a Manhattan Democrat who sponsored the bill, replies that the repeal is absurd. He knows that the State has money from a drug company settlement that could be used for the set up costs.


Sudoku Anyone? Limber Brain Keeps Seniors Sharp (December 19, 2006)
Like the body, the brain needs exercise to stay sharper in the coming years. A Journal of the American Medical Association study indicates that older adults that continue to exercise mentally improve their cognitive abilities. Training included formal sessions such as mnemonics to teach people to remember by using acronyms and rhymes. But it is reasonable to infer that games like Sudoko that emphasize reasoning skills could have some of the same benefits, said Michael Mariske of the University of Florida, one of the authors of the study. For the complete report, click here.

Lifestyles May Influence Testosterone Levels (December 19, 2006)
Aging leads to decreases in testosterone production, but scientists believe men are in control of their body's hormone production. A recent New England Research Institutes in Massachusetts study indicates that unhealthy lifestyles and sudden changes in health are catalysts that hasten the decline of hormone production. This, in turn, puts men at increased risk for diabetes, osteoporosis, and reduced muscle mass and sexual dysfunction. Depression also affects testosterone production. Scientists indicate that rapid declines need not be dismissed as inevitable since healthy habits will prevent swift decreases in testosterone.

Silver Bells: For 20 Alzheimer's Patients, the Best Christmas Present Is Tied Up in the Past (December 19, 2006)


In the past, doctors used cold baths to treat dementia and shock patients back to reality. Others installed restraints to prevent patients from wandering, and gave drugs to fog minds that were still vibrant, just confused. Today, research has brought much more awareness to the realities of Alzheimer's and dementia. We can now find senior living homes that accommodate the growing needs of these patients. At a senior living home, memories, not clocks or calendars, mark the seasons for those with Alzheimer's disease. Patients recount fond memories as the holiday season approaches.

Gauging Health of Elderly Loved Ones Can Be Hard (December 12, 2006)
Family members are more likely to see each other during the holiday season. Thus, this time may also serve as an opportunity to evaluate an elderly member's current mental or physical health status. The nonmedical, in-home care franchise and Gerontology Network state that evaluating the five senses can determine if loved ones need help. For instance, for sight issues, assess whether personal grooming habits and the home are being maintained. Is the mail being managed? Plants watered? Also, a simple hug can alert people to abnormal weight loss or fragility, which can be indicators of declining health or lack proper nutrition. Refer to this article for more practical tips.

Dieting Without Exercise Harms Bone Health (December 11, 2006)
"Exercise protects against bone loss during voluntary weight loss," Dr. Dennis T. Villareal, from Washington University School of Medicine in St. Louis , who led the study, told Reuters Health. "Therefore, it would be important to combine calorie restriction and exercise to derive the benefits of weight loss and preserve bone." Villareal and colleagues found that men and women who lose weight through caloric restriction, without exercise, also lose bone at the hip and spine, increasing their risk for the bone-thinning disease osteoporosis and fractures.

House OKs Bill to Aid Family Caregivers (December 6, 2006)
On December 6, 2006, the House of Representatives approved the "Lifespan Respite Care Act,'' which will give $289 million to States for five years. These funds will allow States to train volunteers to provide services for 50 million families caring at home for special needs individuals.

After the Rat Race, What Next? (December 5, 2006)
Now that life expectancies have rocketed up into the 70s and above, many retirees are looking at 20 or more years of post-career living. Beyond the financial and health care aspects of retirement, other components of retirement planning are just as important. Michael Burnham, chief executive of a Memphis-based retirement counseling firm, states that for many retirees, playing golf gets old fast. "You need to find some reason for moving forward, a reason to get up in the morning," he suggests. And once you decide what that passion is--whether it's writing the Great American Novel, building a Lego replica of Graceland or mentoring a teenager--"test-drive it." Refer to this article for other tips on retirement planning.

Future Home Health Aides Learn to Help Others and Themselves (December 3, 2006)
Demand for home health aides in the elderly population is soaring. According to the Census Bureau, the population that is 65 and older is expected almost to double in the next 25 years, to 71.5 million. In New York City, employment opportunities for the aides are forecast to grow at three times the overall rate for all occupations, said Jim Brown, a labor market analyst with the State Department of Labor in Manhattan. Non-profit organizations such as Selfhelp Community Services, a social services provider in New York, are training more home health aides to respond to the growing need.

Pataki and Spitzer Back Downsizing of Hospitals (November 30, 2006)
The Commission on Health Care Facilities in the 21st Century recommended downsizing the number of hospitals, which includes the elimination of about 20 hospitals, and shrinking or closing a number of nursing homes. Governor Pataki and Governor-elect Spitzer endorsed this plan. Now the NY Legislature must decide to allow the plan to proceed as of January 1 or to block it.

Restoring Lost Speech after a Stroke (November 28, 2006)
Doctors tell patients who suffered aphasia –the inability to speak, read, write or understand speech–that if they do not recover within a few months, then they will not recover at all. This is why medical insurance usually covers the cost of a few months' therapy. However, stroke experts, speech therapists, and patient advocates claim otherwise. There is no definite deadline to overcome aphasia. Therapists have to work with patients not only on recovering their speech, but also on psychological issues that affect the ability – and the time needed – to overcome aphasia.

Stroke More Common Among the Poor: Study (November 24, 2006)
A new study reveals that socio-economic status may be associated with increased risk of stroke for poor African-Americans. High blood pressure, diabetes, genetic factors and diet may also add to the risk. Conditions such as unequal access to hospitals and health care, crime and crowding also affect health outcomes. In the current study, whites face the same or greater stroke risk from living in poorer neighborhoods.

Novel Program Enhances Dementia Caregivers' Quality of Life (November 21, 2006)
"Family members and friends provide most of the care for millions of people with dementia who live at home, often facing challenges that can seriously compromise their own quality of life," notes National Institute on Aging (NIA) Director Richard J. Hodes, M.D. The study, Resources for Enhancing Alzheimer's Caregiver Health II (REACH II), is the first randomized, controlled trial to look systematically at the effectiveness of a multi-component caregiver intervention provided to ethnically diverse populations. The REACH II study included 642 individuals, more than 200 each of Hispanic, white and African-American caregivers of persons with dementia.

Falls Fatal to More People, Data Show (November 17, 2006)
"Since people are not dying as much from chronic diseases, they're more likely to die from a fall," said Judy Stevens, an epidemiologist with the Centers for Disease Control and Prevention in Atlanta. Federal health officials report that the death rate from falling has risen about 55 percent for people 65 and older in the US since the 1990s. Geriatric specialists attribute these falls to vision loss, deterioration of the inner ear and other changes that affect balance and loss of strength.

A 95-Year-Old Poet Finds her Muse and Literary Praise (November 11, 2006)


Now at 95, despite a decline in health, the reliance of a walker and oversized glasses to reinforce fading eyes, Mrs. Porter continues to write, publish and share her works with various public audiences. Asked why she keeps writing poems through her 80s and 90s, Mrs. Porter responds that art may be the only pursuit that old age can't wreck. One of her poems can be found in the Oxford Book of American Poetry, alongside the works of Emily Dickinson, Walt Whitman, Robert Frost and T.S. Eliot.

Problems with Home Health Aides (November 13, 2006)
Ohio State spends $250 million a year on home health aides, employees who cook meals, help to bathe and groom elderly or disabled people. Yet agencies providing such assistance cannot always protect patients from abuse or neglect. Every year hundreds of elders and their families lodge complaints with the Ohio Department of Job and Family Services. Older persons also complain about many care-assistants who don't get involved in their job, "They come and go like it's a temporary employment agency."

Here Come the Great-Grandparents (November 2, 2006)
Many demographers find American family trees today resemble a beanpole: thin (because there are fewer children in each generation) and long (because there are more living generations). When Shira Moskowitz, 13, was asked if there was anything she had learned from her great-grandmother, Diane Kaufman, she replied: "That family was really important." Cherished as they may be, great-grandparents can pose challenges to the sandwich generation. Today, more people 50-64 worry about caring for someone age 80 or older given rising healthcare costs and long term care services. Despite these challenges, a great-grandparent can be a repository of knowledge and advice for the younger generations.

New Dementia Screening Tool Detects Early Cognitive Problems Missed by Commonly Used Test (November 1, 2006)
St. Louis University geriatricians have developed a screening tool that may better identify mild cognitive problems in the elderly as opposed to the commonly used Mini Mental Status Examination. John Morley, M.D., director of the division of geriatric medicine, created SLUMS (Saint Louis University Mental Status Examination) to screen more educated patients and to detect early cognitive problems. "This early detection of mild neurocognitive disorder by SLUMS offers an opportunity for the clinicians to begin early treatment as it becomes available," says Syed Tariq, M.D., lead author and associate professor of geriatric medicine at Saint Louis University.

STDs and AIDS in Senior Citizens (October 31, 2006)
When you think about STDs and AIDS, you usually think about children and young adults. People rarely think about senior citizens. They are also sexually active and they are not immune to these diseases. Additionally, the impact of such diseases is likely to be more severe than on their younger counterparts because of fragile health. The United States Centers for Disease Control and Prevention reported that HIV cases are increasing among people in their 60's and 70's, with an increase of 500 percent in the last ten years. This article explores the causes of this increase and what senior citizens can do to protect themselves.

Youthful Pursuit Researchers Seek Key to Antiaging in Calorie Cutback (October 30, 2006)
According to some scientists, calorie reduction (CR) could slow the biological forces of human aging. A substance in red wine called resveratrol is getting a lot of attention. Three years ago, a group led by Harvard Medical School biologist David Sinclair reported that it boosted yeast cells' life span by 70% via a mechanism resembling CR. More scientists and biotech ventures are becoming interested in how to mimic its anti-aging effects with medicines. This scientific quest is still highly speculative and many more experiments are needed to prove its validity.

Retirement and Relationship from the Marriage Files (October 18, 2006)


Are you suffering from "retired husband syndrome?" In Japan , some psychiatrists have diagnosed wives with this stress-related condition after their husbands retire and are left virtually friendless. As a result, Japanese wives report that their husbands expect them to become servants. The loss of long-time social networks may attribute to this marital crisis. Psychologists claim that these symptoms may also be found in US wives as well.

Most US Elderly in Hospitals with Heart Ills (October 11, 2006)
The majority of today's elderly patients are suffering from congestive heart failure, hardening of the arteries, heartbeat irregularities and heart attack. According to the Agency for Healthcare Research and Quality, these conditions accounted for 2.4 million hospital stays. Pneumonia was the second leading reason at 713,000 admissions.

Aging: One Area Where Women Age Faster Than Men (October 10, 2006)


Recent advances in laser-based technology have allowed doctors to look at deep layers of skin and examine levels of collagen and elastin. As these components break down, a person begins to look older and researchers have found that women tend to lose collagen at a faster rate than men. The aging of women's skin could be menopause-related due to the decline of estrogen and progesterone. Though the study is still in its early stages, new technology could assist doctors in understanding diseases that involve the collagen structure.

United Kingdom: Over-70's Do Not Seek Breast Scans (October 3, 2006)
Despite being the most at-risk age group, a recent survey conducted by the charity Breakthrough Breast Cancer revealed that 9 out of 10 women over 70 years of age have never requested a breast scan. Jeremy Hughes, Breakthrough Breast Cancer chief executive, states, "More focus on raising awareness of screening amongst these women is needed and this must include improvements in the way messages are communicated." Of the women surveyed, many were unaware of their right to regular screening and that over-70s was the most at-risk group. Since older women are least likely to check their breasts regularly, the article lists signs and symptoms to look for in self-examinations.

Thinking Skills May Benefit from Estrogen, if the Timing is Right (October 2, 2006)
Can menopause hormones boost a woman's brainpower? Recent research has shown conflicting evidence about the impact of menopause and hormone drugs on brain function. Some research suggests that hormones may prevent Alzheimer's while other studies have found just the opposite. It may all depend on when women use the hormones. Taking these drugs close to menopause versus long past menopausal years can have different effects. Scientists are still not certain how much impact menopause has on the brain.

Day of Reckoning (October 2, 2006)


Is it time to retire? An individual's health, career and financial situation plays an integral role in defining one's retirement. Some may be concerned about "losing a sense of purpose" while others look forward to long overdue travel plans and personal time. Unlike previous generations, more and more baby boomers choose to work past age 65 and are in no rush to retire.

War against Diabetes Gets Major Support from New Alliance of Walgreens and Harvard's Joslin Center ( September 19, 2006)
In the US, diabetes or pre-diabetes affects 23 million senior citizens. Addressing this problem, Walgreens, a large drugstore chain, and the Joslin Diabetes Center have formed a new alliance. Eventually, this alliance may lead to the creation of a pharmacy specialized in the needs of people with diabetes. Such an alliance may become a significant way to treat the widespread diabetes condition.

Cabernet Sauvignon Red Wine Reduces the Risk of Alzheimer's Disease (September 18, 2006)


Mount Sinai School of Medicine has published research that reveals that a moderate consumption of Cabernet Sauvignon red wine may help reduce the risk of Alzheimer's disease. By reducing the E-amyloid neuropathology, Cabernet Sauvignon may prevent this disease. Whether it is true or false, it's good to hope for progress on Alzheimer's cure.

Gaps in US Lifespan Persist. Bleakest Outlook for Black Men (September 12, 2006)
Research findings illustrate the disconcerting gap of life spans for eight demographic groups in the United States, especially amongst REM (racial ethnic minorities). For instance, a black man living in a high-crime city can expect to live 21 fewer years than a woman of Asian descent. According to Christopher Murray, a researcher from the Harvard School of Public Health, this illustration represents the biggest difference in mortality seen among people in middle age. Tobacco, alcohol, obesity, high cholesterol, diet and physical inactivity are all contributing factors to this age group's alarming mortality rate. GAA would like to know the impact of US-style racial discrimination on these health statistics. Researchers reveal that millions of US adults face a risk of premature death similar to that in poor countries of the world.

Shortage of Geriatricians May Hinder Healthcare for Elderly (September 12, 2006)
According to a Canadian study reported in the September issue of the Journal of American Geriatric Society, the shortage of medical students entering the field of geriatric medicine may compromise healthcare for the elderly. Much care for the frail elderly occurs outside face-to-face contacts, including cognitive services, telephone management, coordination of care in and across various settings and communication with family caregivers and with other health agencies. Therefore, in order to attract more geriatricians, equitable and fair Medicare reimbursement for these services should be put into effect. Otherwise, too few providers will get the training to address the particular needs of a rapidly growing elderly population.

Aging May Change View of Sexuality (September 13, 2006)
The baby boomer generation – those who were young adults during the sexual revolution - may have greater expectations for their "late" sexual lives than previous generations. However, Evelyn Resh, a registered nurse and sex educator says, "many of today's middle-aged and older women aren't very familiar with their own anatomy," a key to a healthy sex life in all ages. The author suggests addressing sexual difficulties and changes in one's body instead of overlooking them.

Live Long? Die Young? Answer Isn't Just in Genes (August 31, 2006)
How do we predict whether we will die young or live longer? For decades, scientists have been trying to find out if there really is a strong genetic link to life spans. Identical and fraternal twins were examined in recent studies given their genetic predisposition. Findings have indicated that genes may not be so important in determining how long someone will live and whether a person will get certain diseases after all. Instead, researchers are finding that life span is more likely determined by a complex mix of events that makes it difficult to make accurate predictions. Various factors include not just genetic predispositions, but disease, nutrition, a woman's health during pregnancy, subtle injuries and accidents and simply chance events as well.

Adult Drug Deaths Soaring: Boomers' History of Abuse Tied to Increase in Overdoses of Prescription, Illegal Drugs (September 6, 2006)


According to the Arizona Department of Health Services, "Over the past decade, the per capita rate for fatal, accidental poisoning by drugs and alcohol among Arizonans ages 45 to 64 has multiplied. The number of deaths rose to 250 in 2005 from 39 in 1995." Experts state that both prescription and illegal drug use have contributed to the dramatic increase in rates. Boomers, now ages 42 to 60, are particularly susceptible to drug abuse in middle age and beyond. Those that took up drugs during the Vietnam era, may now find themselves addicted to barbiturates, heroin and potent prescription drugs. Easy access to alcohol contributes to the likelihood of abuse. Families and friends often overlook this mounting alcohol problem among older persons thinking that drug and alcohol addiction affects only youth.

Making Marriage Work After Retirement (August 31, 2006)
"Who is this person I married?" Given that many baby boomer households consist of dual career marriages filled with demanding schedules, some may find themselves asking this very question. Some sociologists predict a significant change in the retirement landscape for many families. On top of facing unaccustomed togetherness, other social shifts include caregiving, finances, housing and even gender roles. While men might be considering this as a time to enhance their relationships, women are looking forward to "second adulthood" and seeking more community involvement. Moreover, since life expectancy rates have increased, the young old are now taking care of the old-old. And if you're not caregiving for a parent, you are likely caring for a sibling. Among all these adjustments, another looming question baby boomer couples may have to ask themselves, "Will we have enough money in retirement?"

A Talk with a Legend: Pianist Oscar Peterson On Jazz, Life, Aging (August 29, 2006)


Oscar Peterson, famous Canadian jazz pianist/composer and widely heralded by some as one of the greatest pianists of all time, recently performed at Birdland in New York . Over a decade ago, the pianist suffered a serious stroke that debilitated his left side, left him in a weakened condition ever since. Yet despite these ailments, Mr. Peterson has played to sold-out audiences around the world. When asked if he would continue to plug away even with apparent physical challenges, Mr. Peterson, who just turned 81, replied as he gestured to the stage, "That's my medicine out there."

2 Studies Find High Weights Shorten Lives (August 23, 2006)
Two recent reports affirm that modestly overweight baby boomers will live shorter lives. Over 500,000 AARP (American Association of Retired Persons) members and 1.2 million Koreans took part in these long-term 10-12 year studies which resulted in similar outcomes. According to researchers, the more telling evidence arose in the analysis of those individuals who had never smoked. These results concluded that being overweight raised the risk of death 20-40% compared to normal-weight people. Researchers at Yonsei University in Seoul, South Korea, and Johns Hopkins University also found that being overweight increased the risk of death and cancer. Therefore, given these findings, Dr. Meir Stampfer, chairman of the epidemiology department at the Harvard School of Public Health states, "It really should be the final word on this issue that's arisen as to whether overweight is actually bad for you or not."

Diet Changes May Slow Recurrent Prostate Cancer (August 21, 2006)


Researchers from the UCSD Cancer Center claim that a plant-based diet and stress reduction exercises may slow the progression and even possibly reverse prostate cancer. Prostate-Specific Antigen (PSA), a protein produced by normal and cancer prostate cells in which high levels may indicate cancer recurrence, were analyzed in a six month study of 10 participants. Preliminary evidence has shown that the average rate at which the PSA levels rose, slowed down and some patients even showed a drop in levels. These results may have therapeutic potential for the clinical management of this disease.

Aging: Diet High in Copper and Fats May Speed Decline (August 22, 2006)
New studies from Rush University, Chicago, establish a relationship between healthy diet and mental health among the elderly. The researchers have established that frequent consumption of copper (from organ meats, shellfish, nuts and some vitamin supplements) combined with large amount of fats (from whole milk, red meats, cookies) leads to an earlier decline of mental activities among older people.

Green and Yellow Vegetables Benefit Elderly Eyesight (August 22, 2006)
(Article in Arabic)
A medical study published in the current issue of Archives of Ophthalmology showed that diets rich in carotenoid pigments contained in vegetables like yellow corn and broccoli, protect against vision impairments linked to aging. The researchers, from the University of Wisconsin, said that these pigments do not provide sharp vision in darkness, but that green and yellow vegetables have other great vision benefits. Macular degeneration represents the major leading cause of blindness among elderly in developed countries. No treatment for macular degeneration exists so far. However, researchers highlight that lutein and zeaxanthin pigments, known as carotenoids, help fight against this vision impairment.

Chemotherapy Treatment for Breast Cancer: A Double-Edge Sword (August 16, 2006)
(Article in Arabic)
According to a US study, "chemotherapy drugs for breast cancer bring about side effects that constitute a greater danger than previously hypothesized, for women under 64 years old." The researchers, from Harvard Medical School and Dana-Farber Cancer Institute, found that 3, 526 women resorted to chemotherapy treatment for breast cancer through vein injection and encountered serious problems. The research also highlighted that 5. 5% of these women had a fewer number of red and white cells which increases the risks of infection and bleeding. Michael Hassett, researcher at Dana-Farber Cancer Institute said, "our results don't change the benefits of chemotherapy… We still think chemo can improve survival for many women."

Nobody Asked Me But… No. 13 Turning Gray Into Gold (August 10, 2006)
The hospitality industry has recognized that today's older US Americans are an untapped market that is growing at a phenomenal rate. Older Americans are very different from previous generations in that they have longer life spans, have lower rates of disability, achieve higher levels of education and have a lower level of poverty. They control half of the nation's discretionary income and are the US's fastest growing age group. In order to appeal to this market, the hotel industry must be aware of the wants and needs of the mature traveler and cater their services to them.

Older People Suffer the Most From Strong Heat Waves (August 10, 2006)
(Article in Arabic)
Researchers from Harvard Medical School carried out a study on the probabilities of death during strong heat waves. The study published in the August issue of the magazine Reviews on Environmental Health, reexamines the cause of death of around 8 million people in 50 different US cities, between 1989 and 2000. The findings clarify that health workers must give more medical attention to older persons and diabetics in times of strong heat. Many sources point out that between 1979 and 1999 the number of deaths due to heat waves surpass the number of deaths linked to hurricanes, thunderbolts, and earthquakes altogether.

100-Plus and Loving It: Survey Finds Many Centenarians Healthy, Happy (Aug 10, 2006)
According to a new survey "100 at 100" that interviewed 100 willing adults mainly between 100 and 104 years old, many centenarians are quite content with their current lives and do not have much regrets about their past lives. For example, 61 % of them said they lived their lives to the fullest, and 78 % said there was nothing they would have rather not done in the past. In addition, 11% said that they were having the happiest time of their life in their 100s. The survey attributes one reason for this high level of happiness among centenarians to their faith and spiritual care.

U.S. Medical System Often Not Set Up to Detect Depression in the Aging (August 2006)
In the U.S. white men over the age of 65 commit suicide at triple the overall rate, and studies show that this rate of suicide increases drastically with age. One reason why this group does not receive proper prevention interventions or medical treatment is that many "people perceive suicide in older people as less tragic then suicide by youths." Another is that "clinicians, family members, and older adults sometimes consider suicidal thoughts and depression as a natural part of aging." This article investigates the gender and ethnic disparities in suicide and offers potential solutions to reduce the suicide rate of this group.

'Graying' of HIV Takes Mental Toll, Too (July 31, 2006)
As a result of anti-retroviral drugs, introduced in the mid-'90s, people with HIV/AIDS now live longer. Thus, the population of HIV-positive Americans over 50 continues to grow larger. Despite the high likelihood of complications with age-related diseases and depression, probably a result of stigma and lack of support, health care-systems continue to under-serve this population. A study, Research on Older Adults with HIV, presents some of the complexities of health and personal problems the aging HIV patients must manage.

Embracing Aging with Cosmetics, Products for 50 and Up (July 27, 2006)
As people grow older, they often do not realize that everyday precautions for their skin and body may no longer correspond to actual needs. However, correcting this may prove easier than it seems; professional advice about suitable products can simplify the process, especially for women.

Fact Sheet: Hunger Amongst the Elderly in the United States (2006)
In the United States, the wealthiest country in the world, many elderly people suffer from hunger, food insufficiency, or food insecurity. With nearly 10% of the elderly population at or below the poverty line, malnutrition is no surprise. Rates of hunger vary by household composition, income, race and ethnicity, and location, producing great disparities in well-being between populations. Moreover, situations specific to the elderly also hinder proper nutrition. This fact sheet, compiled by GAA Summer 2006 intern Jessica Lewis, highlights the surprisingly large-scale problem of hunger, a tragedy for a society of plenty on the levels of social justice and economic efficiency.

Children With Obesity-Related Diabetes Face More Health Risks (July 25, 2006)
A study of diabetes and obesity in the Pima Indians in Arizona revealed some consequences of the nationwide spread of Type 2 diabetes in children, a disease extremely uncommon just one generation ago. According to the data, children who get obesity-related diabetes before the age of 20 have five times the incidence of end-stage kidney failure and death by age 55, compared to those with adult-onset diabetes. Generally the research supports warnings that diabetes and other obesity-related ills are on the verge of shortening average life span in the US.

A 'Senior Moment' or a Self-Fulfilling Prophecy? (July 18, 2006)
A new study financed by the National Institute on Aging reveals self-undermining as a "stereotype affect," particularly in regard to age and mental ability. Accepting the stereotype of age related mental lapses and memory loss might in fact contribute to the actual incidence of these problems. According to Becca Levy, an associate professor of epidemiology and psychology at the Yale University School of Public Health, the findings "show how negative images of aging on TV, in other media and in jokes reinforce negative stereotypes that can affect performance even before" people reach retirement age.

STDs on the Rise among People 50 and Older (July 16, 2006)
The majority of warnings about sexually transmitted disease refer to younger people as the most vulnerable. Scientists and doctors say, however, that STDs threaten older people at the same rate. HIV, Chlamydia or even AIDS do not distinguish age differences when they target victims. That is why taking precautions while having sexual intercourse remains important at any age.

Studies Link Diabetes to Risk of Alzheimer's (July 16, 2006)
New studies indicate that type 2 diabetes, related to obesity, increases the risk of Alzheimer's disease, even in borderline cases. However, studies also suggest that controlling or preventing diabetes might reduce the risk of dementia, though a specific gene, apo E4, asserts some influence as well. Underwritten by drug companies, several of the studies examined the effects of specific medications, showing no statistically significant differences with a placebo. As the incidence of diabetes grows around the world, the potential consequences of increasing Alzheimer's cases precipitate major concern.

Epilepsy Can Be Subtle for Seniors (July 14, 2006)
Many older people have epileptic seizures without knowledge or suspicion of their condition. Often, people ignore the symptoms, reluctant to acknowledge that they need help. Have you ever noticed that someone you know "spaces out" for a moment or two, while picking at things with their hands, or wandering off, as if automatically? If the answer is yes, you should consider helping this person to get a medical examination.

Eating Fish Helps Protect Eyesight, Studies Found (July 11, 2006)
New studies have shown that eating fish prevents age related vision loss associated with macular degeneration. Although the research does not present the strongest possible scientific evidence, it confirms the results of previous tests that linked fish consumption with eyesight. The experiments also indicated that smokers have increased risk of vision problems compared to those who do not smoke.

United States: A 59-Year-Old US Woman Gave Birth to Twins… Giving Birth at an Advanced Age "Lengthens Life Span" but Causes High Blood Pressure in the Newborn! (July 6, 2006)
(Article in Arabic)
After two life-threatening conditions during pregnancy, Lauren Cohen, 59 years old, gave birth to twins earning her the title of the oldest woman ever to do so. The delivery was not easy for Lauren who lost 33 pints of blood. The rise in the number of women giving birth at an advanced age reflects the development of artificial insemination since the 1980s. Finnish researchers found that women who give birth at an advanced age live longer.

How to Train Your Brain (July 5, 2006)
Many people are concerned that their mental performance might decline with age. Researchers from Case Western Reserve University, Ohio, showed that "middle-aged people who kept active, mentally or physically, were less likely to develop Alzheimer's disease in later life." In the article doctors give some practical recommendations that might help one's brain to stay alert and flexible longer.

Senior Citizens Most Likely to Suffer from Dehydration (June 27, 2006)
Recent studies of Janet Mentes, PhD, show that many older people become dehydrated without knowing it. As a result they expose themselves to a greater risk of coronary heart disease. Sufficient consumption of fluid, on the other hand, helps to prevent falls, improves rehabilitation in orthopedic patients and leads to reduction in bladder cancer among men.

Male Life Span Increasing (June 12, 2006)
According to a report of the federal Centers for Disease Control and Prevention, American men now live longer. Even so, many men still die at a young age because of dangerous life styles. Older men die because of bad habits such as smoking and drinking acquired in youth. What can a man do to prolong his days? Robert Butler, president of the International Longevity Center in New York, says: "Get a wife, a partner or at least a lot of friends. Married men live longer."

The Future of Health Care? (June 26, 2006)
Diminishing health care budgets and shortages of healthcare workers cast a dim shadow on the future of aging America. Some see the solution in advanced technologies. Companies such as Intel Corp., Philips Electronics NV and Accenture Ltd. are seeking business opportunities for keeping older adults safe and connected with the rest of society in the form of home electronic devices. A watch that beeps to alert an older person to take medication with food, and a computer game that allows a physician to check an older person's response time and cognitive functioning from the other side of a screen are not considered unrealistic goals.

Older Women Have Far Fewer Mammograms Than They Report (June 20, 2006)
A new study based on clinical records shows that the percentage of screening mammography among older women, particularly among older African-American, Asian-American and Hispanic women, occurs much less frequently than represented by self-reported data. Death from breast cancer is highest among women under 35 years and in women older than 75 years. It's urgent that older women, particularly racial ethnic minority women, get the mammograms they need to learn if they have breast cancer.

An Unexpected Symptom of Menopause Increases as Hormone Use Declines (June 13, 2006)
As estrogen levels decline during menopause, women experience symptoms that include the commonplace hot flashes. Another result of hormonal changes often neglected in the women's health field, vaginal tissue atrophy causes drying, itching and pain, especially during intercourse. After a 2002 study associated hormone therapy with health risks, hormone use dropped while the incidence of symptoms has increased. However, doctors believe that low-dose local estrogen application can restore tissue health, and probably avoid the negative health affects observed in larger dose hormone therapy.

US Muslims Confront Taboo on Nursing Homes (June 13, 2006)
(Article in Arabic)
As United States Muslim populations grow older, many struggle to reconcile American lifestyles with religious and cultural beliefs on caring for older relatives. Many people fear that the community will criticize them for using a nursing home because of the religious duty to care for elderly relatives. For those considering nursing home care, another problem arises: currently most facilities do not accommodate the religious practices of Islam. One Muslim community in Minnesota plans to open a Muslim nursing home. Affiliated with the local Mosque, the facility will include a prayer room and other religious provisions like appropriate food.

Loss of Central Vision With Age May Be Linked to Quality of Dietary Carbohydrates (June 7, 2006)
Researchers from the Laboratory for Nutrition and Vision Research at the Jean Mayer USDA Human Nutrition Research Center on Aging (HNRCA) at Tufts University found possible links between age-related macular degeneration (AMD) and diet, specifically carbohydrates. As a leading cause of vision loss in older people, 1.75 million Americans 40 years of age and older suffer some symptoms of AMD, which often interfere with common tasks like reading and driving. Allen Taylor, PhD, director of the lab, explains, "evidence suggests that problems with glucose metabolism, as in diabetes, may cause damaging by-products to accumulate in sensitive tissues." "We cannot say, based on these data, whether or not consuming a diet with a high glycemic index causes AMD." However, a study of women's vision and diet revealed that those who had a high dietary glycemic index--the rate at which food is converted to blood sugar--had more risk of developing AMD than those with lower glycemic index diets.

Physician Shortage Looms, Risking a Crisis, as Demand for Care Explodes (June 4, 2006)
In the US, both patients and doctors are aging. A shortage of physicians is already happening or will happen in a few years in 12 states – including California, Texas and Florida already. The current and future shortage of specialties includes cardiology, radiology and a number of pediatric and surgical sub-specialties. Currently, one in five Americans lives in a medically underserved area--whether rural or urban--with few physicians. As a result of physician shortage, patients face remarkably long waiting times and distances to see a doctor.

Getting Help for an Aging Relative (June 3, 2006)
With children far from aging parents who want to remain at home, geriatric care management provides an alternative method of elder care. Families can hire managers to assess conditions and create a personalized care strategy. Additionally, "expertise in navigating medical bureaucracy" proves valuable. Though the industry is growing rapidly, the high price will render services inaccessible to many, as Medicare does not cover the cost.

Age is No Barrier to Lifting Depression's Heavy Veil (May 30, 2006)
"One person in seven over 65 suffers from depression, but 70 to 90 percent, depending on who's counting, receive no treatment for it." Older people are less likely to seek treatment and doctors often overlook the condition. Aside from traditional signs, older persons experience other symptoms that medical professionals may confuse with various illnesses. Moreover, some common illnesses and medications may affect the severity and physical manifestations of depression. Developments in treatments have rendered them much safer than in the past, so doctors highly recommend medication as part of the treatment strategy. Relief from depression can provide protection from other health issues and improve quality of life in general.

Lower Literacy Means Poor Health and Poor Health Care Access for Older People (May 30, 2006)
A new study found a connection between literacy, health and health access among older adults. Older adults with limited literacy tend to suffer from poor health compared to those with adequate or higher reading ability. A possible explanation for this interconnectedness is that illiterate older adults have difficulty reading their pill bottles or filling out forms to receive care. They may feel intimidated by or lack trust in the health care system. The socioeconomic background of illiterate older adults is related as well. An intervention should include a multidisciplinary education program.

Retirement: Could it Be Hazardous for Your Health? (May 29, 2006)
(Article in French)
If badly managed, retirement can seriously damage your health. Three economists have recently published an alarming report on the effects of retirement. Social isolation, reduced health insurance and loss of physical activity worsen senior's health problems. Complete retirement leads to a 23% to 29% increase of mobility difficulties and an 11% decline of mental health. Yet specialists agree that retirees may prevent these complications by maintaining their physical and mental activity.

Neighborhoods and the Health of the Elderly: Challenges in Using National Survey Data (May 2006)
Despite the relevant relationship between health and neighborhoods, there is little research on health of older adults and environmental factors. Since many people are more susceptible to diseases and injuries in later life, it is important to look at the neighborhoods where they have lived and they are living now as crucial factors for the health of older adults. In addition, neighborhood environment can affect the psychological health of older adults. Four neighborhood factors that have significant influence: 1) environmental stressors, 2) environmental pollutants, 3) safety, mobility and access, and 4) social and economic environment.

Genes Don't Determine Aging Patterns (May 22, 2006)
(Article in French)
Aging is no accident. And genes determine only 30% of the aging process. The rest is up to us. Keeping the body fit, the mind active, socializing, eating well and forgetting our worries can really make a difference. As older persons today may live until they are 120, it is important to age well. According to Dr. Landry, aging well starts when you are young. This physician argues that the US government should provide care homes that encourage the elderly to remain active.

Anxiety Disorder Common Mental Health Problem in Elderly (May 22, 2006)
New research finds that generalized anxiety disorder (GAD) affects 7% of older adults. Older persons are affected by anxiety more than by depression. Yet, doctors have neglected the problem of GAD in older adults because there is little research available on the topic. Doctors often assume that anxiety is a normal part of aging. While it is normal for older adults to worry about their health or future, older adults with GAD worry excessively to the extent it could affect their health and quality of life.

Interaction Can Ease Dementia (May 15, 2006)
Can you prevent Alzheimer's? According to new studies, positive and frequent social interactions can protect your brain from dementia. The Harvard School of Public Health found that people significantly reduced their risk of Alzheimer's if they had at least five healthy, regular relationships.

It's Not Your Daughter's Health Club Anymore (May 14, 2006)
According to the International Health, Raquet & Sportsclub Association, "people 55 and older make up the fastest-growing segment of gym and health club members, and they now account for about a quarter of all memberships." The number of gym members over 55 has increased from 1.5 million in 1987 to 10.2 million in 2004. As a result, gyms are creating programs geared towards older persons and their goals: to stay healthy and prevent age-related problems.

Health Fair Offers Asians Remedy for Language Barrier in Medicine (May 13, 2006)
Cultural and language barriers prevent many Asians from accessing health care in Iowa, and very little data is available about Asian health concerns in the state. Sometimes fellow patients such as Hai Le - a retiree who came from Vietnam over thirty years ago - act as interpreters for older Asians when they see a doctor because there are not enough medical interpreters. To bridge some of these obstacles, a health and wellness fair at Iowa's Asian Heritage Festival in Des Moines provided bilingual health services.

Nursing Home Admission Predictable in Middle-Age (May 9, 2006)
According to a new study, modifiable life factors in middle age - such as smoking, physical inactivity, obesity, high blood pressure, and diabetes – increase a person's risk of needing nursing home care in the future. In this study, diabetes tripled a middle-aged (45-64 years old) person's risk for nursing home admission in the next twenty years. Considering that diabetes is associated with a lack of exercise and obesity, we have the opportunity to decrease our risk of nursing home care.

HHS Teams Up to Improve Health Among Hispanics (May 6, 2006)
The US Department of Health and Human Services (HHS) is collaborating with the National Hispanic Medical Association (NHMA) to address increasing health disparities for Hispanics. The initiative will work to increase cultural competency, address language needs, train health professionals and recruit Latinos into health careers. The 2005 National Healthcare Disparities Report found that "59% of health disparities in quality care experienced by Hispanics are becoming larger and about 80% of access disparities are becoming larger." About two million Hispanic elders qualify for federal assistance and Medicare's prescription drug benefits. A large portion of Medicaid funds go to nursing home care instead of home care, creating family tensions for Hispanics who prefer care within the homes of their extended family.

Study Says Older Americans Are Less Healthy Than British (May 3, 2006)
A recent study from University College in London found that "middle-aged to older U.S. residents have higher rates of diabetes, hypertension, heart disease, heart attack, stroke, lung disease and cancer than their English counterparts." Although the US spends more than twice as much on health care than the British, the study does not compare the two health systems. Both countries have similar smoking rates, while Americans are more obese and Britons drink heavier.

In Heart Disease, the Focus Shifts to Women (April 18, 2006)
Recent statistics indicate that coronary artery disease is the leading cause of death among women over 25 and women over 60 are more likely to develop heart problems than men. Despite these facts, heart research has mainly focused on men. Doctors are now beginning to pay attention to the differences between men and women with heart disease and search for answers. One physical difference, for example, is that women are more likely to have clear coronary arteries than men when they experience chest pain. With the appropriate research, clinical procedures will be able to address the differences between men and women with heart disease.

$500,000 Grant Launches Health Literacy Project to Benefit Older Adults (April 11, 2006)
"The strongest predictor of an individual's health status is not age, income, employment status, education or racial or ethnic group -- it is health literacy," according to Dr. Ruth Ludwick, professor of nursing at Kent State University. Since older adults are not often health literate new research examines how the aging population looks for health information and services. By understanding this process health professionals will be equipped to address gaps in health information and improve the health status of older Americans.

Depression is an Often Undiagnosed Source of Suffering for Elderly (April 11, 2006)
The Annals of Internal Medicine recently published a study that shows millions of older persons live with some minor form of depression and are not being treated because physicians often catch only major depression signs. This study, led with 622 patients, also reexamines for the first time the different types of depression that older persons commonly suffer.

Grandmother's Arrest Prompts Elderly Diné to Seek Meth Education (April 6, 2006)
Although alcohol has been a serious, persistent problem on American Indian reservations, including the Navajo Nation, methamphetamine (meth) has the potential to be an even greater threat. After a recent meth bust involving an 81 year old woman, communities and older persons are asking for education on what meth is, how to identify the drug, and how to stop it. Communities and senior citizen centers are requesting copies of the Navajo Nation Department of Behavioral Health Services educational video that just came out in the Navajo language. Navajo elders have an important role in educating and protecting their children and grandchildren.

Low-Calorie Diet May Lead to Longer Life (April 5, 2006)
Although this new study does not prove that calorie restriction will add years to your life, researchers found that calorie restriction led to lower insulin levels and body temperatures – both traits found in long-lived people. Scientists believe a low calorie diet may slow aging by turning particular genes on and off or by producing fewer free radicals – highly reactive oxygen-containing molecules formed during normal metabolism – which cause DNA damage. A more in-depth study of calorie restriction in humans begins this fall.

Retirement Contentment in Reach for Unhappy Men (April 4, 2006)
According to a new study "having an unhappy youth or a bleak middle age has little effect on whether a man will be happy during retirement." In fact, even good health and a large pension do not guarantee contentment. Researchers found that participating in altruistic activities and finding self-fulfillment in hobbies helped make people happy in retirement.

Study: Loneliness Can Be Bad for Your Heart (April 2, 2006)
A recent study found that "loneliness in people older than 50 greatly increases their risk of high blood pressure." This finding supports other research stressing the importance of social connection. Co-author John Cacioppo stresses that "part of living a healthy life is paying attention to friends and family."

A Bad Marriage Could Make You Ill (March 27, 2006)
(Full study available in PDF here)
A new research paper by the University of Texas-Austin, titled You Make Me Sick: Marital Quality and Health Over the Life Course, suggests that marital problems affect our health more as we age. Although previous studies have shown that positive social relationships, especially marriage relationships, reduce mortality risk, this is no cause to rush down the aisle. Your health depends on the quality of your relationship. As couples age and lose key people in their lives, their spouse becomes increasingly important psychologically and emotionally. Additionally, stress, especially from spouses, accumulates and takes a larger toll on older persons' immune systems.

'Wise Women' Share 270 Years of Wisdom on Healthy Aging (March 22, 2006)
With nearly 270 years of combined experience, three women share their advice on aging well. They suggest a diet high in vegetables and low in meat, milk, sugar and products made with white flour. The women also emphasize getting exercise and listening to your body.

Baby Boomers Emerge As Meth Addicts (March 21, 2006)
Stereotypes of older adults prevent us from seeing the plight of older methamphetamine addicts. "The Substance Abuse and Mental Health Services Administration found the number of people older than 55 seeking treatment for meth addiction increased from 44 in 1992 to 693 in 2003." Although other age groups overshadow the number of older meth addicts, the effects of addiction can be worse with age. Older addicts risk having high blood pressure, hypertension, heart attacks, kidney disorders, liver or brain damage, depression and malnutrition.

Daytime TV Tied to Poorer Mental Scores in Elderly (March 20, 2006)
Our TV habits may be related to cognitive performance. Although some daytime TV programs might benefit intellectual functioning, a recent study found that when "compared with women who preferred to watch news programs, those who favored soaps were more than seven times more likely to show signs of impairment on one of the [memory, attention, and mental quickness] tests, while talk show fans were more than 13 times more likely to demonstrate impairment." Researchers offer a couple of explanations, including, people who watch daytime television tend to be more sedentary, while physical and social activities are proven to postpone mental decline.

Older People More Successful Than Younger In Quitting Smoking (March 20, 2006)
According to a recent Duke University Medical Center (NC) study, older persons can be more successful at quitting smoking than younger people. Among seniors, older women can quit smoking more easily than older men. Why? Although the risk of cardiovascular disease influences quitters' decisions, more often seniors simply do not buy their pack of cigarettes because of their new life conditions. Loss of transportation, onset of dementia, financial constraints or moving to homecare where smoking is not permitted also make it difficult to continue smoking.

Who Is at Greatest Risk for Receiving Poor-Quality Health Care? (March 16, 2006)
A study in the New England Journal of Medicine examines the differences in the quality of health care among various socio-demographic groups. Researchers discovered that differences among the subgroups are actually small. This study also found two interesting trends in older populations: older persons receive less recommended care, especially preventive care services, than those younger than 31 years of age. In contrast, older persons receive significantly more follow-up care than younger persons.

Depressed older adults more likely to become cognitively impaired (March 7, 2006)
A medical research project has led experts to new conclusions. Persons subject to depression often become cognitively impaired, which may be the first step to dementia. Subjects' depressive symptoms were measured using a standard depression scale. Six years later, dementia experts called in the depressed persons again. Whereas ten percent of subjects with no depressive symptoms went on to develop mild cognitive impairment, 19.7 percent of subjects with moderate to high depression developed mild cognitive impairment.

Grape Juice May Keep Memory Sharp (March 6, 2006)
(Article in Arabic)
Numerous studies indicate that consuming high amounts of fruits and vegetables may prevent age related diseases such as Alzheimer's. This study suggests that grape juice is high in antioxidants that can be beneficial to the memory of older persons. The experiment tested elderly mice to measure their short-term memory and neuronal communication after consuming grapefruit juice.

Genes May Hold Key to Elderly Vision Loss (March 6, 2006)
Researchers at Columbia University have discovered a genetic link to age-related macular degeneration (AMD), a major cause of vision loss and blindness. Estimates say that about one-third of the U.S. population will develop some form of macular degeneration by the time they reach seventy-five years of age. Although this evidence does not provide an absolute cure for AMD, this study points toward a way to prevent vision loss and blindness in old age.

African American Elderly's Socioeconomic Status Linked to Poor Health (March 2, 2006)
A recent study found that where you live can negatively impact your health. In a study conducted in St. Louis, MO, researchers discovered that older African Americans living in rundown neighborhoods were "three times more likely to develop difficulties walking, standing, or lifting than those in cleaner, better-maintained areas." This suggests that revitalizing "inner-city neighborhoods can have the added benefit of improving the health of individuals living there."

A Ray of Hope for Diabetics (March 2, 2006)
A new diabetic drug, Byetta, has been improving the quality of life for many people even without a marketing campaign to spread the word. Contrary to the typical weight gain with insulin, diabetic patients using Byetta experienced weight loss. This medicine looks promising as Type 2 diabetes is closely linked to obesity and extra weight can worsen the disease.

Seniors Take Part in Heart-Healthy, Fun Activities (February 27, 2006)
What kind of activities can a senior citizens center organize on Sundays? Here is a piece of the answer. Older citizens share classes, exercise and healthy activities and thus break their possible loneliness. "It keeps your body physically healthy and you meet a lot of nice people," says one of the members.

Training Benefits Brains in Older People, Counters Aging Factors (February 21, 2006)
A new study released by the University of Illinois at Urbana-Champaign suggests that training delays aging effects on the brain and enhances performance. This study looked at the effect of training on tasks like scheduling, planning, multitasking, and using working memory, all of which are affected by aging. Lead author Kirk I. Erickson observed that "after training there are less age-related differences. Older adults begin to look more like the younger adults in brain activation."

Psychology and Aging
The American Psychological Association (APA) addresses the mental health needs of older adults in this informative compilation. The APA expresses the growing need for mental health services, makes connections between physical and mental health, gives policy recommendations, and introduces how psychology can address the needs of older adults.

Women's Health Studies Leave Questions in Place of Certainty (February 19, 2006)
Two studies have been released in the past couple of weeks that challenge long held beliefs about our health: calcium and vitamin D supplements prevent broken bones, and a low-fat diet protects you from heart disease and breast and colon cancer. So what do we do now? Some experts caution that although the low-fat diet had no significant effect on the rates of breast cancer, strokes, heart attacks or colon cancer, some of the results came too close to significant to ignore. This study does not suggest it is okay to eat fast food everyday. The same caution is suggested with the supplement study and women who do not get enough calcium and vitamin D in their diet are still encouraged to take these supplements.

Women Bear Brunt of Aging Boom (February 18, 2006)
This past February 17 in Seattle, the University of Washington School of Social Workers hosted a community forum called "Plight of the Older Black Women." This forum, organized by the African American Elders Project, reviewed African American women's situation with age. Margaret Boddie, program manager for the African American Elders Project, said that aging issues, mainly health concerns, particularly affect African American older women. In the country, 1 in 4 African American women over 65 have diabetes and are also more prone to have complications from this illness. Poverty, social exclusion and racial and gender bias, further complicates these women's conditions. Boddie urged the community to take action on improving older African American women's lives both locally and nationally.

Big Study Finds No Clear Benefit of Calcium Pills (February 16, 2006)
For years women have been directed by their doctors and the media to take calcium and vitamin D supplements, especially after menopause, in order to prevent bone loss. This long held tenet of public health is under scrutiny as a new study suggests they found no broad benefit for supplements in women aged 50-79 years. Although there is great debate over how to interpret the data, some suggest that calcium and vitamin D supplements should still be recommended for people who are not getting the minimum requirements.

Study Details Risk of Death for Those Caring for Elderly Spouses (February 16, 2006)
Although health professionals have long known that providing care for a family member brings stress, anxiety, and an increased chance of dying, this new study shows that the hospitalization of a spouse is also associated with an increase in risk. Dr. Nicholas Christakis of Harvard Medical School says, "What [this study] shows is that people are interconnected, and their health is interconnected, and seeing a person you love suffer, seeing them ill, harms you." Risk to spouses were lowest when hospitalization was for illnesses such as terminal cancer and highest for illnesses that were chronic and disabling, such as dementia and congestive heart disease.

Diabetic Brothers Beat Odds with Grit and Luck (February 5, 2006)
Robert and Gerald Cleveland provide inspiration and hope to those living with diabetes. Experts don't know of another childhood diabetic to live as long as Gerald or anyone who has lived with the disease as long as Robert - 81 years! Growing up in the "dark ages of diabetes care" where amputations, blindness, kidney failure, and heart disease were common, their longevity is quite remarkable. Genetics plays a role in their long life, but possibly more importantlyt has been their disciplined diet and exercise plan that has led to their success. Diabetes is the fastest-growing major disease in the U.S.

GSU Researcher Tracks Elite Pack of Supercentenarians for Clues on Longevity (January 31, 2006)
Robert Young researches the lives of very old people "supercentenarians." As a Georgia State University researcher and member of the Gerontology Research center, Young's job is to track persons of well-advanced age and certify their date of birth. Young reports that the Ecuadoran Maria Capovilla is the world's oldest person at 116 years. Currently many of the oldest people live in the United States in the Southeastern states. Though the probability to live to over 110 years in the US is 1 in 5 million, Young says that genes play a major role in longevity. Good health, a positive outlook and an active life are also essential.

Aiding Others, Retirees Stay on the Move (January 30, 2006)
Maria Melendez, 71, spends almost everyday volunteering throughout the Bronx with her husband Miguel, 73. She can be found leading exercise classes, taking blood pressure readings, and spending time at various senior centers. Volunteering has been a part of Ms. Melendez's life for the past 14 years and she enjoys sharing her energy with others. Her volunteer efforts are coordinated through the Retired and Senior Volunteer Program of the Community Service Society of New York.

Vascular Disease Linked to Depression in Elderly (January 24, 2006)
According to an American Geriatric Society report, older people with hardening of the arteries or other vascular diseases are prone to develop depression. This suggests that "vascular diseases increase the risk for depression in well-functioning, non-depressed elders," according to Dr. Benjamin Mast. The study was done on 2,113 elders who had heart problems. After 3 years, the likelihood of developing depression was 91 percent greater for those with diabetes, 81 percent greater with blockage of the leg arteries, and 76 percent higher for people with heart-related chest pain, compared with participants without these conditions. These findings suggest that depression of older persons must not be treated as a normal condition.

Successful Aging May Be Partly in the Genes (January 23, 2006)
Researchers have identified genes related to reaching age 90 with preserved brain function. Their study, funded by the National Institutes of Health and reported at a medical conference in Hawaii, is among the first to identify genetic links to long-lived mental powers. But if genes are responsible for living after 90 years old, an unhealthy diet is also partially responsible for unsuccessful aging.

Lessons From a Long Life (January 23, 2006)
Milo Tedstrom, one of the 61,000 centenarians in the United States, died last July at the age of 104. His life highlights issues facing many aging Americans, such as, finances, investments, driving, moving into long term care facilities, and the importance of family. Tedstrom accredits his life to good genes, walking an hour a day, low doses of medication, and having strong social connections. Overall, Tedstrom's family stresses the importance of saving money, especially since people are living longer.

Midlife Obesity Raises Later Risk Of Death (January 18, 2006)
People who are overweight or obese in middle age but do not have health problems are at much higher risk of dying from heart disease or diabetes after age 65. "Every pound (kg) that you put on really does rob you later on in life of health, as well as (increases the) chances you're going to be hospitalized more, and perhaps even die sooner," said researcher Robert Kushner. According to a study, obesity doubles the risk of dying from heart disease. Now we can predict a coming epidemic of heart disease and diabetes in old age for the current 300 million obese people worldwide.

Daughter Catches View of Future from Ailing Mother (January 17, 2006)
"Part of caring for an elderly parent is confronting one's own mortality." At some point in our lives we will experience a role reversal when we start taking care of those who cared for us and again when we need to be cared for as we age. This sometimes difficult transition stirs up many thoughts and emotions. Martha Wegner touches on these sentiments as she reflects upon her own experience.

Regular Exercise Seems to Stave Off Alzheimer's Onset (January 17, 2006)
Studies reveal that older people who exercise three or more times per week tend to prevent onset of dementia and its different forms. The risks were 30-40% lower than those who did not exercise. Although the study could not prove what kinds of exercises had more or less impact, researchers found that even simple activities like walking benefited seniors' mental health. Because the participants were only studied for a six year period and not followed up until their death, the researchers could not conclude if exercise prevents dementia altogether

Vibrating Insoles Help People Regain Balance (January 17, 2006)
With vibrations so faint that only your brain can sense them, new insoles are being developed to help the elderly, diabetics, and stroke victims maintain their balance. Vibrating insoles stimulate deteriorating neurons in your feet and provide the missing link between your feet and your brain. This product has the potential to increase healthy lifestyles, reduce emergency rooms visits due to falls which were estimated at over 1.8 million in 2003, and cut the associated health care costs of roughly $20 billion a year.

Catches View of Future from Ailing Mother (January 17, 2006)
Writer Martha Wegner explains how she learned her mother had Parkinson's disease and how she first refused to see her mother age away. She became angry towards aging and the diseases that sometimes accompany it. As a daughter, she simply couldn't stand the idea that her mother wouldn't be the protective person she had always seen. But facing the truth, she finally decided to be the "responsible grown up woman" she is and took care of her ailing mother with all the love she had once received from her, as a "generation to generation thing."

Penguin Movements May Help Elderly in Walking (January 16, 2006)
Max Kurz, University of Houston Health and Human Performance professor, wants to understand the way penguins walk. "With their feathery tuxedoes and charming Chilly Willy-waddle, penguins are the quintessence of cute," says the writer but penguins' waddling may help people with mobility challenges. Penguins "may have an elegant movement strategy for stability that we're unaware of," says the researcher.

Balding, Wrinkled, and Stoned (January 15, 2006)
The '60s are gone, but for some baby boomers, the drugs aren't. This article documents the cost of a 40-year high. Indeed, more than 75 million baby boomers who came of age in the 1960s and 70's, millions experimented with drugs during their impressionable teenage years, and millions went on to enter middle age and the survivors are now headed into their senior years with decades-long addictions.

Anemia Raises Risk of Repeat Falls in Elderly (January, 12, 2006)
The Journal of the American Geriatrics Society has found that anemia in the elderly increases a person's risk of recurrent falls. This study discovered that 38.3% of people with anemia and 19.6% of people without anemia between the ages of 65 and 88 had recurrent falls. Anemia is caused by low iron levels in red blood cells and may affect a person's muscle quality, therefore leading to more falls.

Alone Time with Pets Helps Seniors (January 12, 2006)
Dr. William Banks and Marian Banks conducted a study and discovered "that nursing home residents felt much less lonely after spending time alone with a dog than when other people joined in the visit." Residents were also able to talk openly to the dogs and in turn receive unconditional love. The next study will examine whether robotic dogs produce the same reduction in loneliness as real dogs.

Whole Grains May Reduce Heart Risk in Elderly (January 24, 2006)
Some research has already suggested that middle-age adults can lower their risk of metabolic syndrome by favoring whole grains such as bran or oats and brown rice. But no research focused specifically on the elderly. This new study found that among 535 adults between 60 and 98 years old, those who ate more whole-grain foods were less likely to develop a group of risk factors known as metabolic syndrome or to die of cardiovascular disease over the next 12 to 15 years.

Researchers Identify Two Routes to Alzheimer's (January 10, 2006)
Using a new 3D neuro-imaging procedure, researchers are able to detect different levels of tissue degeneration in the memory area in the brains of persons at a transitional stage to Alzheimer's. The researchers revealed two different types of transitional stage, one with memory loss, the other with no memory disability but rather lack of judgment and language difficulties. Both led to Alzheimer's. This shows that there is not one single pathway to the disease. "It's a new step towards tracking Alzheimer's," say the researchers.


TRADE UNIONS AND HEALTH ISSUES


Paying Health Care from Pensions Proves Costly (December 19, 2006)


Despite public workers' steady contribution to the public pension funds, many local governments find themselves struggling to cover promised retiree health care costs. Government officials had anticipated in the early days that the gains in pension funds from soaring returns from financial markets would help cover rising medical expenses. Then came years of investment losses and double-digit increases in health care costs. Now in some places around the country, money for retiree health care and pensions is running out. Years of government officials dipping into public pension funds and failing to set aside money to pay retiree health care obligations have caused grave consequences. Public workers may face the possibly of having to delay retirement or to live without health care benefits.

Unions Set Pacts at a Slower Pace As Clout Wanes, Employers Resist (July 5, 2006)
Union organizing contracts now meet greater resistance from companies, slowing the process and discouraging members. Not only does it take longer; contract agreements succeed less often. With rising medical costs and pension concerns, companies grow increasingly wary about health care and pensions benefits, which are top union priorities. Unions question companies' good faith bargaining, and look to protection under the law.

Calpers Puts Pressure on Board of UnitedHealth (April 26, 2006)
The California Public Employees' Retirement System, Calpers, is criticizing UnitedHealth's lack of communication concerning stock option grant dates for executives and "its 'inconsistent' disclosure of its option-granting program." Calpers holds 6.55 million shares of UnitedHealth's stock (0.5%) and has strong beliefs about corporate governance. They are questioning the credibility of the company and considering withholding votes for UnitedHealth directors, including the current chairman, at the shareholders meeting.

Benefits Threatened, Auto Workers Line Up for Elective Procedures (April 19, 2006)
As auto companies like GM and Ford cut health benefits and buy out employees with $100,000 to $140,000 offers, employees are rushing to hospitals for such elective surgery as knee replacements before losing their medical benefits. Union officials warn, however, that although $140,000 sounds like a great bargain, for most workers the offer will only cover about half of their future health care costs.