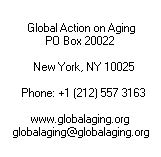 back
Want to support Global Action on Aging?
Click below:

Thanks!

Canada: Vancouver – Elder Care Center Suspects New SARS Case
By Ming Yan
America Voice, August 20, 2003
Vancouver, Canada – Laboratory results determined that a new case of the SARS virus may have appeared in an elder care center in Vancouver , Canada . Blood tests showed the virus gene was the same as the SARS in China , Toronto , etc., that appeared months ago. But some experts say it's too early to draw conclusions, since the symptoms were not obvious and the tests may have errors. A doctor from the Britain Columbia Virus Control Center in Vancouver pointed out two possible answers for this undetermined situation. One was that this virus was the identical virus as SARS, only that its symptoms were less significant. Another was that this was a variation or transformation of the original SARS virus.
進一步的化驗結果証實,加拿大溫哥華地區的一所養老院確實出現了新的薩斯病疫情。但是,也有專家們認為,現在下結論為時尚早,因為這批受傳染者的癥狀並不明顯。不列顛哥倫比亞省疾病控制中心的專家布雷諾醫生認為,這次疫情有兩種可能。
溫哥華一養老院疑出現新薩斯
記者 嚴明
美國之音,2003年8月20日
多倫多 - 進一步的化驗結果証實,加拿大溫哥華地區的一所養老院確實出現了新的薩斯病疫情。但是,也有專家們認為,現在下結論為時尚早,因為這批受傳染者的癥狀並不明顯。
化驗結果可能有誤
加拿大聯邦衛生部設在溫尼伯市的微生物實驗室星期一証實,溫哥華素裡地區一所養老院中,有12 人血液中所含病毒的基因化驗結果証實。他們確實是導致薩斯病的冠狀病毒。這種冠狀病毒與幾個月前中國、多倫多等地薩斯病人所帶的冠狀病毒完全一致。聯邦衛生部微生物實驗室發言人表示,這說明這所養老院的疫情已不是疑似薩斯病,而是確實是薩斯病。
但是溫哥華所在的不列顛哥倫比亞省疾病控制中心負責人帕特裡克表示,化驗結果可能有誤,因為大部份受傳染者的癥狀很輕,不同於世界衛生組織有關薩斯病癥狀的定義。他們既沒有38度以上的高燒,也沒有明顯的肺炎癥狀。帕特裡克說:"48名工作人員隻有感冒癥狀,而沒有肺炎癥狀。這就不是薩斯病。當我們看到絕大多數人,甚至那些年老體弱的人,僅僅隻有普通的感冒癥狀。這也不能被視為是薩斯病。
可能出現薩斯變種*(ch
這次疫情出現在7月份。養老院中有97名老人和48名工作人員相繼出現了流行性感冒的癥狀,並有7位老人相繼死亡。當局在對患者進行化驗確診的同時,已經關閉了養老院,並對相關人士進行了隔離。世界衛生組織的專家星期二抵達溫哥華,試圖與加拿大的專家一起解開這次疫情之謎。不列顛哥倫比亞省疾病控制中心的專家布雷諾醫生認為,這次疫情有兩種可能。布雷諾說:" 一種可能是,這是與曾在多倫多爆發的疫情一樣的薩斯病毒,隻不過癥狀非常輕微。
他表示,另外一種可能是薩斯病毒的變種,成為了一種新的類似病毒。但多倫多的病毒專家洛爾醫生則認為,如果不是薩斯病毒,那麼應該是一種人類還沒發現的新病毒。洛爾醫生說:"可能我們正在認識一種不同類型的冠狀病毒。這種病毒可能在世界上早已存在了上百年,但是我們一直沒有認識它。
目前,加拿大衛生部和不列顛哥倫比亞衛生當局都表示,還需要作進一步的化驗,在所有化驗完成之前,還不能得出薩斯病疫情再度出現的結論。
---
Copyright © 2002 Global Action on Aging
Terms of Use | Privacy Policy | Contact Us