Argentina's Economy Minister Resigns;16 Killed in Anti-Government Protests
By: Unknown author
The Wall Street Journal, December 20, 2001
The Argentine economy minister resigned Thursday as the nation's financial system teetered on the brink of collapse. Sixteen people have been killed and more than 150 others injured in more than two days of anti-government unrest in Argentina, officials said.
Major political leaders were reportedly negotiating behind the scenes in an effort to repair President Fernando de la Rua's fraying coalition government and halt the mushrooming political crisis.
Mr. de la Rua declared a state of siege on Wednesday, but protests continued Thursday. Truncheon-wielding police on horseback scattered hundreds of demonstrators outside Mr. de la Rua's office in downtown Buenos Aires.
Economy Minister Domingo Cavallo handed in his resignation late Wednesday, throwing Mr. de la Rua's government into further turmoil.
Authorities said that at least eight people were killed in and around the capital and at least eight others in outlying provinces. The casualties included a 15-year-old boy reportedly shot during disturbances in western Santa Fe province. Others among the dead included people reportedly shot by merchants defending their stores with weapons.
In the Buenos Aires suburb of Quilmes, a 23-year-old man was shot and killed during a supermarket raid by looters before dawn. In southern Rio Negro province, a 46-year-old woman was shot during confrontations between local police and supermarket raiders.
More supermarket attacks were reported in the north-central province of Tucuman. There were even reports of vandals ransacking family homes in the northeastern province of Corrientes. North of Buenos Aires on the Panamerican highway that crosses the country, there were reports of supermarket lootings and attacks on country estates.
At first light, about 100 people gathered outside the government house, banging pots and pans as a riot police were soldier-to-soldier guarding the seat of power. It was a smaller version of earlier protests countrywide against Mr. de la Rua's measures to quell demonstrations and to decry his and Mr. Cavallo's handling of the economy.
A federal judge issued an order prohibiting Mr. Cavallo from leaving the country. The judge, Julio Speroni, is investigating an arms-trafficking scandal from the 1990s when Mr. Cavallo served in the government of then-president Carlos Menem. The judge did not explain the reasons for the order.
Banks reopened and people went back to work on what began as a calmer day, with little police presence on the streets. But many small shops remained shuttered for fear of further unrest.
"We're fed up with corruption, hunger and the poverty we're living in," said Ana Arce, a 75-year-old doctor, outside the government house late Wednesday. "I think that if they don't go, the people will kick them out."
Authorities said more than 350 people have been arrested since the unrest began, including many hauled kicking and screaming from Plaza de Mayo, in front of the government house.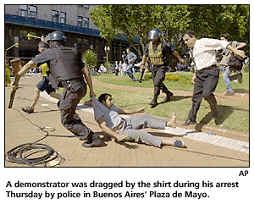 Unemployment has topped 18% in South America's second-largest economy. Mired in a four-year recession, the nation is near default on its staggering $132 billion public debt.
"This is not our fault, this is the government's fault, the president's and Cavallo's," said Sandra Guttierez, a 28-year-old unemployed mother of two, who left one ransacked supermarket loaded with bags of food Wednesday. "We feel we've got no future, for us or for our kids," she said.
Austerity measures introduced by Mr. Cavallo, including a partial freeze on bank withdrawals designed to prop up the financial system, have sparked widespread anger, especially in poorer areas.
In a televised address Wednesday night, Mr. de la Rua said he was imposing a 30-day state of siege to guarantee order. "I urge those who are exercising violence to cease such acts," Mr. de la Rua said. "With violence and illegality, we will not solve our problems."
Wednesday's decree marked the first time in 11 years an Argentine president has seized special powers that effectively grant security forces greater powers of arrest and allow them to ban public gatherings.
Such measures were last used by Carlos Menem -- Mr. de la Rua's Peronist predecessor -- in 1990 to quash an uprising by a right-wing antidemocratic militia group. A year earlier, a state of siege failed to stop widespread looting and social chaos that eventually forced then-president Raul Alfonsin out of office.
But Mr. de la Rua's emergency measures only provoked more anger. As the protests swelled around government house and the presidential palace, where Mr. de la Rua's cabinet was meeting, the government's future appeared to hang in the balance.
Mr. de la Rua will name a temporary economy minister later Thursday while the government works with the opposition Peronist party to form a new coalition, officials said. Officials leaving the government house after meeting with Mr. de la Rua said he was deciding on the make-up of his new cabinet, which will be temporary. They didn't give any indication of who the new economy minister would be.
Outside the residence, crowds of thousands gathered shouting "Cavallo out," also calling for Mr. de la Rua's resignation. Spokesman Juan Pablo Baylac said Mr. de la Rua had no intention of resigning. He said the president felt that Argentine democracy required that he complete his term.
Thousands more thronged the central Plaza de Mayo at the Casa Rosada government house, until riot police charged them, firing tear gas. Others rallied outside Mr. Cavallo's home on Libertador Avenue.
"It's great that Cavallo's gone," said Elena Sicilia, an actress rushing toward government house after hearing about the minister's resignation on television. "But they all have to go, we don't want de la Rua and we don't want Menem back. We want a fair government of the people."
Sick for years, the economy has nosedived during Mr. de la Rua's two years in office. His government has tried to fix the economy with nine different economic plans and has faced eight general strikes.
Until Tuesday, Mr. Cavallo had been working on enacting another punishing austerity plan, pushing a belt-tightening 2002 budget through Congress and staving off a default on Argentina's staggering debt.
Rising social tensions are expected to make it more difficult for Mr. de la Rua to push 2002's austerity budget slashing an extra $4 billion in public spending through Congress
Agreement on the budget is seen as key in persuading the International Monetary Fund to release $1.3 billion of emergency funds that cash-strapped Argentina needs to keep up payments on its debt.
Failure to secure IMF funding could lead to a default, which would probably spark more chaos and social unrest. In his speech, Mr. de la Rua called for a broad political consensus to assume the "historic responsibility" of pulling Argentina back from the brink of economic and political collapse. But he made no concrete proposals.
The U.S. Treasury Department said it is "deeply concerned" by the violence in Argentina. Tony Fratto, a Treasury spokesman, said the U.S. remains supportive of the government in Argentina, while stressing the need for the authorities to swiftly draft a new, sustainable economic recovery plan.
---
Global Action on Aging
PO Box 20022, New York, NY 10025
Phone: +1 (212) 557-3163 - Fax: +1 (212) 557-3164
Email: globalaging@globalaging.org
---
We welcome comments and suggestions about this site. Please send us your name for our postal and electronic mailing lists.
---