Steelman Pension Poser for Blair
BBC News
United Kingdom
September 12, 2006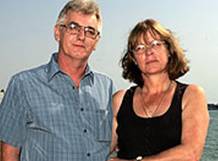 Peter Hughes helped negotiate the company pension terms
Peter Hughes helped negotiate the company pension terms
An ex-steelworker who lost most of his pension in the Allied Steel and Wire closure has asked Tony Blair why his government has not given him more help.
Peter Hughes, 51, from Cardiff, worked at the ASW plant in the city for 30 years before it went bust in 2002.

He asked the prime minister at the TUC congress in Brighton why he could not receive help despite his long service.

The government set up a financial assistance scheme, but he does not qualify for help under its terms.

A Community union spokesman said later that Mr Blair had replied that the government had put money into the financial assistance scheme but could not help everyone.

"As far as we're concerned that's not good enough and we hope to raise it at the Labour conference as well as continuing to battle through the European Court of Justice."

Mr Hughes had expected to retire with a pension of £11,000 per year but will receive less than £2,000 now.

The father-of-two said: "I helped to negotiate the pension scheme so I knew how good it was going to be for me.

About 1,000 people lost jobs at Cardiff's ASW plant

His wife Phyllis said they had been relying on her husband's pension to live when they retired.

"I don't know how we will survive now," she added.

The unions Community and Amicus are currently pursuing a compensation case through the European Court of Justice.

However the advocate general, who gives independent legal advice to the court, has said the UK is not obliged to make good the workers' pensions losses, an indication that the court's eventual decision may go against the claimants.

Community's general secretary Michael Leahy said: "What happened to the workers at ASW was a scandal. Not only did they lose their jobs, but they lost a pension they thought was guaranteed.

"We are determined to fight for justice for people like Peter."

The parliamentary ombudsman has called on the government to compensate those who lost pensions.

But the government has rejected her report, saying the companies involved should bear liability.

The former steelworkers' plight led the government to set up a £400m pensions protection fund when a firm goes bust.

But when the new pensions bill was published, early in 2004, the legislation was not retrospective.