Pensioners Take Aim at Rudd
News.ninemsn.com.au
September 6, 2008
Australia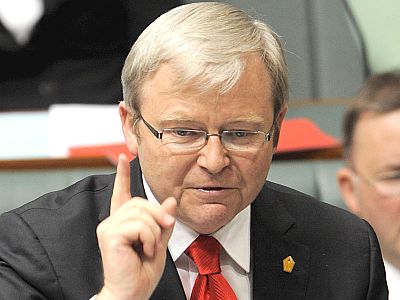 A determined Tasmanian pensioner activist has managed to secure a one-on-one meeting with Prime Minister Kevin Rudd and presented him with a petition calling for a $30 per week pension increase.

Mr Rudd was met by Margot Wall, who had travelled from her retirement village in Hobart to Launceston, where he had presented Labor stalwart Julia Brown with her ALP life membership at the party's Tasmanian state conference.

Late for a luncheon appointment, Mr Rudd initially apologised to Ms Wall before turning and walking away as media focused on the exchange.
However, a short time later, she was called to a one-on-one conference with the prime minister, lasting about 30 minutes, she said.

Ms Wall emerged saying the prime minister had accepted her petition and explained the government's range of pensioner assistance, not included in the pension payment.

"He's very sympathetic towards the pensioners but I'm going to follow through with the $30 pension increase," Ms Wall told AAP after the meeting.
"I want a better deal for the pensioners."

Ms Brown had earlier told Mr Rudd when she was presented with a microphone on stage, "not to forget about the pensioners".

The moment was in contrast to his earlier presidential, stage-right entrance to a standing ovation from the 200 conference delegates.

It also came after his speech noted the last budget's $7.5 billion in additional help for pensioners and carers, and detailed the government's plans for Australia's first national security statement.

Before Mr Rudd left for Canberra, he also told the conference that his cabinet would meet in Launceston, and hold a "community cabinet", before the end of this year.

He left the state without taking any questions from reporters.
Former Tasmania premier Paul Lennon will receive his Labor life membership at the conference dinner Saturday night.

---
More Information on World Pension Issues

---
Copyright © Global Action on Aging
Terms of Use | Privacy Policy | Contact Us