More Bad News for Norway's Huge Pension Fund
Aftenposten

September 24, 2008
Norway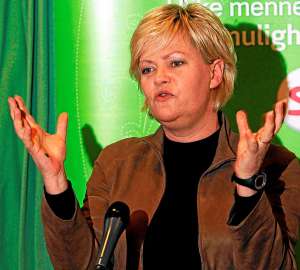 Finance Minister Kristin Halvorsen
Norway's finance minister was being summoned to the parliament this week, to answer questions tied to investments made by the country's oil fund in the bankrupt US investment bank Lehman Brothers.

The fund, a sovereign wealth fund fueled by revenues from Norway's offshore oil reserves, reportedly boosted its shareholdings in Lehman Brothers dramatically earlier this year. According to The Financial Times, the fund's stake in Lehman Brothers rose from 1.7 million shares to 17.5 million shares during the second quarter of this year.

"That's about the dumbest thing anyone could have done," one of Norway's most savvy investors, Tor Olav Trĝim, told newspaper Dagens Nĉringsliv on Wednesday. Trĝim works for Norway's wealthiest man, shipowner John Fredriksen, who has a history of risk-taking. Trĝim, however, likened the purchase of Lehman stock to "gambling" that was inappropriate for what actually is a pension fund.

Lehman's bankruptcy means Norway's oil fund, meant to finance pensions for future generations, faces heavy losses. "This is very sad for 4.8 million Norwegians," commented another well-known investor in Norway, Ĝystein Stray Spetalen.

Finance Minister Kristin Halvorsen, who is ultimately responsible for investments made by the oil fund, initially declined to answer questions on the fund's Lehman holdings. Now she's being called to the parliament, with demands for information coming from opposition politicians.

"This is a serious situation and we need to get the facts on the table," said Jan Tore Sanner of the Conservatives. Both he and the deputy leader of the parliament's finance committee, Ulf Leirstein of the Progess Party, are demanding that Halvorsen account for the fund's Lehman holdings.

It was just last year that the oil fund was being hailed for its strategic and ethical investment moves, which helped fuel enormous growth as oil revenues poured into the country. Instead of spending the oil money, most of it is set aside in the fund for future generations.
---
More Information on World Pension Issues

---
Copyright İ Global Action on Aging
Terms of Use | Privacy Policy | Contact Us