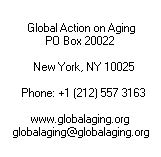 back


Retirement age to remain 60

By Ludger Kasumuni, The Guardian, Tanzania


October 10, 2003


The Prime Minister, Frederick Sumaye, has said the government does not have plans to reduce the retirement age for civil servants, even if the life expectancy continues to decline in the wake of increasing HIV/AIDS deaths.
Sumaye said this when responding to questions from journalists during a question and answer session, which was recorded by Radio Tanzania Dar es Salaam (RTD) yesterday.
"We will not reduce the current retirement age on grounds of increasing HIV/AIDS deaths. Despite the decline in life expectancy, the government will continue to uphold the current legal retirement age for civil servants," Sumaye said.
Sumaye was specifically responding to a question asked by the Acting Director of RTD, Eda Sanga, who had wanted to know whether the government would reduce the retirement age for public servants from 60 to 50 years in view of the pandemic.
Before answering the question from the journalist, Sumaye said the practical solution to check HIV/AIDS spread was individual behavioural change.
He said unsafe sex was the major vehicle for transmission of the AIDS causing virus in developing countries.
According to the PM, research findings have shown that without changing behaviour, within 10 years to come the economies of African countries, including Tanzania , will decline by 20 per cent.
Citing the countries with an alarming rate of HIV/AIDS spread, he said the situation in Zambia was worse with life expectancy of merely 36 years in the wake of the HIV/AIDS scourge.
He said countries, which have managed to raise awareness on safe sex like Uganda , had been able to reduce the HIV/AIDS deaths.
Meanwhile, Sumaye said he had extended the seven days' order given to Tanga regional administration to implement his directive on preparing a strategy for reducing drop-out cases in primary schools.
He said the deadline of 50 days, which he had given to Tanga regional authorities, had expired and that the authorities had requested him for a one-week extension.
"Tanga Region has the highest drop-out cases in primary schools, which is against the government policy on Universal Primary Education (UPE) development. We must appreciate that there must be something wrong," the Prime Minister said.
---
Copyright © 2002 Global Action on Aging
Terms of Use | Privacy Policy | Contact Us