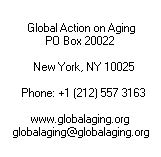 back
Want to support Global Action on Aging?
Click below:

Thanks!

Russians to Get Pension Accrual Notices
Beginning July 1
Pravada
June 27, 2003
Russia - Beginning July 1 2003, pension reform will be felt by virtually every person, Russian Prime Minister Mikhail Kasyanov told reporters Friday while visiting the Pension Fund's information centre which processes and sends out information on individual pension accounts.

All Russian residents will be updated on their pension accruals, i.e. the sums their employers have paid to the Pension Fund, elaborated the premier.

Under the effective law, Russians have to decide where to invest their pension accruals for 2002 till October 15. Lists of the companies authorized to invest pension funds will be sent out in advance.

Further on Russians will have to take such decisions annually. Those who will fail to choose the company on their own will have to rely on the government's choice. These people's money will not be lost, assured the premier. The government will ensure revenues not less than revenues from investing in private companies.
---
Copyright © 2002 Global Action on Aging
Terms of Use | Privacy Policy | Contact Us