Nigeria sounds alarm over pensions
From BBC news online
September 22, 2003
Nigerian authorities have uncovered a huge deficit in the state pension fund, confirming what many unpaid former state workers have feared for years.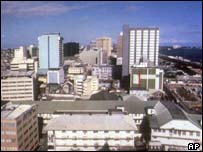 Retired civil servants have long complained of non-payment of their pensions, with many forced to queue for days to claim what they are owed.
According to Nigerian government calculations, the shortfall in the state pension fund amounts to at least 2 trillion naira (£9.3bn; $14.8bn).
The revelation is likely to stir suspicions that some of the money may have been misappropriated.
Corruption was a major issue in Nigeria's recent election, which saw won by President Olusegun Obasanjo and his People's Democratic Party (PDP).
'Unfortunate activity'
Experts have not ruled out that some of the money may have been stolen, but there has also been criticism of the pay-as-you-go scheme the state uses to raise pension funds.
"We think there has been some unfortunate activity," Ahmed Mohammed of the Nigerian Social Insurance Trust Fund told the BBC's Network Africa.
"This pay-as-you-go scheme has been abandoned in many countries. Payments have not been made on time."
Pensioners regularly travel to Abuja, often camping outside government offices, in the hope of getting some of their money.
Many reacted to the news with dismay.
"I don't have a roof on my head... There is no sign that the government will be able to pay our pensions," said one pensioner.
"The government is fighting against corruption. If the government can't pay this money, then they cannot stop all these things," said another.
---
Copyright © 2002 Global Action on Aging
Terms of Use | Privacy Policy | Contact Us