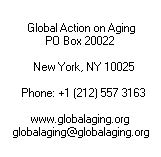 back
Want to support Global Action on Aging?
Click below:

Thanks!

National Alliance, no steps taken, Tremonti data insufficient
AGI Online
September 8, 2003
No step ahead were taken in the Villa Spada summit on pensions and the budget. The severe judgement arrived from National Alliance (AN), according to whom "the elements supplied by the Minister of Economy are not yet sufficient to delineate the entire picture of the situation, both on resources to be found, and also on possible uses of resources to relaunch development and guarantee social cohesion," said the Minister of Agriculture, Gianni Alemanno, and the Vice Minister of Economy, Mario Baldassarri.
According to AN, the absence of the UDC delegation limited the agenda of works to a series of technical verifications, given the "political nature of the choices requests the presence of all coalition parties." The "essential choices" are thus delayed "to the summit that will take place between majority leaders." The meeting, according to AN, did not register "progress in the definition of the budget and structural reforms." In the next summit, National Alliance will "continue to support the need of a budget oriented on one side to guarantee financial equilibriums compatible with European tasks, and on the other a strong push for development," confirm Alemanno and Baldassarri.
In particular, AN is aiming to reach the following goals: 1) Structural reforms and the budget must pass through "confrontation with social bodies under efficient and transparent procedures." The difficulties of all European countries to respect the Stability Pact, due to the current international situation "call for an act of responsibility from all national communities. This, not only to avoid political speculation by those who have demagogical behaviour, but above all, to guarantee a clear prospect that gives confidence to economic operators and families." 2) Pension reform, as has been defined so far, should not serve "to make a buck," but to guarantee "a structural intervention to maintain our social spending in equilibrium, make long term debt tenable, and at the same time help integrative welfare take off. Because of this, an intervention on the welfare system must be balanced by reinforcement of social safety nets, support to family income, and the start of new tools of participation of workers in companies." 3) The available resources for development "must not finance indiscriminate interventions, but must be concentrated on investments for research, training, technological innovation, essential infrastructures for the South, the recovery of urban suburbs, the security of citizens, and the promotion of Made in Italy." 4) In the budget, and other measures connected to it, "measures to significantly improve the efficiency of government tools must be included, such as the modernisation of the public administration and the involvement of organisations of civil society and local autonomies in order to help vertical and horizontal subsidies."
---
Copyright © 2002 Global Action on Aging
Terms of Use | Privacy Policy | Contact Us