Apology for new pensions error
BBC

News, July 2, 2002
The pensions error is the second in two months
The mistake - the second of its kind in recent months - prompted new Work and Pensions Secretary Andrew Smith to apologise.
It comes as MPs get ready to focus on pensions in the House of Commons on Tuesday in a Conservative sponsored debate.
[There are] more questions on pensions than at any time since Maxwell stole pension funds from his workers
Frank Field
They are set to debate the "crisis in funded pensions" shortly after the publication of the government's response to the Work and Pensions select committee's report on the Pension Credit.
On his debut Commons outing in his new job, Mr Smith told MPs that he had launched a complete review of the figures.
"The pensions minister is correcting the record in a written answer this afternoon," he said.
Mistakes
"The ONS is to lead a review of these statistics, including external representatives, as a matter of urgency.
"We apologise where figures previously given in good faith by ministers on the level of pension contributions are now subject to review."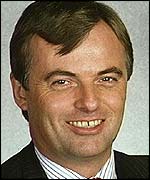 Mr Smith was on his Commons debut as pensions secretary
He added that the government was going to consider "radical and concerted action" to sustain final salary pension schemes which are being cut by firms.
The error revealed on Monday follows the withdrawal of some statistics by ministers on the total worth of pension funds after it became apparent they too contained mistakes.
The Conservative spokesman on work and pensions, David Willetts, said it was pity that Mr Smith's first appearance at the despatch box in his new job was to admit a serious error made by his predecessor.
"Ministers have been boasting that we have been saving £86bn a year in our pensions," he said.
"They are now admitting that that included transfers from one form of assets to another, it was not new flows.
"That is a significant mistake in the figures they have been boasting about for the past months and years."
Consensus?
Mr Smith responded that he believed he had "done the right thing" by announcing the correction.
He said regardless of the error the basic state pension remained at the heart of the UK's pension provision.
"We need a national consensus in this country on the way forward on pensions. It will not be helped by the Conservative Party proposing the abolition of the basic state pension," he said.
Mr Smith told Liberal Democrat spokesman Steve Webb that all pensions figures should be treated "with caution" until the ONS review was completed.
Meaner retirement?
He added: "I am not aware of any other corrections which need to be made though I have to say that having had this experience now with the ONS, and the House will be aware of the previous difficulties on pensions statistics, I think it wise to treat figures with caution until the outcome of the review."
Former social security minister, Labour MP Frank Field said that radical reforms were necessary if the government was going to reverse a fall in pension savings that left them running at a fifth compared to five years earlier.
"The order paper now has more questions on pensions than at any time since Maxwell stole pension funds from his workers," he said.
"If the population of this country is not to look forward to a leaner, meaner retirement, we need to ensure that more is saved towards our retirement income."
Mr Smith replied: "Yes we do need to raise the level of savings and make it easy and accessible for people to build up a savings pot that can genuinely provide them with security in retirement."
Mr Willetts later released a statement saying he believed the correct figure for pension contributions in 2001 was around £51bn - an amount well below the government's original £86bn statistic.
The government's figures - which Mr Willetts branded "hopelessly optimistic" - had only been checked after he published his findings in a newspaper article, he said.
---
FAIR USE NOTICE: This page contains copyrighted material the use of which has not been specifically authorized by the copyright owner. Global Action on Aging distributes this material without profit to those who have expressed a prior interest in receiving the included information for research and educational purposes. We believe this constitutes a fair use of any such copyrighted material as provided for in 17 U.S.C § 107. If you wish to use copyrighted material from this site for purposes of your own that go beyond fair use, you must obtain permission from the copyright owner.