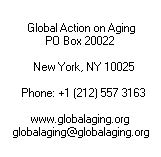 back
Want to support Global Action on Aging?
Click below:

Thanks!

Brazil gov't plans to widen pension coverage
Reuters
August 8, 2003
RIO DE JANEIRO, Brazil, Aug 8 (Reuters) - The Brazilian government plans to give pension coverage to 40 million workers currently excluded from benefits, Social Security Minister Ricardo Berzoni said on Friday.

"We want to present a bill in the second half of 2003 to include domestic workers, the self employed and others so that everyone can benefit," Berzoni said in an interview on Globo television. No figures were given on the cost of the additional coverage.

Speaking after the government's public pensions reform cleared its most critical hurdle in Congress Thursday, Berzoni rejected claims that government concessions had weakened efforts to make the system more fair and financially viable.

"We didn't back down ... the reform is fundamentally unchanged," Berzoni said, adding that civil servants will no longer receive what some view as absurdly high payments.

Brazil's estimated 3 million active and retired civil servants previously received a pension equivalent to their last salary.

The reform, stuck in Brazil's Congress since the early 1990s, caps pensions for future civil servants, taxes pensions of retired public workers and cuts costs by an estimated 56 billion reais ($18.6 billion) over 20 years.

Last year, the government spent 5 percent of gross domestic product on public pensions, roughly equivalent to the annual budget deficit.

Brazilian financial markets Thursday welcomed the pension reform success, with the Brazilian real <BRBY> firming 2.3 percent to 2.985 per dollar.
---
Copyright © 2002 Global Action on Aging
Terms of Use | Privacy Policy | Contact Us