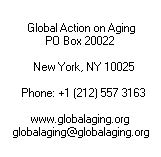 back
Want to support Global Action on Aging?
Click below:

Thanks!

Brazil States Seek Payback to Support Pension Bill
CBN
August 25, 2003
(Bloomberg) -- Most of Brazil's 27 state governors want to obtain concessions for their support on President Luiz Inacio Lula da Silva's pension bill, which is scheduled for a second-round vote this week, CBN radio station reported.
The government has already promised changed in the text to Amazonas Governor Eduardo Braga and others to ensure states and their congressional delegations support the pension legislation, the station's commentator Luzia Hipolito reported, citing people familiar with the situation. Minas Gerais Governor Aecio Neves wants the federal government to entitle his state to more funds, CBN said.
Opposition parties will attempt to derail the bill's voting this week, the station said. The government and allied parties reached a compromise to maintain the text of the pension bill that was passed two weeks ago in a first-round vote, Hipolito said.
---
Copyright © 2002 Global Action on Aging
Terms of Use | Privacy Policy | Contact Us