Credit Suisse Chief Waives Severance Pay
By ALISON LANGLEY

NY Times, December 19, 2002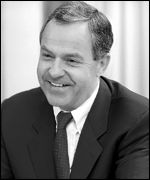 Lukas Mühlemann
ZURICH, Dec. 18 — Lukas Mühlemann, the departing chairman of the Credit Suisse Group, has given up his right to a severance package, the bank said today, heading off further outcry from shareholders.
Mr. Mühlemann, who had also been chief executive until this fall and whose failed strategy of trying to provide all kinds of financial services under one roof forced the bank to post a record loss of 2.1 billion Swiss francs ($1.5 billion ) last quarter, waived his contractural right to a severence package, a terse statement by the company said.
According to one top banking executive, the board had strong-armed Mr. Mühlemann into the decision, fearing a reaction by angry Swiss shareholders who have not only seen the value of their stock halved this year but have also been paid the equivalent of two francs a share in lieu of a dividend.
Mr. Mühlemann's decision "is very unusual compared to the past, but we never had a public mood like this before," said Günter Müller-Stewens, a professor of management at the University of St. Gallen.
"I have respect for his decision," Mr. Müller-Stewens said, adding, "It's a benchmark now."
Investors in Switzerland and around the world have been outraged over accounts of corporate greed in severance pay, pension plans and bonuses to executives who companies have run into serious trouble.
One group representing Swiss shareholders hailed the announcement of Mr. Mühlemann's waiver. "We, as investors, would have never understood it a pay cut this year if Mr. Mühlemann had been given a hefty severance package.
Credit Suisse said that Mr. Mühlemann, whose last day at work is set for Dec. 31, would be paid under his contract until March 2003.
The company would not divulge Mr. Mühlemann's salary or what the severance package might have been. But financial disclosure practices will be slightly different next year.
Under pressure from stockholders, the Swiss stock exchange now requires that starting with 2002 annual reports, all companies must state their top executives' combined compensation packages.
In Switzerland, where financial privacy reigns, few companies disclose the pay of their top managers. This year, Marcel Ospel, chairman of UBS, Credit Suiss's bigger rival, set the pace for change by disclosing his $7.3 million pay packet.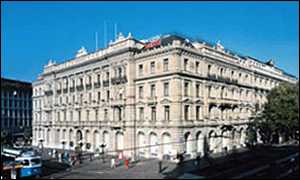 Changes are afoot at Credit Suisse
Mr. Mühlemann declined at the time to do the same.
Investors in Switzerland took up arms over the compensation issues after a series of big payouts to executives.
Two former chief executives of the engineering giant ABB, Percy N. Barnevik and Goran Lindahl, were pressed into repaying more than half of the nearly $140 million they received in pensions and other benefits; during their tenures the company was saddled with $5.5 billion in debt.
And investors are still fuming that Rolf Hüppi, former chairman and chief executive of Zurich Financial Services, received more than six million francs ($4.2 million) in severance after he was forced out this spring, a month after the company posted a $348 million loss for 2001.
Mr. Heitz said his group felt emboldened by Mr. Mühlemann's decision and would now write to Zurich Financial's board demanding the money back from Mr. Hüppi.
It was largely pressure from shareholders that forced Mr. Mühlemann to resign as chairman and chief executive. Under his watch, Credit Suisse bought Donaldson, Lufkin & Jenrette at the top of the market two years ago, became involved in a share-selling scandal through its Credit Suisse First Boston unit and lost $1 billion in its Winterthur Insurance unit, which Mr. Mühlemann purchased.
---
Copyright © 2002 Global Action on Aging
Terms of Use | Privacy Policy | Contact Us