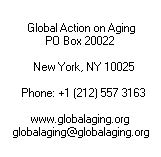 back
Some related articles :

Experts meet to discuss right to a basic income
By: ILO
September 10, 2002
The Basic Income European Network (BIEN) will hold its 9th Congress from 12 to 14 September at the Geneva Headquarters of the International Labour Organization (ILO).
The theme of the Congress is the global trend towards increased selectivity and conditionality of social benefits and how to realize the right to basic income security. In European countries, for example, one in ten workers in full-time jobs has earnings below the poverty line.
A number of countries (like the USA, Brazil and South Africa) are already experimenting with schemes that are moving towards a right to a basic income. The issue of how to guarantee a basic income through the integration of tax, benefit and minimum wage systems is now on the political agenda in many countries.
"The ILO is pleased to host this Congress which gathers high level academics, politicians and thinkers to discuss a central question in the worldwide drive to reduce poverty", said International Labour Office Director-General, Juan Somavia, who will address the Congress at 9.00 a.m. on Friday 13 September. "The ILO is the natural place for the exchange of such ideas."
About 200 policymakers, academics and other experts from some 28 countries will gather to discuss some 60 technical papers to be presented at the Congress. Countries covered by papers include: Argentina, Austria, Belgium, Brazil, Chile, Colombia, Finland, France, Germany, Greece, Italy, The Netherlands, New Zealand, Norway, Peru, Portugal, Russia, South Africa, Spain, Sweden, the UK, and the USA.
A briefing for the press will be held on Thursday 12 September at 10 a.m. in Press Room No. 1 of the Palais des Nations with the participation of Guy Standing, Director of the ILO's Socio-Economic Security Programme and Tony Atkinson, Professor at Oxford University and former President of the International Economics Association.
---
FAIR USE NOTICE: This page contains copyrighted material the use of which has not been specifically authorized by the copyright owner. Global Action on Aging distributes this material without profit to those who have expressed a prior interest in receiving the included information for research and educational purposes. We believe this constitutes a fair use of any such copyrighted material as provided for in 17 U.S.C § 107. If you wish to use copyrighted material from this site for purposes of your own that go beyond fair use, you must obtain permission from the copyright owner.