Retire Later? Critics Blast Pension Reform Ideas
Deutsche Welle
August 24, 2003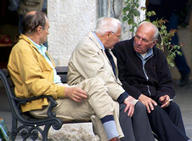 The commission exploring ways to save Germany's failing pension system has suggested raising the retirement age from 65 to 67. Politicians from across the spectrum have expressed outrage at the idea.
The German government has no choice but to make radical changes to its state-funded pensions if the system is to survive. Bert Rürup, who heads the commission that bears his name, has been charged with figuring out how to save a system which is burdened to the point of collapse largely due to the country's ageing population.
Today, 2.3 persons work to support one retiree in Germany. But by 2030, according to reliable demographic estimates, that ratio could be more than halved. The Rürup Commission warns that, without reform, pension contributions would have to rise to between 24% and 25% of gross wages by 2030. Right now they are 19.5 percent.
While the commission will officially present its proposals on Thursday, politicians, labor leaders and scientists have already begun to criticize one of the central reform suggestions, the raising of retirement age by two years, to 67, by 2025.
"In my estimation, raising the legal age of retirement is not going to help very much," Franz Müntefering, Social Democratic parliamentary group leader, told reporters. The problem, he argued, is that most Germans today retire at age 59 or 60. He wants Germany to implement measures that would bring the actual retirement age of most closer to 65.
His conservative colleague and head of the Bavaria-based Christian Social Union, Edmund Stoiber, echoed the sentiment, saying it made no sense to talk about raising the retirement age "when the average person goes into retirement at 60 anyway."
Abusing the system
Economists and labor leaders have been critical of the widespread practice of early retirement, saying many companies abuse it, using it as a way of transferring the costs of layoffs to the state.
"In 60 percent of companies we don't have one employee over the age of 50," said Ursula Engelen-Kefer of the German Trade Union Federation. The head of the German Institute of Economic Research, Klaus Zimmermann, told the Welt am Sonntag newspaper that ways had to be found to encourage companies to employee older workers longer.
"I can't understand that we're talking about a possible retirement age at 65 when industry considers people over 55 to be useless and wants to quickly put them out to pasture," Christian Wulff, premier of Lower Saxony, told NDR Radio.
Unpopular Reforms
According to the newspaper Die Welt, the Rürup Commission report, which will officially be published on August 28, calls for a reduction of pension levels from 48 percent to 40.1 percent by 2030. Citing government sources, Die Welt said the government wants to begin putting new measures into effect starting in the autumn. In addition to upping the retirement age from 65 to 67, a ban would be put into place on early retirements before the age of 64. The yearly cost-of-living increase will be reduced by 0.5 percent as part of a sustainability measure.
The commission is likely to recommend smaller annual increases or even a freeze in pension payments. German retirees currently see their payments raised in line with the average increase in gross wages.
"One year without an increase in pension payouts alone does not solve any of our pension problems," Rürup (picture) told the Frankfurter Allgemeine Sonntagszeitung, saying long-term and even difficult solutions had to be found to ensure the system remains solvent.
But the reforms are proving so unpopular, even before officially out of the bag, that it is unclear whether any of the commission's suggestions will be put into place. Opposition politicians and labor unions have warned the current red-green coalition to keep its hands off current pension payments, saying that retirees had a right to a reliable income.
Still, most Germans do not seem to believe in the reliability of their retirement funds. According to a recent poll, a solid majority believes that due to the ageing population, pensions payments will continue to sink in the long run, eventually reaching the level of welfare payments.
Ulla Schmidt, the minister of social affairs, said she will present the government's package of comprehensive pension reform this fall.
---
Copyright © 2002 Global Action on Aging
Terms of Use | Privacy Policy | Contact Us