Labour has 'dashed' retirement hopes
BBC News, July 10, 2002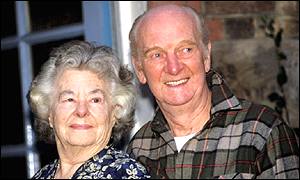 Saving for old age is a growing worry
A crisis in the pensions industry caused by Labour stealth taxes will leave millions more people dependent on state handouts in their old age, Iain Duncan Smith has warned.
I most certainly am not going to apologise to pensioners for our record
Robin Cook, Labour
The Conservative leader said many people were heading towards retirement with little but a "vague belief" that state benefits topped up by a small amount of savings would suffice.
"Many people's expectations of a prosperous retirement are being dashed," Mr Duncan Smith told a Tory pensions summit in Westminster.
Falling stock markets have wiped millions off the value of pension funds, forcing some companies to close their final salary schemes.
'Losing out'
On top of that, the Tories claim, Chancellor Gordon Brown's 1997 decision to scrap tax relief on pension fund dividends amounted to £5bn a year "tax" on pensions.
Other tax changes introduced by Labour have clawed back a further £1.5bn a year, shadow ministers say.
This meant that the average member of a company pension scheme was losing out to the tune of £530 a year, they claim.
Labour 'not to blame'
Labour says the figure of £5bn quoted by the Tories is actually closer to £3bn.
And the changes were part of a wider re-jig of the corporation tax regime which saw the main and small company tax rates go down significantly.
They also removed a "major distortion" in the tax regime.
"Companies had been paying out their profits as dividends rather than retaining them for investment in business," a Treasury spokesman told BBC News Online.
Labour has said it is not to blame for falling world stock markets and that it has dramatically increased pensioner incomes since coming to power.
It believes new schemes designed to encourage saving, such as stakeholder pensions, will plug the gap in provision.
Encouraging saving
But Mr Duncan Smith says the UK will soon be faced with a choice between leaving people in poverty or diverting an ever-increasing proportion of future resources to pay pensions.
"Unless something is done about it, millions more pensioners are going to spend their retirement dependent on means-tested benefits.
"That's not what they want and it's not what we want."
He added: "Our vision is that people will look forward to a prosperous and secure retirement based on a cornerstone of funded pension provision, enabling them to lead lives independent of the state."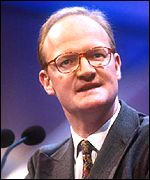 Willetts wants to foster a more caring Conservatism
'No apology'
On Wednesday, Labour Commons Leader Robin Cook refused to "apologise" for Labour pension policy.
"We have increased pensions by double the level of earnings, while the Conservatives cut it behind earnings.
"We have also provided a pensioners' tax credit, which increased the incentive for those who want to save.
"So I most certainly am not going to apologise to pensioners for our record," Mr Cook told MPs at Prime Minister's Question Time, where he was standing in for Tony Blair.
Mr Cook also pointed to worldwide stock market falls to show the UK was not alone.
'Caring Conservatism'
The Tories' summit was organised by Shadow Work and Pensions Minister David Willetts, who has spearheaded moves towards a more 'caring' brand of Conservatism.
It was attended by the TUC, the CBI, the National Association of Pension Funds, the Association of British Insurers and Age Concern.
"They all agreed that there was a problem. The only people who don't seem to recognise there are problems are ministers," Mr Willetts told BBC 2's Westminster Live.
"They are saying the current structure is right. I don't think it is.
"They haven't put forward anything that encourages people to save.
"Instead what they have had is more taxation on people's pensions and more means-testing for pensioners and we think that's the wrong way to go."
He agreed with the government objective of encouraging people to save but said it was not working.
---
FAIR USE NOTICE: This page contains copyrighted material the use of which has not been specifically authorized by the copyright owner. Global Action on Aging distributes this material without profit to those who have expressed a prior interest in receiving the included information for research and educational purposes. We believe this constitutes a fair use of any such copyrighted material as provided for in 17 U.S.C § 107. If you wish to use copyrighted material from this site for purposes of your own that go beyond fair use, you must obtain permission from the copyright owner.