Million 'Need Pension safety Net'
By: Unknown Author
BBC, August 25, 2002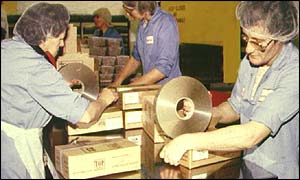 Only 28% of women part-timers have pension schemes

More than 12 million UK employees have no occupational pension with unskilled workers faring especially badly, a new report has found.

The study by the TUC, published on Sunday, said women in low-paid, part-time jobs came off worst in terms of pension provision.

And five million British workers face retirement with just the state pension to live on.

Union chiefs want to see compulsory employer contributions and more action to tackle a growing number of final salary schemes which are closing down.

The unions say the spread of pension coverage is "disproportionately patchy".

Fragmented careers

Brendan Barber, TUC deputy general secretary, said: "It is crucial that we have a strong safety net for those who are left without coverage.

"But in the end, we all need to pay up for pensions."

The TUC says part-time female workers - who often work for several small employers and have fragmented careers - are at the bottom of the pensions pile.

The report found that just 28% of female part-time workers had a company pension, compared to 55% of full-timers.

The situation for unskilled women working part-time was even worse, with only 15% in a company scheme.

Those from ethnic minorities were also less likely to have a non-state pension scheme.

North-south divide

The report also found a link between industry sectors and occupational pensions.

Those within the public sector were more likely to have pensions, whereas part-time, temporary or seasonal staff in small firms were more prone to going without.

And the traditional north-south divide extended to pensions coverage, which was low in the North East, Yorkshire and Humberside, the East Midlands and Wales, and highest in London and the South East.

Mr Barber said: "Hard-working people deserve decent retirement incomes but at the moment pension coverage is disproportionately patchy."

He said compulsory employer contributions would help make stakeholder schemes much more attractive to the kind of people who were most likely to be without pension cover.
---
FAIR USE NOTICE: This page contains copyrighted material the use of which has not been specifically authorized by the copyright owner. Global Action on Aging distributes this material without profit to those who have expressed a prior interest in receiving the included information for research and educational purposes. We believe this constitutes a fair use of any such copyrighted material as provided for in 17 U.S.C § 107. If you wish to use copyrighted material from this site for purposes of your own that go beyond fair use, you must obtain permission from the copyright owner.