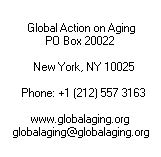 back
Want to support Global Action on Aging?
Click below:

Thanks!

Firms cut cap spending to plug pension holes-survey
Reuters
June 5, 2003
LONDON - Nearly a quarter of mid-sized firms in four of the world's largest economies are cutting capital spending to help plug pension funding black holes, while over half say the pension burden is hitting profits, a survey on Thursday showed.

Some 22 percent of 151 firms in Britain, the United States, Canada and Holland said the gap between current assets and expected pension liabilities had forced them to cut capital spending, a survey by SEI Investments showed.

The survey, carried out a time when firms have been reporting big gaps between assets and expected pension payouts, shows that 32 percent of firms with underfunded pension schemes are changing their business plans as a result.

"The 22 percent of executives we surveyed attributed the reduction in their capital spending to their current or expected future funding requirements," Jim Morris, senior vice president, institutional asset management, at SEI, told Reuters.

SEI's survey showed that Some 58 percent of the poll sample said the state of their pension scheme had directly affected their profitability.

As many as 90 percent of the firms surveyed said they had taken some steps to cope with the plight of their pension arrangements. Some 27 percent had closed their defined benefit plans.

"Without the ready access to capital markets enjoyed by bigger corporations, mid-sized and smaller companies face tougher choices about how to keep their pension fund intact," said SEI's Morris. In Britain, for example, about two thirds of pension schemes run by the UK's largest firms have funding deficits, when measured according to new accounting rules aimed at raising transparency in company pension costs, according to advisers Mercer Human Resources Consulting in April.
---
Copyright © 2002 Global Action on Aging
Terms of Use | Privacy Policy | Contact Us