France suffers fresh strike chaos
BBC News
June 10, 2003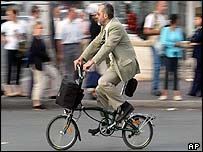 French commuters found alternative ways to travel.
France's hardline trade unions aimed to bring the country to a halt, on the day the government put its pension reform plans before parliament.
Transport problems spread to road, rail and air travellers, and gridlock was reported in some towns and cities.
Some trains at Paris' Gare du Nord station were delayed when strikers lit flaming torches on the track, producing clouds of billowing smoke.
On the roads, lengthy traffic jams were reported around Paris, and national rail company SNCF said two out of three trains were not running.
Roads to the south-western city of Toulouse were reportedly blocked by protesters.
Bordeaux, Nice and Lyon were also hit.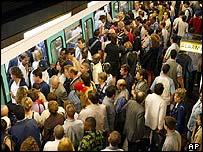 Trains that did run were packed.
In Marseille in the south, transport services were badly hit, and rubbish continued to pile up in the streets as refuse workers continued industrial action.
Services on the Eurostar cross-Channel train were not expected to be hit.
Many French flights were running normally from Paris' Roissy-Charles de Gaulle airport. But at the city's second airport, Orly, about 100 flights were cancelled, and passengers faced delays of up to 90 minutes.
Other striking workers include police and customs officers, health care providers, dockers, post and telecommunications workers, bank staff, lorry drivers and workers in the chemical and metallurgical industries.
Thousands of workers were expected to gather in protest rallies in Paris and other towns and cities.
Commuters and tourists alike were caught up in the chaos in Paris.
"I'm fed up with this strike," said German tourist Kirsten Paffratch. "We came to Paris for a long weekend and with the metro down we've had to walk everywhere. It's been very annoying."
Schools hit
For France's 800,000 teachers, it will be the 11th strike since the start of the school year.
They are angry about restructuring plans as well about the pension reforms.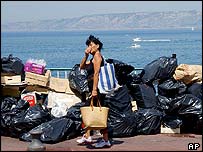 Rubbish is piling up in Marseille.
Some teachers have threatened to boycott the crucial end-of-school exam, the baccalaureat, which is supposed to start on Thursday.
The centre-right government of Prime Minister Jean-Pierre Raffarin insists the pension reforms are necessary to fund the growing level of French pensions.
He wants public sector workers to work longer to qualify for full pensions.
Mr Raffarin launched the parliamentary debate on the reforms with a speech on Tuesday afternoon.
"It would be irresponsible to hide our heads in the sand like an ostrich," he said.
"It is lack of action which is putting the pension system in danger. Our reform will save it."
French President Jacques Chirac has also insisted the reforms are needed.
---
Copyright © 2002 Global Action on Aging
Terms of Use | Privacy Policy | Contact Us