Tea and social security
By Sarah Toyne, BBC News Online
September 3, 2003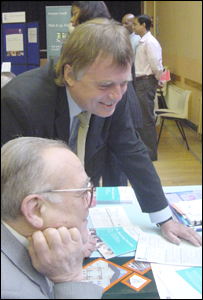 Andrew Smith at the coffee morning
What better way to launch the government's new pensions credit than over a nice cup of tea?
Work and Pensions Secretary Andrew Smith was competing for attention with "Turkey and Tinsel" breaks to Eastbourne at £169 a throw on the Age Concern stand, as he met pensioners at Westminster's Churchill Hall.
Over a slice of cake and a cuppa, he set out to sell the government's new mega benefit - the £2.5bn Pension Credit.
With the benefit's launch only a month away, everyone involved is keen to get it right.
No one wants a repeat of the chaos that surrounded the launch of new tax credits in April.
And one of the biggest question marks is whether the new credit will win over pensioners - a group often reluctant to claim benefits at all.
One or two sugars?
So Mr Smith was not just there to say "hi" to the 50 pensioners who had gathered in the hall.
He was there to launch the "Pick it up. It's yours" advertising campaign, which is aimed at raising awareness about the credit and promoting take-up.
The total advertising budget over the next year will cost £17m.
While the benefit could potentially reach five million households, the government says it will be pleased if by 2006 if it has three million pensioners claiming, although Mr Smith says he very much wants to beat this target.
This new benefit can't come fast enough for one of those at Mr Smith's coffee morning.
Pandora Varrakalion, who is disabled, and lives on a local housing estate, has got nine months to go until she becomes a pensioner - but she needs the extra cash now.
"I don't see why I shouldn't be entitled to a top-up now, rather than wait. The bills aren't going away...the last thing you need is your expenditure exceeding your available income," she tells BBC News Online.
What's that?
While benefit policies are devised by think-tanks and Whitehall mandarins, they are made or broken by detail - and punters' attitudes. The government seems mindful of this by its emphasis on getting out in to the community and helping people claim the benefit.
If the comment of one late arrival at the coffee morning is anything to go by, who said she didn't know what it was, it will be much needed.
The government is using a network of local advice agencies and community groups, as well as its local Pension Service, to help recruit people.
Richard Beal is a liaison manager for the Pensions Service in the Westminster area, and is one of those who is spreading the message.
Mr Beal says they hold regular weekly benefit surgeries and do lots of outreach work with vulnerable, and disabled pensioners, as well as working with ethnic minority community groups.
The Pension Service is even helping patients in elderly care wards sign-up from their hospital beds.
The Big fear
But could the Pension Credit become a Tax Credit Mark Two?
Andrew Smith is trying hard to make it work more smoothly.
The launch is being staggered, with recipients of the existing top-up benefits, the minimum income guarantee (Mig), taking priority.
Around 2.1 million pensioners are set to receive the credit from 6 October. Of these 1.8 million are Mig customers and 300,000 are new claimants.
"We have deliberately planned to make the process as gradual as possible," says Mr Smith.
Claims can also be backdated a year, so people don't miss out.
He is also keen to stress his department has "tried and tested technology" - and that a lot of effort is being spent on training the staff involved.
Mr Smith told BBC News Online the helpline has a capacity to cope with 3,500 calls an hour, or the equivalent of 40,000 calls a day.
At the peak of the tax credits problems, the helpline was receiving two million attempted calls.
There is an additional capacity to increase the number of calls the new helpline receives by 2,500 calls an hour, if the need arises. With the exception of local advice agencies, including the Pension Service, the credit can only be obtained by calling the freephone number.
The application process is completed over the telephone, and then the finished form is sent out to pensioners for a signature.
While the process makes it easy for pensioners, each application is taking about 20 to 25 minutes to process.
The department is keen to emphasise the preventative measures it has put in place - but it could be a nervous wait to see if they have done enough.
---
Copyright © 2002 Global Action on Aging
Terms of Use | Privacy Policy | Contact Us