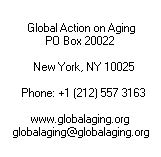 back
Want to support Global Action on Aging?
Click below:

Thanks!
Some related articles :

Venezuela Economy Shrinks
By: Associated Press, The Washington Post
May 20, 2002
Caracas, Venezuela –– Venezuela is seeking at least $3 billion in external financing to meet half of a projected $7 billion fiscal deficit, Finance Minister Tobias Nobrega said Monday.
Financing will come from bond markets and multilateral institutions such as the World Bank, the Inter-American Development Bank and the Andean Development Corp., Nobrega told reporters.
Venezuela's economy shrank during the first quarter of 2002, Nobrega said without being more specific. Analysts expect a contraction of up to 4 percent this year, compared to 2.7 percent growth last year.
Political unrest, including a two-day coup in April, has hurt Venezuela's $110 billion economy.
---
FAIR USE NOTICE: This page contains copyrighted material the use of which has not been specifically authorized by the copyright owner. Global Action on Aging distributes this material without profit to those who have expressed a prior interest in receiving the included information for research and educational purposes. We believe this constitutes a fair use of any such copyrighted material as provided for in 17 U.S.C § 107. If you wish to use copyrighted material from this site for purposes of your own that go beyond fair use, you must obtain permission from the copyright owner.