Welsh Lose Out on Pensions
By: Unknown Author
BBC, August 25, 2002
Welsh lose out on pensions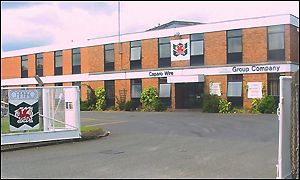 Caparo workers want to keep their pension scheme

Workers in Wales are less likely to be paying into a company pension than those many other areas of the United Kingdom.

A study carried out by the TUC raised concerns that although people may be working hard, they could face poverty in retirement.

The issue of pensions has been pushed to the forefront of political debate by recent events in Wales - including worries over the scheme at the collapsed Allied Steel and Wire in Cardiff, and the proposal to scrap the final salary scheme at Caparo in Tredegar and Wrexham.

ASW staff feared they had lost their pensions when the plant went out of business, making 800 redundant.

Caparo workers have pledged to continue a series of 24-hour strikes over the plans to change their pension scheme, which the company has said it can no longer afford.

The TUC study found that many workers - as many as 12 m across the UK - were not paying into a pension fund over and above the basic state cover.

It also revealed that part-time female workers in low-status jobs fared particularly badly, with only 15% in a company pension scheme.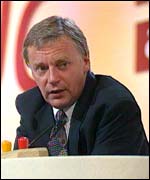 John Monks: Pension cover "patchy"
The TUC said people who worked hard throughout their lives should receive a decent retirement income.
It has now called for compulsory employer contributions, and action to stem the tide of final salary scheme closures.
TUC general secretary John Monks said: "Hard working people deserve decent retirement incomes but at the moment pension coverage is disproportionately patchy."
The Anglo-Dutch steel firm Corus is the latest company to suggest it will close it finally salary pension scheme - a move unions have warned would spark industrial action if carried out.
In April, Corus has revealed its pension fund has built up a surplus of £865m.
It was reported that the money had accumulated partly because of the low life expectancy of steel workers.
In the 1960s, more than 250,000 Corus workers in the UK were contributing to the pension fund, compared with only 25,000 across the group today.
---
FAIR USE NOTICE: This page contains copyrighted material the use of which has not been specifically authorized by the copyright owner. Global Action on Aging distributes this material without profit to those who have expressed a prior interest in receiving the included information for research and educational purposes. We believe this constitutes a fair use of any such copyrighted material as provided for in 17 U.S.C § 107. If you wish to use copyrighted material from this site for purposes of your own that go beyond fair use, you must obtain permission from the copyright owner.