USDA Rural Development Recognizes 35th Anniversary of Milford Housing
Spencer Daily Reporter
August 27, 2010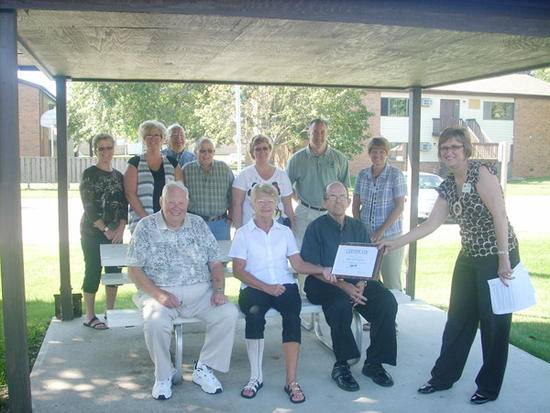 Milford Housing was recognized by USDA Rural Development Thursday in honor of its 35th anniversary. (Back row) Board Members Bobbie Williams, Terri Jo Hunt, John Shaw and Hugh Steinberg, Site Manager Rose Teege, Management Agent Bill Murphy, Patti Cirks, USDA Rural Development, (Front row) Board Members Virgil Wahlman and Elaine Green, President Lyn Johnson, and Karla McKibban, USDA Rural Development presenting Certificate of Appreciation
Karla McKibban with USDA Rural Development was in Milford today to recognize the board and management at Milford Housing for providing quality housing services to residents in Milford since 1975.

Bill Murphy manages the Milford Housing apartment complex and Elaine Green is the current president of the nonprofit board. The complex, which consists of 22 one- and two-bedroom units, opened in 1975 and provides housing for elderly residents. The complex is located at 1007 H Ave. in Milford.

"It's with great pleasure that we recognize the board and management at Milford Housing for consistently doing an outstanding job with this complex," said Bill Menner, USDA Rural Development State Director in Iowa. "The board is dedicated to ensuring all building requirements and residents' overall safety and security needs are being met."

USDA Rural Development currently provides financing for 500 multi-family housing projects in rural Iowa. These facilities provide rural Iowans with access to more than 9,600 apartments. Rent in the apartments is based on income and rent assistance from the government is available depending on the income of the tenant.

During the past year USDA Rural Development helped a record number of Iowans receive funding for economic development projects and quality of life improvements. The agency's investment in Iowa helped create or retain more than 2,000 jobs, aided 2,800 families in buying their own homes and assisted more than 140 communities in improving community facilities and upgrading local infrastructure.

USDA Rural Development has 11 offices across the state to serve the 1.9 million Iowans living in rural communities. The Storm Lake office serves residents Buena Vista, Calhoun, Carroll, Clay, Dickinson, Emmet, Greene, Palo Alto, Pocahontas and Sac Counties.
---
Copyright © Global Action on Aging
Terms of Use | Privacy Policy | Contact Us