In Rural Communities, Elderly Populations Rely on Other Seniors to Act as Caregivers
By Curt Woodward, Associated Press Writer

April 25, 2011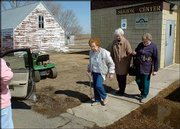 Despite the challenges the elderly face in rural towns across America , there is no overlooking the value of neighbor helping neighbor.
Seniors are relying more on each other to keep living at home and they're getting help to tap into a wide range of programs for the day-to-day assistance they need to avoid moving to a nursing home.
In Robinson, that includes taking turns as a chauffeur to get friends to the senior center for meals or gathering them for a bus trip to Bismarck , about an hour away, for a doctor's appointment.
"We've had people that have had cancer and the whole town offers to drive them around," said Mary Lou Hanson, the center's manager. "It's a pretty close-knit community."
In Traverse County, Minn., a clutch of rural farm communities where more than a quarter of the 4,100 or so residents are older than 65, a "phone mate" program pairs the elderly or disabled to check on each other at a prescribed time each day. Volunteers also home-deliver meals or drive older people to see a medical specialist.
Across the country, the need for such community safety nets is expected to climb significantly in coming years. By 2050, census figures show 5 percent of the country will be 85 or older, compared with 1.5 percent now.
North Dakota has the distinction of having the country's highest proportion of residents age 85 and older, and that population is growing. By 2020, state officials predict the number may jump to more than 24,000, nearly 4 percent of the population.
Robinson, a community of about 70, sits amid miles of farmland in central North Dakota .
Helping each other
Many residents, such as 93-year-old widow Emilia Randall, wouldn't live anywhere else. She has lived in Robinson since 1968, when she moved off of the family farm.
"I call this God's country," she said. "The great wide open spaces -- it's beautiful."
But to stay here, Randall and her friends need help, particularly if they no longer have a spouse.
More than 30,000 women in North Dakota are widows. In Kidder County , where Randall lives, about 42 percent of the people older than 65 have outlived their spouse.
A low-income, eight-unit apartment building owned by 82-year-old Elsie Whitman is home to her and four other single women who look after each other, get together for regular card games and move in a pack from home to the senior center for meals.
Without that community of neighbors to rely on, "they'd have to be in nursing homes," Hanson, of the senior center, said.
Even Randall drives other seniors to errands at the grocery store, the post office, around town or even to the mall or movie theater in Bismarck , although recent eye surgery left her temporarily grounded.
Networks of family and friends lend so much unpaid help to the elderly or people with disabilities that losing their services "would break the Medicaid and Medicare system very quickly," said Cherry Schmidt, a regional administrator for the state's aging services program.
A recent study by the National Family Caregivers Assn. said more than 27 million people, usually family members, act as caregivers for others. The group said the market value of those unpaid services is about $257 billion each year.
Volunteers getting older
In rural areas, where the population often is older, residents sometimes find themselves separated from relatives living in the city. That presents an extra challenge for caregivers.
"A great many people who are caregivers are people who might need the services of a caregiver themselves," said Andrew Zovko, a director at the caregivers association. "Certainly, an elderly person caring for another elderly person is a common situation."
And it's a situation that presents its own problems.
"Our volunteers are getting older and more frail," said Evie Rinke, an aging programs coordinator for Traverse County , Minn. "When it's ice and snow we wonder, 'Oh my, should we even send them out?'"
With elderly people and younger children making up a large portion of the county's population, "it doesn't leave a whole lot of us in that middle area to provide a lot of care for the elderly," Rinke said.
Funding for programs
Pat Randall, Emilia's daughter-in-law and the director of Senior Services for Emmons and Kidder counties in North Dakota , said volunteers at the three senior centers in her territory logged more than 1,030 hours in January and February alone. She said the federal Older Americans Act, which has paid for buses and meal programs, has been a lifesaver, though state funding has lagged behind.
"It's like our state legislators are having a hard time understanding that we need to increase the funding to match the needs of the people," Randall said. "If there's more elderly and there's less money, what are you going to do?"
'Feel more at home here'
As Randall ate lunch with a group of women at the senior center in Tuttle, 78-year-old Rachel Wolff recalled that a doctor was puzzled by her decision to move to the small town when she decided to leave the family farm.
"He said, 'How come you moved to Tuttle? Why didn't you move to Bismarck ?'" Wolff remembered.
Anita Wagner, 77, answered for her: "You feel more at home here."