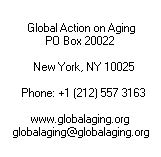 back

Pension partisans fight for retirement security
By: Christine Dugas
USA TODAY, December 1, 2000
A pension revolution is sweeping the USA.

It has attracted union members and white-collar managers, retirees and workers of all stripes. Their weapons range from shareholder resolutions and lawsuits to old-fashioned rabble-rousing demonstrations. Whether they are battling a controversial cash-balance pension plan or pushing for a cost-of-living increase, they have a common goal: retirement security.

Some examples of the militancy:

To protest IBM's new cash-balance pension plan, employees flew a banner over the company's plant in Austin, Texas, last summer when CEO Louis Gerstner was visiting. It said: ''Hey Lou, thou shall not steal.''

About 100 General Electric retirees and workers rallied the day before the company's annual shareholder meeting in Richmond, Va., last April. They carried placards and wore lime-green T-shirts emblazoned with one of their goals: a minimum of $26 per month, per year of service for all retirees.

In May, nearly 10,000 current and retired New York state workers demonstrated across from the State Capitol in Albany to press for permanent cost-of-living increases.

The pension movement is powered by such people as Helen Quirini, 80, who worked at General Electric's plant in Schenectady, N.Y., for 39 years until she retired in 1980. Years ago, she became a union activist to combat discrimination against women. Now, she's fighting for better cost-of-living increases for GE retirees. ''A lot of my fellow retirees are (military) veterans. What a hell of a way to treat them. We built this company. We built this country, damn it.''

It may seem odd that the pension movement has emerged when jobs are plentiful and millions of Americans have seen their retirement savings enriched by a long-running bull market. But the good times are fueling the discontent."

Those same stock market gains, combined with smaller, downsized workforces that require smaller pension outlays, have created huge pension surpluses at many U.S. companies. For example, GE has $50 billion in pension assets, about twice as much as it expects to need to meet its pension obligations.

''It is shameful that our pension fund has a $24.7 billion surplus while retirees are being paid such pitiful pensions,'' says Quirini, who receives a pension of $736.60 a month.

GE says that it has given retirees six increases since 1980, including one in April. ''We think our pensions are equal to or better than most of our competitors','' spokesman Gary Sheffer says. But Karen Friedman, director of the Fairness Project at the Pension Rights Center, a non-profit advocacy group, says corporations with big pension surpluses shouldn't aim for the lowest common denominator. ''They should be leading the way.''

As of Dec. 31, the average company in the Dow Jones industrial average had $123 in pension assets for every $100 in liabilities, according to Gordon Gould, chief actuary at Towers Perrin, a benefits consulting firm. That's a sharp increase from an average of $104 in assets per $100 in liabilities a year earlier.

Companies have good reason to want to hold on to their pension surpluses. Although they generally can't plunder excess pension income without getting hit with a big excise tax, they can add it to their bottom line, thereby boosting earnings -- and perhaps drive up the stock price. In 1998, pension income accounted for 3% of operating income at the companies in the Standard & Poor's 500 index, according to a study by Pat McConnell, an accountant at Bear Stearns.

Pension surpluses aren't the only catalyst for the pension movement. Among others:

The graying of America. By 2030, 20% of the population -- 69.4 million people, most of them baby boomers -- will be 65 or older.

The Internet. Access to the Web has enabled millions of workers and retirees to quickly share information, organize and mobilize. ''We can move a lot of material a lot more quickly than if we had to wait for the postal system or fax machine,'' says Paul Edwards, chairman of the Coalition for Retirement Security, a national grass-roots organization. ''We're firing on all cylinders.''

Greater awareness of retirement issues. The explosion in self-directed 401(k) retirement savings plans has put the onus on workers to learn more about retirement and investing, says David Certner, senior coordinator in economic issues at AARP.

Broken promises. Many workers and retirees say they have gotten involved in the pension movement because they feel betrayed by cuts in benefits.

Last year, IBM sparked an employee backlash when it announced plans to switch its pension plan to a cash-balance plan, a change that could have saved the company $200 million a year. Cash-balance plans favor younger, mobile workers, because benefits build steadily each year, and employees can usually take them if they leave the company. Older IBM workers had the option of keeping the traditional pension plan, but many midcareer employees complained that they were being shortchanged.

When Rep. Bernard Sanders, I-Vt., held a town meeting last summer to discuss the pension plan, about 700 employees from IBM's Burlington plant attended. ''That was unprecedented,'' says Jimmy Leas, an advisory engineer who has worked for IBM for 18 years. ''Employees never had a tradition of organizing on their own.''

Last fall, the company agreed to revise the plan so that anyone 40 or older with at least 10 years of service could remain in the old plan. ''We listened to our employees and adjusted our plan accordingly,'' says spokeswoman Jana Weatherbee, who also notes that the $200 million savings was used to increase salaries and provide stock options for more employees.

But the controversy didn't end there. In April, employees introduced a shareholder resolution at the company's annual meeting to let all workers choose the old plan. Though it fell short of a majority, it received nearly 30% of the vote. Now there is a movement to unionize workers at IBM.

White-collar activism

At other companies, managers are also starting to organize around pension issues. ''There has been the birth of a new form of white-collar activist,'' says Friedman, of the Pension Rights Center. ''That is going to have an impact on Corporate America in ways we haven't seen in the past.''

Ray Larson, who retired from US West in 1993 after 39 years with the company, doesn't consider himself an activist. But he got involved with the US West Retiree Association because the company hasn't given retirees a cost-of-living increase in about 10 years. While inflation eats away at retiree benefits, the company sits on a $5.7 billion pension surplus, he complains.

''I was a management person, and I told the people I supervised that we were paying lower salaries and wages than comparable jobs because part of the money was going into the pension plan,'' Larson says. ''I don't think the company has treated us fairly. We have some older retirees who are right on the verge of poverty.''

US West says its retirement package has been ranked among the nation's best by Towers Perrin. ''And the surplus is a good thing,'' says spokeswoman Audrey Mautner. ''It provides the security that earned pension benefits will be there when retirees need them.''

Now that US West is planning to merge with Qwest Communications, the retiree group is concerned that the pension surplus will go to Qwest employees, who have no pension plan. The retirees have asked public utilities commissions in several states to intervene and protect the pension surplus. At a hearing June 6, the Minnesota Public Utility Commission approved the merger without responding to the retirees. ''We have three more states to go,'' Larson says. ''We haven't given up.''

Getting organized

The Coalition for Retirement Security helps groups mobilize to get improvements in retirement benefits. ''The only way to make significant changes is to have movement on all fronts: litigation, legislation and education,'' Edwards says.

Coalition members include the Bell Atlantic Coalition for Retirement Security, the AT&T Concerned Employees Council on Retirement Protection, the Association of Former PanAm Employees and New York Transit Police retirees.

Their goals range from improving retiree pension benefits to recovering benefits they say they've been denied. For example, about 23,000 former PanAm workers say they lost 34% of their benefits after the company folded in 1991.

While some groups are concerned about the impact of company mergers on their pensions, others are battling cash-balance pension plans imposed by their employers. And at least two lawsuits accuse companies of mishandling 401(k) plans.

Some experts say that the pension activists are off base. ''Companies don't have to offer pension plans, and three-quarters of all employees have no defined benefit pension whatsoever,'' Gould at Towers Perrin says. Defined benefit plans, which include cash-balance and traditional pensions, guarantee retirees a fixed lifetime benefit. ''We're beating up on the good guys. I think in a lot of ways it's the lack of benefits that's the problem.''

That is another battleground for the Pension Rights Center, Friedman says. ''We're fighting on two fronts. We want to expand coverage to companies without pensions, but we also are trying to say that where there are pension plans, they should be fair and adequate and keep the promises they make.