Elder Rights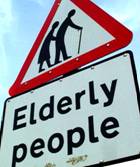 Global Action on Aging advocates for the protection of older persons as a key element of the human rights movement. Increasingly subject to physical and emotional abuse, theft, negative stereotyping and discrimination, older persons often feel vulnerable and frightened. Older people often face serious discrimination in the workplace. While many rights issues affect them negatively, older persons are claiming new sets of entitlements, including choice of sexuality and sexual activity, appropriate housing, innovative care-giving programs, as well as more control over end of life decisions. GAA works with human rights and research organizations to focus attention on these elder concerns.

The Madrid International Plan of Action on Aging (MIPAA), adopted by UN Member States in 2002, recommends many specific rights for older persons in a wide range of areas. In its Priority direction I: Older persons and development, MIPAA specifies "active participation in society and development, work and the ageing labour force, access to knowledge, education and training, intergenerational solidarity and eradication of poverty." In addition, Priority direction III: Ensuring enabling and supportive environments focuses on "housing and the living environment, neglect, abuse and violence and images of ageing."

Global Action on Aging documents the implementation of policies to ensure or enhance these human rights and reports on their violation.

Covers elder rights issues within the United States, including articles pertaining to trade unions and their impact on elder rights.

Information and resources about the process of disaggregating data by sex and age at the UN in world social statistics.