Pension Watch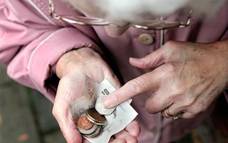 Since its beginnings, Global Action on Aging has examined how income support in old age, either public or private, shapes how older people can survive out of the workforce. It tracks policy changes and the debates about "dependence," "entitlements," "generational equity," and many other issues. GAA also examines financial help, if any, for older persons in poor countries. We track the emerging use of the social pension, a small cash transfer program based on age, to meet some needs of older persons living in developing economies.

The Madrid International Plan of Action on Aging, adopted by UN Member States in 2002, refers to social protection in the form of pensions in its Priority direction I: Older persons and development, in which it urges the "promotion of programmes to enable all workers to acquire basic social protection/social security, including where applicable, pensions, disability insurance and health benefits."

GAA documents the implementation of such programs and, on the other hand, monitors efforts to reduce pension income and "reforms" that reduce services and income for older persons.

United States

The US section of the Pension Watch site examines public and private sector sponsored pensions and their opponents.

Social Security Issues (Public Sector)
A series of articles detailing the potential negative consequences of the proposed privatization of Social Security.

Private Pension Issues (Private Sector)
A series of articles on the corporate abuse of private pensions.

Trade Unions and Pension Issues
A series of articles highlighting the role of trade unions in both the public and private pension debate.
Pension issues around the world.

Social Pension Issues
GAA follows the introduction of social pensions, which are cash grants to older persons supported by national taxes, in countries around the world.

Trade Unions and Pension Issues
Articles on the impact of trade unions on pension issues around the globe.