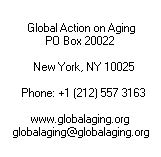 back
Want to support Global Action on Aging?
Click below:

Thanks!

Chinese Enterprise Retiree Social Management Rate over 50%
By Jing Liu
, New China News Agency
July 30, 2003
Wuhan, China – The enterprise retirement social management service is referred to as "after retirement arrangements, the management responsibility is no longer done by the original organization but the local community where the retiree lives. The pension is managed by the community service organization that provides the corresponding management service." Until the end of June, there were a total of 33 million enterprise retirees in China. Among them, there were 17 million already in the social management service. The rate reached 52%, an increase of 8.5% compared to last year. Experts pointed out that this is important in the community protection system; it guarantees enterprise retirees of having a peaceful and happy life; it is an important step for increasing quality of life, and it is pushing community protection system to a new positive level. (The text is in Chinese.)
To read the following Chinese article, please install the Internet Explorer Chinese language pack or NJ star communicator.
中國企業退休人員社會化管理率超過50%
記者 劉錚
新華社﹐2003年7月30日
武漢 - 截至6月底,中國共有企業退休人員3365.3萬人,已實行社會化管理服務的有1751.6萬人,社會化管理率達到52%,比去年底提高8.5個百分點。
勞動和社會保障部副部長劉永富30日在武漢召開的全國社會保險局長會議上說,各地要加快街道社區勞動保障工作平臺建設,確保今年底80%的企業退休人員實現管理服務社會化,更好地保障廣大企業退休人員晚年生活的安定。
企業退休人員管理服務社會化是指職工辦理退休手續後,其管理服務工作與原單位分離,養老金實行社會化發放,人員移交城市街道和社區實行屬地管理,由社區服務組織提供相應的管理服務。
專家指出,這是中國建立獨立於企業之外的社會保障體系的重要內容,是保証企業退休人員晚年幸福安定生活、提高生活質量的重要措施,也是今年推進社會保障體系建設的一個突破點。
---
Copyright © 2002 Global Action on Aging
Terms of Use | Privacy Policy | Contact Us