Baby boom backlash warning
BBC news
September 1, 2003
An independent think tank is warning politicians they could face a backlash from the post-war baby boom generation if they do not deal with their demands as they approach retirement.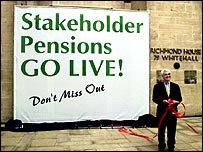 The generation that protested against the Vietnam War will not keep quiet as it prepares to get its bus pass, Demos are warning.
One issue likely to generate protest is that of pensions, with the report saying no government should expect the pensions crisis to be solved by encouraging people to continue working into later life.
The baby boom generation - the 17 million people born between 1945 and 1965 - make up 29% of the population and will punish governments at the ballot box for not meeting their demands, the report warned.
But the welfare state could be damaged if governments are forced to tailor it to the demands of a militant group of the middle-aged, the report suggests.
Co-author Julia Huber said: "Future governments will have to deal with the baby boomer generation.
"Attempts to encourage people to continue working without offering something in return will lead to a baby boomer backlash."
The report - entitled The New Old: Why baby boomers won't be pensioned off - says the baby boom generation is defined by social activism and individualism.
Clear demands
Co-author Paul Skidmore said: "The welfare state could reach breaking point if the baby boomers use their political muscle to force governments to prioritise their own public services at the expense of society as a whole."
The report is being published with Age Concern England, whose director general, Gordon Lishman, said the baby boomers were "unlikely to put up and shut up".
He said: "A generation of 17 million older people are marching towards retirement with a clear set of demands.
"If the political parties fail to listen to the boomers on priority issues like the provision of public services and retirement then they could be punished at the ballot box."
Demos sets out 11 challenges for policy-makers in dealing with what it calls the "coming social revolution".
It also makes specific recommendations including "granny creches", allowing people to juggle jobs and care for older relatives, new opportunities for "elderpreneurs" to start up businesses, and multi-generational housing developments.
---
Copyright © 2002 Global Action on Aging
Terms of Use | Privacy Policy | Contact Us