Britain 'failed to regulate' Lloyd's
BBC News, October 7, 2002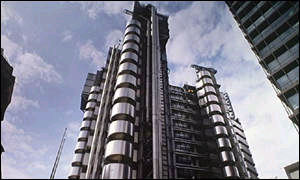 Many Lloyd's Names were bankrupted, some committed suicide
A European Parliament report report makes it more likely that investors who lost money backing the market will sue the government.
The report says the government failed to implement EU laws governing the industry and failed to make sure that Lloyd's produced adequate accounts.
Lloyd's accounts were not properly signed off by auditors for several years, during which time they carried warnings that losses from asbestos-related claims were "unquantifiable", the Conservative MEP and report author Roy Perry told BBC Radio.
Losses
Lloyd's, the world's oldest insurance market, racked up losses of about £8bn ($12.5bn) in the five underwriting years between 1988 and 1992.
During these years the market was hit by a wave of big insurance claims, many of them asbestos-related.
Many of the Lloyd's names - wealthy individual investors who risk their entire fortunes as underwriters - were bankrupted, and some committed suicide.
An EU directive obliges member governments to make sure that insurers have enough funds to cover their liabilities.
The report says the UK Government was slow to write the directive into UK law and then did little to make sure it was acted upon.
However, Mr Perry said that what the UK Government did was "an open question" because it has refused to tell his inquiry.
'Secretive'
"They say to me 'We have a robust defence against these charges'. I say, 'Let's hear them'," he told BBC Radio 5 Live.
"The whole saga has been characterised by secrecy and delay, besmirching the reputation of the government and the European Commission," the report says.
"The question must arise whether they (investors) are entitled to compensation because of the delay in implementing EU law and failure to apply it fully even when it was put on the statute book," it adds.
The EU's executive warned last December it was considering taking action against Britain, which could include a case in the European Court of Justice.
If it does so, Lloyd's investors may also bring a lawsuit against the government.
Mr Perry wants the European Commission to make a quick decision, the UK government to publish its defence and an inquiry to be set up into how Lloyds' has been regulated.
The insurance market's huge losses led to a decline in the number of Lloyd's names.
This year, Lloyd's members have endorsed reforms that shift the balance of power away from Names towards corporate backers.
---
FAIR USE NOTICE: This page contains copyrighted material the use of which has not been specifically authorized by the copyright owner. Global Action on Aging distributes this material without profit to those who have expressed a prior interest in receiving the included information for research and educational purposes. We believe this constitutes a fair use of any such copyrighted material as provided for in 17 U.S.C § 107. If you wish to use copyrighted material from this site for purposes of your own that go beyond fair use, you must obtain permission from the copyright owner.