Britons 'to work longer'
BBC news
September 3, 2003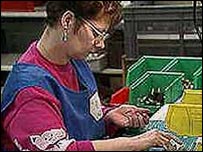 The research, compiled by the Future Foundation on behalf of Saga, concluded that by 2020 nearly two million people will be working past the age of 65.
Reduced pensions, better life expectancy and skill shortages will lead to employers throughout the UK relying on older workers, it said.
More women are likely to be working as the state retirement age for women will have increased to 65, in line with their male colleagues.
By 2020 workforce participation rates are actually expected to be higher for women than for men.
The study also predicts that one in three workers will be aged 50 or over by the year 2020.
In total, 10 million workers will be over 50 - an increase from 6.9 million people in 2002 and 5.4 million in 1992.
Pensioner poverty
At present, four out of ten workers aged 50 and over are delaying retirement for financial reasons.
What is more, of those already retired 7% had to delay their retirement date due to their pension pot not being worth enough.
"Given the current economic climate and stock market conditions it is inevitable that some people are going to be forced to work past the statutory retirement age because they can't afford not to," said Janet Thompson, director of corporate development at Saga.
"However it's not all negative. The increase in workers aged 65 and over is, in part, due to the fact that a considerable number of people want to carry on working as late as they can," she added.
---
Copyright © 2002 Global Action on Aging
Terms of Use | Privacy Policy | Contact Us