Strike at chemicals firm over pensions
BBC Birmingham
July 18, 2003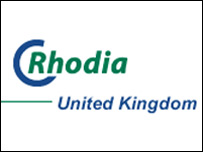 The firm says the cost of pensions has "exploded"
More than 600 workers at a French-owned chemical firm are on strike at two of its UK plants in a row over pensions.
The workers at Rhodia's operations in Widnes, Cheshire, and Oldbury in the West Midlands, are protesting over plans to close the firm's pension scheme to new entrants.
The unions involved - Amicus and the GMB - say the action is about defending the right to have a living wage in retirement.
But Rhodia says it cannot afford to continue the system for new members.
It is one of the first walk-outs over the issue, and follows a successful strike last year by Caparo steel workers.
Rhodia has refused to have a proper debate on our members' pensions and has left us with no option but to strike


GMB General Secretary Kevin Curran
Workers are angry that the decision to end the current pension arrangements for new members has followed years of under-funding by the company.
Derek Simpson, general secretary of Amicus, said: "The decision to strike has not been taken lightly by our members.
"The three-to-one backing for strike action demonstrates the strength of commitment by workers to defend their own and future colleagues right to a living wage in retirement."
GMB boss Kevin Curran added: "Rhodia has refused to have a proper debate on our members' pensions and has left us with no option but to strike.
"We hope that the united voice of our members will be heard by Rhodia and the pension issue can finally be addressed."
An increasing number of firms have closed their final salary pension schemes - which link benefits to a worker's final salary - blaming rising costs and poor stock market returns.
Only 20% of final salary schemes are still open to new joiners.
'Exploding' costs
Further dates for strike action at the two sites have been scheduled for August and September.
John Scott, Rhodia operations director, said the company was committed to decent pension scheme for all its staff.
"That's why Rhodia has massively increased payments into the pension fund - to ensure we can protect the pension commitments made to current members of staff.
"We are paying one of the UK's highest contribution rates- 31% of salary - to honour the promises made to today's employees.
"We're disappointed the unions at Oldbury and Widnes are taking this action.
"But everyone knows the cost of pensions has exploded, and if we carry on accepting open-ended pension commitments for new staff then we put the future of the company at risk and we won't be paying any wages, let alone any pensions, to new recruits."
---
Copyright © 2002 Global Action on Aging
Terms of Use | Privacy Policy | Contact Us