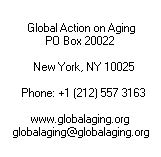 back
Support Global Action on Aging!

Thanks!

EU finance ministers adopt pension directive
EUObserver.com, May 13, 2003

EU finance ministers gave the green light to a safer retirement for future pensioners (Photo: EUobserver.com)
Brussels - The Ecofin Council (EU ministers of economy and finance) adopted today, 13 May, a long-discussed directive for the protection of pensioners.

The directive focuses on creating an internal market for occupational pensions requiring that funds hold sufficient assets to cover their commitments.

Internal Market Commissioner Frits Bolkestein said, "The Directive will ...give European companies and citizens the opportunity to benefit from more efficient pan-European pension funds, and so make an important contribution to tackling the "pension time bomb".

The text, which has been negotiated by the Council for more than 10 years, finally provides pension funds with a coherent framework to operate within the internal market. The initiative will ensure workers receiving a pension fund are protected as it will offer EU supervision of all company pension funds.

This will ensure a high level of protection for members and beneficiaries of pension funds and will enable institutions to accept sponsorship by a company located in another member state.

Historical agreement
The European Commission is marking this as a "historical agreement" and stresses that the institutions involved cover about 25 per cent of the Union's labour force and manage some 2,500 billion Euro worth of assets, or 29% of the EU's GDP.

This will not affect member state legislation in the area of social protection and national pension schemes. What it does do is make labour movement from country to country easier as workers will be able to transfer their pensions between member states.

Finally, EU states will have 27 months to implement the directive, after its publication in the EU Official Journal.

The Ecofin Council also looked into the sustainability of public finances and the overall impact of ageing populations on public finances. A report to be handed in by November should give a clear overview on these issues.
---
Copyright © 2002 Global Action on Aging
Terms of Use | Privacy Policy | Contact Us