French Prime Minister Faces
Tough End-Game Over Pensions
By Brian Blackstone
The Wall Street Journal, May 7, 2003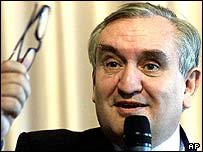 Pensions reform could be Raffarin's biggest challenge

PARIS -- Prime Minister Jean-Pierre Raffarin appealed to a hard-pressed electorate Wednesday to back his far-reaching bid to rescue France's old-age pension system from poverty and underfunding.
"Our retirement system no longer corresponds to the current and future demographic reality," Raffarin wrote in an open letter to mark the first presentation of the government's draft pensions bill to the cabinet before a final version is approved by ministers on May 28.
Unions are already up in arms against what they see as a brutal attack on their living standards. Pilots, teachers, electricity workers are just some of the public employees that have already downed tools in protest at the proposals, which the government has been drip-feeding to the public over recent months.
And while continuing the dialogue with ministers, unions have called a nationwide strike for next Tuesday.
Like other industrialized economies, France's population is aging rapidly, and new retirees aren't being replaced by new entrants into the labor force. That means that as time goes on the money to fund a decent pension for all will run out unless something is done.
In his letter Raffarin predicts that whereas in 1960 four workers financed each pensioner, it had fallen to two by 2000 and will be just one by 2020.
Raffarin is faced with politically unpopular choices: raise pension taxes that already consume about a quarter of worker pay; cut pension levels; or raise the retirement age.
"If we do nothing today, in 20 years our pensions will be cut in half. Our system founded on solidarity between generations will also be condemned," Raffarin wrote.
The draft legislation would raise the number of working years public employees need to receive a pension to 40 from 37.5 by 2008, bringing it into line with the private sector. To reflect higher life expectancies, workers will have to work 41 years by 2012 before retiring and 42 years by 2020.
The plan also trims publicly funded pensions for private- sector workers. Non-managerial workers would receive 71% of the average pay by 2020, down from 84% at present.
The government stressed that without reform the percentage would tumble to 61%. For managers, the replacement rate will fall to 62% in 2020 from 75% today.
The government will also encourage workers to stay in their jobs longer by raising pensions for those who work past the retirement age.
"This is a necessary and equitable project," Labor and Social Affairs Minister Francois Fillon said.
                      

Optimistic






Admittedly, the government needs some good luck to balance its pension accounts, which are expected to be EUR50 billion in the red by 2020. For instance, the reform assumes that the jobless rate will drop to between 5% and 6% by 2020 from 9.3% in March.
But while Societe General economist Olivier Gasnier gives the government high marks for effort, he thinks it's overly optimistic in counting on much of a financial benefit from a sudden drop in unemployment.
"Half way through this decade France will be closer to a 10% unemployment rate," said Gasnier. If older people work longer, it'll be tougher for young workers to find jobs.
France's sixth-largest union, UNSA, said in a release that the government's "unilateral" reform plan "would lower (public sector) pension levels by between 30% and 50%."
"This isn't reform of the pension system, it's the destruction," UNSA said.
Fortunately, however, Raffarin doesn't need UNSA or any other union to sign off on reform. He has a large majority in the National Assembly, so he can pass just about any reform he chooses. The bigger worry for the government is that protests mushroom and effectively shut down the country, which is what happened the last time pension reform was attempted, in 1995.
Stressing that Wednesday's draft is by no means the final word, Fillon said that the law "will continue to evolve" and that the government "wants to continue the debate for as long as possible."
But don't expect delays in the stated objective of having President Jacques Chirac's signature on a pension law by July.
"This is absolutely urgent because in only a few months (the pension system) will go into deficit," Fillon said.
---
Copyright © 2002 Global Action on Aging
Terms of Use | Privacy Policy | Contact Us