France wrestles with pension reform
By Sheila Barter
BBC News Online, May 8, 2003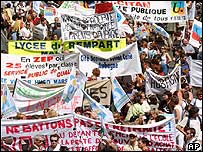 Unions say people will register their anger on the streets
The French Government and unions are squaring up for a summer battle over pensions.
Prime Minister Jean-Pierre Raffarin, who has formally presented his controversial plans to the cabinet, says France must introduce the changes to head off a crisis in years to come.
But unions have threatened to fight the plans tooth and nail, with a campaign of strikes and mass street protests.
On Tuesday, French teachers held the fourth in a series of strikes in protest at the changes and other reforms to the education system.
A national strike has been called for next Tuesday, with a mass demonstration planned for Paris two weeks after that.
The plans include forcing state employees to work an extra two-and-a-half years in order to claim a full pension, and raising contributions in 2008.
The last French Government which attempted the same type of pension reforms, in 1995, was crippled by street protests, and lost an election two years later.
Mr Raffarin is attempting to head off a pensions crisis as more people reach retirement age and live longer, while the French birthrate remains low.
He is also under pressure to meet European targets on budget deficits, and his government has announced it will freeze spending next year in an attempt to bring its predicted 3.6% deficit back within eurozone limits of 3%.
The European Commission told France on Wednesday it had until October to put its affairs in order, either by cutting spending or raising taxes.
Among options being considered is slicing through France's large army of civil servants. Media reports suggest 30,000 posts will go next year through natural wastage.
But it is pension reform which analysts say presents Mr Raffarin with his most explosive challenge.
He placed full-page advertisements in French national papers on Wednesday, explaining why reform was vital.
"In 1960 there were four workers to pay for the pension of every retired person," he wrote. "In 2000 there were only two; in 2020 a single worker will have to subsidise the needs of each pensioner.
"What that means is that if we do nothing today, in 20 years our pensions will be reduced by a half.
"Conceived more than 50 years ago, our retirement system no longer corresponds to the demographic reality."
The reforms are due for cabinet approval on 28 May and will have to then be accepted by both houses of parliament.
But Bernard Thibault, secretary-general of the CGT union, said people would take to the streets to register their anger.
"The government would be wrong to believe that just because it is not politically in any danger it is protected from a large-scale social movement on pensions," he said.
Polls suggest that many French people accept the need for change, but some are angry that people are being forced to work longer.
"Forty years is enough, especially in a tiring job like mine," said Paris decorator Jean-Marc Morato.
"I have friends of 60, they ache all over, they're half dead. Someone who starts work at 16 should be able to retire at 56.
"First we had to pay in for 37-and-a-half years, then they changed it to 40. Soon they'll say 45 years."
Commentators say France is behind other nations in introducing public sector reforms.
"If 25 years after Britain, 15 years after Italy and 10 years after Spain, France finally started to cut back the public sphere, it would be a revolution," said Alexis Brezet, an analyst for the right-wing Le Figaro newspaper.
Others said the proposed reforms might not go far enough.
"They are behind other countries in Europe," said Monika Queisser, pensions expert at the Paris-based Organisation for Economic Co-operation and Development (OECD).
"They are moving in the right direction, but these are small steps."
---
Copyright © 2002 Global Action on Aging
Terms of Use | Privacy Policy | Contact Us