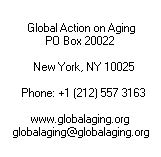 back
Support Global Action on Aging!

Thanks!

Senior electricity workers choose to quit now while the pensions are even better
By Haim Bior
Ha'aretz, Israel - May 5, 2003
Ten senior and veteran employees of the Israel Electric Corporation have decided in recent weeks to terminate their employment after learning that the Finance Ministry is planning to worsen the terms of their pensions.

According to these workers, the treasury is planning to cancel a clause in the pension plan granting senior workers with more than five years' seniority a special benefit: the inclusion of overtime and various premiums in the basic salary from which their pension is calculated.

They say that the most senior workers - the heads of divisions and deputy directors-general - enjoy these special privileges, and they therefore decided to retire before the new arrangements are enforced.

The senior workers who have decided to retire have already reached the age of 60 and are expected to get a net monthly pension of NIS 15,000 to NIS 20,000.

One of those planning to retire said yesterday that if the two elements are not included in the basic salary for calculating their pensions, they would lose some NIS 9,000 per month, on the basis of 120 hours of overtime and 60 hours' for premiums per month.

Among those planning to exit are four deputy managers in the planning division and the director of the projects authority. One of them is currently working on a private contract.

---
Copyright © 2002 Global Action on Aging
Terms of Use | Privacy Policy | Contact Us