Workers March Through Paris
to Protest Pension Reform
By Craig S. Smith, New York Times
May 25, 2003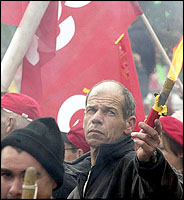 At a demonstration on Sunday in Paris, hundreds of thousands of French workers marched to protest against government plans to overhaul pensions and aired their grievances about other issues like education reform.
PARIS - Hundreds of thousands of French workers, teachers and students took to the streets today in a demonstration intended to step up pressure on the government here amid a wave of strikes over pensions and other issues.
The police in the capital said 300,000 people took part in the march, which started at Place de la Nation and ended several hours later at Place d'Italie in the southern part of the city. Protesters insisted that the turnout was much higher.
"We were 1.5 million," said Jacques Quintanal, a cook from a school in Normandy who has been on strike for eight days and vows not to go back to work until the government meets the strikers' diffuse demands. The main unions that organized the march put the number at 600,000.
France's already powerful unions joined forces for the protest, bringing communists and feminists, mail carriers and university professors together for a demonstration that they hoped would force the government to reconsider proposed changes at the heart of which is a demand that workers stay on the job longer before they qualify for a pension.
The government and economists warn that the country can no longer afford to allow state workers to retire after 37.5 years of work and begin drawing government guaranteed pensions. The proposed plan would extend their time in the work force to 40 years by 2008 and 42 years by 2020.
The opposition Socialist and Green parties are siding with the workers, demanding that the government withdraw the bill. But the French prime minister, Jean-Pierre Raffarin, returning from an official visit to Canada, said today that he was "confident, listening, yet very firm and determined" to push his plan into law.
The plan will be considered at a cabinet meeting on Wednesday, where it is likely to be approved, but the unions are planning to paralyze the country with new strikes beginning Tuesday. France has already suffered through a series of scattered strikes that have closed museums, canceled airline flights and interrupted bus and subway traffic in the capital, but the coming strikes promise to be bigger and more comprehensive.
"We won't go back to work until the government backs down," Mr. Quintanal said. For Mr. Quintanal, 54, those demands include rolling back proposed education and pension changes that could threaten his job and his retirement income six years from now.
But the scope of the protests today surpassed the pension issue, bringing people into the streets with a long list of disparate gripes, not all of which were well articulated. Florence Teyssier, a university student from Rouen, grew flustered when asked what she was protesting, eventually pulling a flier from her knapsack to read several paragraphs about education reform.
"I'm not sure myself, but it's all here," she said, showing a reporter the piece of paper, which decried government plans that would allow universities greater freedom in setting curriculums and let them be more selective in admitting students. The plan would create a more defined hierarchy among schools, critics say, and make it more difficult for disadvantaged students to get a quality education.
A handful of people were treated by firefighters after falling ill amid the crush of protesters, but the affair, like most French demonstrations, had the air of a street carnival with vendors selling French fries and sausages along the route and many people drinking bottles of red wine.
Many protesters came to the capital from all over the country while others stayed home to take part in thousands-strong demonstration in several other French cities.
---
Copyright © 2002 Global Action on Aging
Terms of Use | Privacy Policy | Contact Us