Pondering pensions
BBC News, July 11, 2002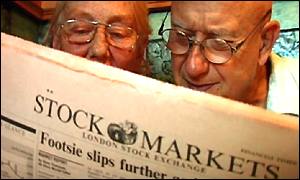 Radical review aims to save company pensions.
A government-commissioned review into pensions has called for a radical overhaul of the rules on the provisions for retirement.
Its proposals will make occupational pensions more affordable... but will they solve the original pensions crisis and mean a comfortable retirement for all? We try to find out.
Company pension schemes were tightened up after the Maxwell scandal a decade ago when four hundred million Mirror Group employees saw their pension money disappear. Pickering says that every employer is being treated as a potential Maxwell and wants to loosen the red tape. The World at One asked Sue Ward, who sat on the Good Committee set up following Robert Maxwell's fraud, if that's a good idea.
Pensions Do PFIs provide value for money?
With the Comprehensive Spending Review only days away, today comes more evidence that Public Finance Initiatives may not be the win-win route to improved public services that the government clearly believes they are. The House of Commons Public Accounts Committee this morning published a report questioning whether PFIs provide the taxpayer with value for money.
We talked to the Liberal Democrat MP David Rendel who is a member of the committee and then asked the former Paymaster General, Geoffrey Robinson if this report will trigger a re-think in Whitehall about the viability of PFI.
---
FAIR USE NOTICE: This page contains copyrighted material the use of which has not been specifically authorized by the copyright owner. Global Action on Aging distributes this material without profit to those who have expressed a prior interest in receiving the included information for research and educational purposes. We believe this constitutes a fair use of any such copyrighted material as provided for in 17 U.S.C § 107. If you wish to use copyrighted material from this site for purposes of your own that go beyond fair use, you must obtain permission from the copyright owner.