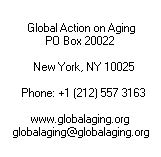 back
Want to support Global Action on Aging?
Click below:

Thanks!

Israel: Scores of port employees apply for early retirement
David Hayoun,
Globes Online
June 25, 2003
Sources inform "Globes" that scores of employees at the Haifa and Ashdod ports have applied for early retirement. The applications are due to worries about the pension reform passed by the Knesset, which will also cover the Ports and Railways Authority.
The employees, aged 50 and above, are worried about their pensions, claiming the pension reform is causing considerable uncertainty. Never have so many ports employees simultaneously applied to retire.
The sources added that scores of additional ports employees have asked the Ports Authority for an expert opinion of the significance of the pension reform to them. The employees are also worried about the higher retirement age of 67.
---
Copyright © 2002 Global Action on Aging
Terms of Use | Privacy Policy | Contact Us