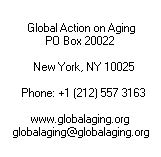 back
Support Global Action on Aging!

Thanks!

No simple answers for R75bn loss
in value of pension funds
By Vera von Lieres
Business Report, May 13, 2003
Cape Town - Retirement fund investors have seen about R75 billion - or about 12 percent of the roughly R600 billion controlled by the investment industry - in value eroded since the beginning of last year, a Business Report poll has shown.

This excluded the value eroded by the government's pension fund, which was managed by the Public Investment Commission (PIC), which industry insiders said would be very difficult to estimate.

It is estimated that the PIC controls about R150 billion.

But, industry commentators pointed out that for many pension fund members the value erosion would not be a consideration for years to come although for others who were close to retirement, it was a pressing issue.

The strong message that came across was: there was no simple answer to who should shoulder the blame for value eroded to date - trustees, consultants, multimanagers, fund managers and investors themselves were all responsible.

The Business Report poll covered insurance funds (mostly guaranteed funds) and money invested by asset managers in market-linked portfolios.

While the total net assets of retirement funds at the end of 2001 were R835.6 billion, according to the Financial Services Board, information available for the year-end to December 2002 were not yet available.

Insurance funds, mostly guaranteed funds, look after about R100 billion to R150 billion and about R450 billion is invested by asset managers in market-linked portfolios
In line with others in the industry, Erich Potgieter, a director at actuaries and consultants Fifth Quadrant, said: "I would guess - and I emphasise guess - that the capital write-down to date, since the start of last year, on the roughly R600 billion controlled by the investment industry [not the PIC], amounts to about R75 billion."

Average losses of 11.09 percent in the year to March by the country's big investment managers - according to the latest Alexander Forbes Large Manager Watch - are concerning for those about to retire.

Tim Cummings, the managing director of Old Mutual Asset Managers, made the point: "It's not so much about trying to time the market [difficult over the last few years] but about time in the market - that's what pension funds are: long-term."

Leon Campher, the executive director of the Investment Management Association of SA, said: "Inherently, fund managers are not going to mess up because it's bad for them too.

"The fund management company's income is hit badly when the market goes down because fees charged are linked to market value."

Asset management companies are paid a percentage of the market value of the funds under management - varying from around 0.1 percent to about 0.6 percent.

How they then pay individual fund managers differs from company to company.
---
Copyright © 2002 Global Action on Aging
Terms of Use | Privacy Policy | Contact Us