Steel pension row reaches Downing street
BBC News, September 4, 2002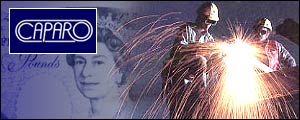 Workers from steel plants campaigning against plans to close their final salary pension scheme have taken their fight to the prime minister.
Six members of staff from Caparo in Wrexham met colleagues from Scunthorpe and Tredegar to hand in a petition to their bosses and Tony Blair on Wednesday.
I could lose £30,000 out of this
Tony Baines steelworker
Tony Baines works at Caparo in Wrexham he said staff know what they want.
"We need the final salary pension scheme re-introduced - we're talking about our families future," he said.
"I could lose £30,000 out of this."
The schemes guarantee members a pension income based on the number of years of service and the salary when the worker leaves the company.
Industrial action
Many schemes have seen their funds shrink as a result of stock market falls.
Workers at the three plants have held three one-day strikes to show bosses they are not happy with the loss of their pension plan.
However, on Tuesday members of The Community Union ISTC, voted to increase their industrial action from one-day a week to two.
Eddie Lynch, Assistant General Secretary of ISTC said workers are supporting further walkouts.
Disillusioned
"So far there have been three one-day strikes which have been 100% supported by ISTC members in Scunthorpe, Tredegar and Wrexham," he said.
"Wednesday marks the fourth one-day strike and a delegation of workers from each factory will travel to Caparo House in London to hold a lobby."
Mr Baines has worked for the company for 24-years.
He said, he has had enough of the firm: "If it carries on, I won't be their much longer because I have no faith in the company.
"I think a lot of people are now disillusioned."
"It used to be a family company but it's not the same anymore."
The 40-year-old said he hopes the government will change the law so company pension schemes are protected.
---
FAIR USE NOTICE: This page contains copyrighted material the use of which has not been specifically authorized by the copyright owner. Global Action on Aging distributes this material without profit to those who have expressed a prior interest in receiving the included information for research and educational purposes. We believe this constitutes a fair use of any such copyrighted material as provided for in 17 U.S.C § 107. If you wish to use copyrighted material from this site for purposes of your own that go beyond fair use, you must obtain permission from the copyright owner.