A Story of "Hardship and Decline"

ILO No 35, July, 2002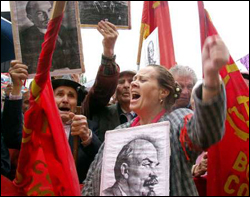 Elderly Ukrainians hold portraits of Bolshevik leader Vladimir Lenin and wave red Communist flags as they take part in an anti-presidential meeting in Donetsk, some 750 km (450 miles) east of Kiev.
Photo: Alexander Khudotioply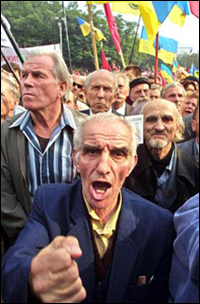 Tens of thousands of protesters take to the streets across Ukraine to participate to ouster of President Leonid Kuchma in downtown Kiev, Ukraine
Photo: Viktor Pobedinsky
"The conventional statistics on employment and unemployment are distorting and misleading", says Guy Standing, the Director of the ILO InFocus Programme on socio-economic security in the twenty-first century, who designed the survey. "Most of the nominally employed do not have jobs, and many of those in jobs are not being paid."
The survey covered a representative national sample of 690 firms employing 583,679 workers. It was carried out in 1999, and a comparable survey is now under way. The following are among the main findings:
Ukrainian industrial firms are operating at less than 44% capacity, compared with 66% in 1995 - an unprecedented decline which has made the level much lower than in any industrialized economy;
Over 38% of firms reported that they could produce the same level of output with fewer workers, even though they have cut employment considerably over the past decade;
On average, firms reporting that they could cut employment without reducing output estimated that they could cut one in every four jobs;
Over 18% of all workers were on unpaid "administrative leave"; i.e., laid off - counted as employed but in reality unemployed; a large proportion had been on unpaid leave for at least three months;
Over 20% of workers were on short-time, most not receiving any income; even those not classified as working short time were working short work-weeks - 32 hours on average, compared with a national standard work-week of 40 hours;
About 12% of all women nominally employed in Ukrainian factories were on long-term "maternity leave", even though the fertility rate is extremely low; consistent with the view that such leave was a way of laying-off women workers, the extent of maternity leave was higher in firms whch were in greatest economic difficulty and in which employment had fallen most;
Taking account of all forms of visible surplus labour, about one-third of all workers are laid off at any time; these are counted as employed, but make a mockery of the official rate of registered unemployment, which has remained below 5%;
In 1999, over 80% of all factories reported that they had great difficulty in paying their wages;
Four out of five factories have not been paying the contractual wages to their workers, and on average in those factories, wage arrears have lasted for over 20 weeks;
Wage inequality has increased since the early 1990s, within enterprises, between enterprises in the same sector, and between sectors; in addition, while there has been a widespread erosion of benefits paid by enterprises to their workers, there has been a strong tendency for firms paying relatively high wages to provide workers with more benefits than in low-paying firms - accentuating inequalities; in effect, the cutback in benefits has been concentrated in firms with low wages;
In most factories, a small minority of workers were receiving wages well below the average, and well below what is required for survival; this category has come into existence partly as a result of the tax-based incomes policy which international financial agencies encouraged the country to adopt earlier in the decade;
There has been a steady erosion in the provision of enterprise benefits and social services; enterprise benefits have long been a mainstay of social protection and have augmented low money wages, so their loss represents a severe blow;
Although women have retained nearly 50% of industrial employment, more managements than in the mid-1990s admit to discriminating against women in recruitment and in the provision of training; nevertheless, contrary to common claims about the impact of the "transition" in eastern Europe, there is no sign that women are being marginalized, except with respect to the peculiarly high level of "maternity leave".
"The results of the survey should be seen in the context of the economic and social dislocation in the country. For over a decade, the economy has shrunk, and living standards have plunged", Mr. Standing says.
Currently, average per capita income is about US$25 per month. Ukraine, which became an independent nation in 1991, had a population in the early 1990s which approached 52 million. The population has shrunk to less than 50 million, very largely because of the rise in the mortality rate. Average male life expectancy at birth has fallen by about three years to 62 years, while the female equivalent is 73, representing a much smaller decline.
Says Standing, "The high adult mortality rate is the most revealing statistic of the depth of the decline in living standards, and is stark evidence that this large, strategically placed country is facing a social, economic, political and demographic crisis demanding far more attention than it has received."
---
FAIR USE NOTICE: This page contains copyrighted material the use of which has not been specifically authorized by the copyright owner. Global Action on Aging distributes this material without profit to those who have expressed a prior interest in receiving the included information for research and educational purposes. We believe this constitutes a fair use of any such copyrighted material as provided for in 17 U.S.C § 107. If you wish to use copyrighted material from this site for purposes of your own that go beyond fair use, you must obtain permission from the copyright owner.