Pension complaints 'mushroom'
BBC News, April 29, 2003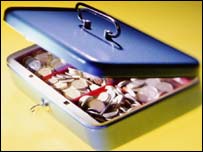 UK pension funds' coffers are not so healthy
Complaints to a leading pensions advisory service have soared in the past year, reflecting growing concern about the health of UK pensions.
Written complaints increased by 53%, and general inquiries to the helpline rose by 17%, the Occupational Pensions Advisory Service (Opas) said.
The two biggest gripes concerned maladministration, and the closure of pension schemes, which accounted for half of all complaints in the year to April 2003.
In a move which could concern the government, there was a significant drop-off in enquiries about stakeholder pensions.
Calls concerning the government's flagship pension plans fell from 27,770 to 7,380.
Sign of the times
Opas said the overall increase in queries reflected growing public awareness about pension problems.
A variety of factors, such as tumbling stock markets and horror stories highlighting problems with the management of pension funds, have pushed pensions into the spotlight.

The increase in complaint cases is clearly a sign of the times

Malcolm McLean
In particular, there has been increasing concern over the closure of final salary pension schemes - plans which offer a fixed retirement income based on the worker's final salary and length of service.
While unfair rules surrounding the wind-up of pension schemes have penalised many workers and been eroding trust in the system.
Key statistics
Complaints cases (written enquiries): 53% higher
Calls to Opas helpline increased by 17%
Calls to stakeholder helpline fell from 27,770 to 7,380

Source: Opas
Malcolm McLean, chief-executive of Opas, said: "The increase in complaint cases is clearly a sign of the times - reflecting in part at least the grievance that many pension savers feel and the constant drip of bad news stories that seem to afflict pensions at the moment.
Mr McLean also said he was concerned by the reduction in number of enquiries about stakeholder pensions - a low-cost plan introduced by the government in April 2001 - aimed at encouraging people on irregular and modest incomes to save for their retirements.
"Whilst I would have anticipated some drop in demand in the second year after the new product launch, the fall-off in interest is much more than expected," he said.
---
Copyright © 2002 Global Action on Aging
Terms of Use | Privacy Policy | Contact Us